Welcome to the game of Getting Home Unscathed From A Baseball Game!
You are standing inside Yokohama stadium after watching a
most excellent game
where the Bay Stars won and one of your favorite players, Atsushi Kizuka, was a game hero. Now you have a more important mission: get out of Yokohama without getting crushed by the crowd!
There are exits from the stadium all over the place.
> leave stadium
Ok. You are surrounded by approximately 15,000 crazy Yokohama baseball fans.
> go north
You can't; there are too many people in the intersection to get anywhere near it or the subway station.
> go west
Ok. You see a McDonald's and some various yakiniku restaurants and a convenience store.
> enter Mcdonald's
You enter the
Kannai south McDonald's
and immediately notice that there's a whole bunch of current MLB memorabilia displayed under the counter, including a signed Mariners jersey, some Yankees caps, and various other things. It almost reminds you of the McDonald's right by Yankee Stadium up in the Bronx.
A guy behind the counter says to you in Japanese, "Welcome to McDonald's. Can I take your order?"
> order food
You order a Big Mac combo. The guy says, "Please wait a second!"
> look
To your left you can see the upstairs dining area. There are pictures on the wall of several old MLB baseball scenes and players; offhand you can spot Babe Ruth, Lou Gehrig, Ted Williams, Cy Young, and so on. There are some Mickey Mantle magazine cutouts, a few displays of old baseball cards, and pictures of a few old ballparks.
The server gives you your food. "Thank you for your order!" he says.
> go downstairs
The entire staircase downstairs is also covered in 8x10 photos of old American baseball stars, mostly from the 1920's and 1930's.
You reach the downstairs dining room and can't believe your eyes. There is baseball memorabilia everywhere. Above the trash cans is a mock oldskool scoreboard, with more pictures. In the main room there are several display cases of MLB stuff, with one or two of Yokohama Baystars jerseys. There are baseball cards on one wall, and models of stadiums on another. There is a mural of Red Sox players from 1950ish on another wall, although there are people sitting in front of it so you can't see it. Above the entire room is a mural that appears to be of 1980's MLB players; you can see Mike Schmidt depicted there. They also have displays of several baseball bats up there.
> get out camera
Good call.
> surreptitiously take pictures of everything around me
I don't understand "surreptitously".
Your flash goes off and everyone looks at you like you're some kind of freak photographing a McDonald's dining room.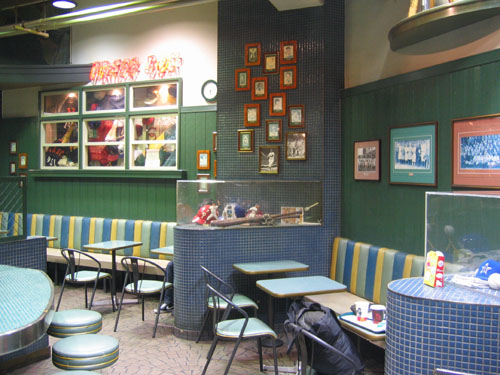 The downstairs dining room at the Kannai McDonald's
The "Press Box" display case, which included things like 1951 New York Giants jerseys and jackets, some old Expos stuff, Mets jerseys, and so on.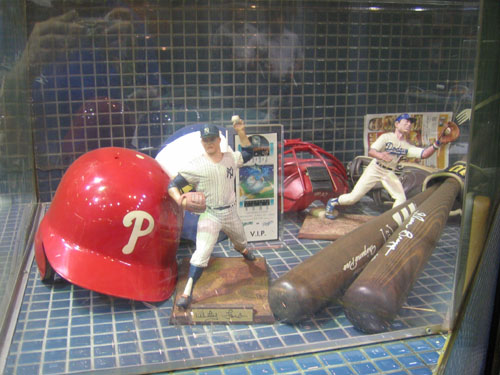 Another MLB display case, with hats, figurines, tickets to big games, etc.
Yokohama memorabilia; jerseys from Kazuhiro Sasaki and Tatsuya Shindoh.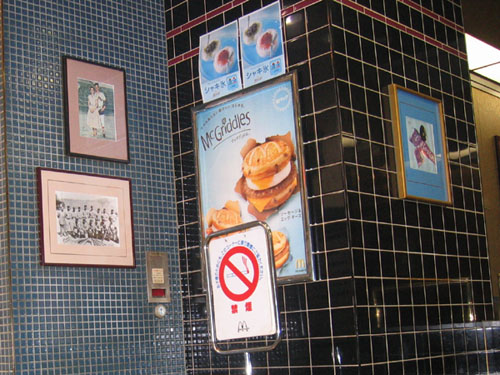 Advertisements for McGriddles and McFlurries... and more baseball memorabilia.
The scoreboard above the trash cans, and some more old MLB photos.
> eat food
Ok. It tastes suspiciously like a Big Mac and fries and a coke.
> separate garbage
You dump out your ice into one bin, put your straw and drink cap in one trash can, put your paper into another trash can, and leave your tray on the other counter.
> leave
Amidst funny stares from the people still wondering what a crazy American is doing there in a Murata #25 t-shirt taking pictures of the McDonald's, you manage to escape the restaurant.
> go east
Ok. The intersection is now free of baseball fans, aside from a few stragglers who appear to be the Saeki Fan Club and are wearing black-and-gold t-shirts. There are exits to the east, west, north, and south.
> go north
Ok. You get to Kannai station. It is relatively uncrowded. You have no problems getting onto a train back up to Saitama.
Congrats, you win the game! Your score was 19 out of 20 possible points.