(You can judge whether I'm talking about obsessive-compulsive disorder, or Ogasawara's Cleanshaven Doppleganger, or a combination of both)
Giants 3, Carp 0
This is a 3-day weekend in Japan for most people, and this was my last Saturday of being done with work at 5:15pm (from now on I'll be done at 7 or 8pm), so I decided to experiment and see if I could actually get into the 6pm Giants-Carp game! I took the Saikyo line down from Akabane to Ikebukuro, limped as fast I could to the Marunouchi line platform and took a train to Korakuen, and I got off the train at about 5:53! I bought a single B-seat ticket for 3700 yen; that was the cheapest they had left. I found my gate and went into the stadium and didn't even bother getting food or drink or anything (to be fair, I had a raisin roll and an iced tea in my bag), and I got to my seat for the second or third pitch of the game, right before Hiroshima leadoff hitter and high-socks-wearing cutie Eishin Soyogi hit a pop fly out to short.
My seat was actually pretty awesome considering I bought it 5 minutes before game time. I was in the 13th row pretty much right behind third base. I guess despite the Giants tickets selling really well these days, you can still get a decent expensive single seat with no problems, at least for non-Tigers games. It's mostly the outfield seats that sell out really quickly, because people want to cheer and want to buy cheap seats.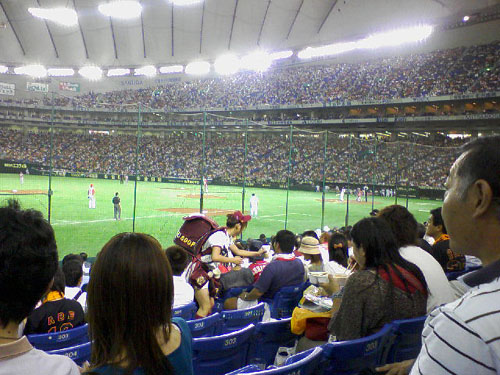 This would have been the best seat ever if Ogasawara wasn't playing third base.
Despite being on the 3rd base side, I had two screaming Giants fangirls on my left and two Giants fanguys on my right. I cheered for Hiroshima, and the Giants won, of course.
Infact, even in just the first inning, when Ogasawara's cleanshaven doppleganger came up to bat, I started muttering his old Fighters cheer under my breath. I was barely up to "この世のために" when he launched -- and I mean LAUNCHED -- a home run way the hell back into the Giants cheering section in right field, off the first or second pitch he saw. I'm not kidding, they had this homer measured at 125 meters, which if you can do math, you'll know is around 410 feet. I think it practically hit the back wall behind the outfield seats.
I texted a friend of mine in Japanese: "I'm at the Tokyo Dome and BOY DO I FUCKING HATE OGASAWARA."
Then to add injury to insult, Shinnosuke Abe led off the second inning for the Giants by hitting another home run to left-center, although this one only landed in the first few rows of seats.
I should say, though, that aside from giving up those two home runs, I was actually fairly impressed with Hiroshima starter Michito Miyazaki, who I had been interested in last year when he came out of the industrial draft, and I was really happy I got to see him pitch. He throws a sort of weird 3/4ths motion and seems to have a decent variety of pitches.
On the other hand, the starter for the Giants was Hisanori Takahashi, who, ironically, started and won the very first Giants game I ever went to, in 2004. I seem to bring him good luck, but to be fair, he's one of the best pitchers in Japan this year, and he only allowed four runners over seven innings, all on hits, no walks, six strikeouts. Takahiro Arai had a monster shot in the 4th that was unfortunately hit straight to center and caught by a jumping Damon Hollins against the wall; if it's just 10 meters left or right of where it went, that's a home run.
I was sad I didn't get to see Tomonori Maeda (the Hiroshima hitter who just got his 2000th hit recently) play, but that's ok, I guess. At least I got to see Kenta Kurihara, who was injured when I was in Hiroshima last fall, although I also got to see him boot a play at first base, sadly.
Speaking of milestones, in the 6th inning, Ogasawara's cleanshaven doppleganger hit a fly ball out to right field, which Shigenobu Shima almost caught, but instead slipped and fell over and by the time he recovered the ball and threw it in, the doppleganger had run to second base. Rather than calling it an error on Shima, they called it Ogasawara's 1500th career hit. They stopped the game and put an announcement up on the big screen, and someone ran out there to give him flowers and all, and everyone was cheering. I felt like screaming "YOU STUPID GIANTS FANS, HE GOT HIS FIRST 1335 WITH THE FIGHTERS, GRRRRR" but whatever.
The Giants fans sitting to my right were reasonably nice and I spent some time talking to one of the guys, about retired numbers and stuff. The two guys were discussing "Who is number 34 retired for?" so I said "I think it's for Kaneda?" "Oh yeah, Kaneda Masaichi," and then I was looking through the numbers... "Oh, Nagashima, Kawakami, Sawamura, Kaneda... er... who is #4 retired for?" "WOW, you really know a lot... I think #4 is retired because it's an unlucky number?" I later looked it up, and it turns out it's for Toshio Kurosawa, who wore #4 and died in mid-season at the age of 33 or something.
(#4 is unlucky because it sounds like the word for death, "shi". The guy told me #42 is also unlucky because it's "shi-ni", which also means death, so usually foreigners wear it.)
I also got sort of freaked out when late in the game they were playing Louie Louie over the loudspeakers between innings -- this is after they had been playing Zombie Nation a little while earlier, so I was just like "joudan jaNAI yo!" "Eh? Nani ka?" and I explained I moved here from Seattle, and Louie Louie is the song they play at EVERY MARINERS GAME.
Koji Uehara came in to close out the 9th inning without too much effort, and that was the game. It was over at 8:23pm, which is CRAZY EARLY for a Japanese game, I swear.
Also, I hate how every time I see a Giants game with Takayuki Shimizu playing in it, I have "Go West" by the Pet Shop Boys going through my head for the next few days. Ugh.
Apparently Hiroki Kokubo also got his 1500th career hit on Saturday night. It was kind of crazy listening to the sports news.
As it turns out, I went to Yokohama for the Sunday game against Yakult, and am skipping Rakuten-Lions today -- going to Dragons-Swallows in the evening. I'm watching the Fighters-Hawks game right now over the internet, but the Fighters are losing, sadly. (I just realized Inaba isn't playing -- he was hit in the knee by a pitch from Mahara yesterday and it looked really painful, I hope he's okay. I'm really freaked out now since learning about Takuro Ishii having his wrist broken by a pitch a few weeks ago.) I'll write up the Yokohama game later -- I have to make a separate entry about the Kannai south McDonald's, too -- it's full of MLB artifacts and absolutely amazing.