I guess I'm pretty late with pictures and the game report at this time, but hey, now that I can actually upload these,
here's a set of 36 shots from the Yokohama game I went to with IcebreakerX last Sunday
, complete with witty captions. Better late than never.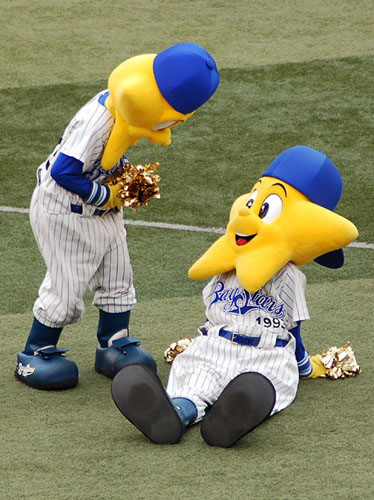 "Hosshey, where do we go when we die?"
"Yokohama?"
"You mean if we're good or if we're bad?"
Yuuki Yoshimura, line driven like the snow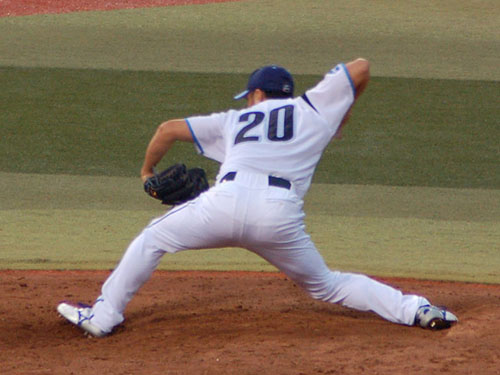 Can it has be Kizuka tiem plz?
Giants 7, Bay Stars 4
I think the Stars didn't actually have a starting pitcher and just threw out random guys every inning or two to the mound. Or maybe Oya-kantoku just got distracted after starting pitcher Doi managed to load the bases by walking two guys and hitting one guy in the first inning (which somehow still came to no runs scored for the Giants).
A pretty funny moment ocurred in the 4th inning where Murata made a spectacular play to catch a foul ball practically in the stands... and then when he threw it back around the infield -- just as a catch-ball around-the-horn type of thing, not to get any other plays -- Toshihisa Nishi MISSED THE THROW and the ball went rolling into the outfield.
Saeki
ran over
Kimura at second base in the bottom of the 4th, and was out, but in the meantime the Stars scored their second run.
In this game, pitchers batted for themselves several times despite all being relievers. Yokoyama, who comes out to "Wild Thing" because he wears #99, successfully bunted over the runners, but Nasuno actually
struck out bunting
. I even wrote it down as "Kb" because I haven't seen that in so long. Finally, in the 10th inning, closer Koji Uehara
batted for himself
and pretty much struck out boring.
With the Stars ahead 2-0 in the 5th, Yoshimura almost pulled off a sweet double play that would have ended the inning, but instead, on the very next batter, just as Ice and I were saying something like "Man, has there been anyone that came out of Keio recently that's anywhere near as good as Yoshinobu Takahashi?", he had to take us up on that by launching a two-run game-tying homer into the Giants cheering section in left field. I have since started referring to him as "You-know-bu" instead.
Seiichi Uchikawa, who has been ON FIRE, put the Stars ahead again with a 2-run homer in the 6th, making it 4-2. After pulling off a 1-2-3 inning in the 6th, Yokohama's pitcher Nasuno, who had just struck out bunting, started off the 7th inning by giving up a home run to pinch-hitter Kenji Yano pretty much on the first pitch he saw... and a minute later, Nasuno completely misfielded a bunt, which eventually led to another run scoring, tying it at 4-4, and the person who replaced Nasuno on the mound was, of all people... Matt White! The rich guy! Whee!
In the 8th, they brought in ATSUSHI KIZUKA!!! to face Kenji Yano, and Kizuka promptly beaned Yano in the side. And three throws later, he picked off Yano at first. Now that's style...
The Baystars managed to get two runners on in the 9th, and with two outs, and Murata at the plate -- usually a force to be reckoned with -- the Giants called out Uehara, who got Murata to hit a foul popup that Abe fielded easily. Murata was sadly 0-for-5 in this game. I like Murata. That sucked.
Kroon imploded, the Giants won 7-4 in the top of the 10th. That's life, I suppose. I had fun hanging out with IceX nonetheless (if nothing else, it's fun having someone around who actually UNDERSTANDS when you make a comment like "Takahiro Saeki IS Raul Ibanez's wonder twin. Watch him field this one..."), and I think Yokohama is actually a pretty great place to see a ball game, all things considered. I'll be going back there at least once (on 10/1) and probably twice more before the season ends, if I can help it. Besides, I still have to see Takuro Ishii actually play a game, dammit.
I'll talk about the 9/9 Nagoya game sometime soon too. In the meantime, it's almost the weekend again! I'm definitely going to try to see one of the Rakuten @ Lions games sometime, and Dragons @ Jingu on Monday night.