Tonight, Safeco field was neither the King County Courthouse (population: 46,240), nor was it the Big Unitarian Church. Nay, tonight Safeco was a completely different, more primitive, simple place, which brought us all back to the unhappiest moments of our childhood: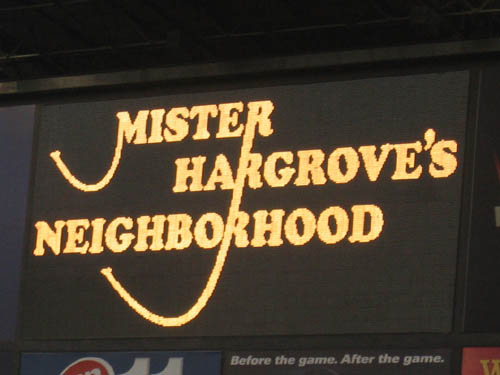 Who are the people in our neighborhood? Why, let me walk you around the field and introduce you to them.
King Felix The 59th - As the ruler of Make-Believe, King Felix is best known for making the Mariners believe they actually have a shot at winning the game, whenever he is standing on his pitching throne.

His performance tonight was "awful" - I mean, just imagine, he gave up two runs (both solo homers) in 8 innings! With four walks and only a pathetic seven strikeouts, it's unclear that... wait a minute, even when King Felix is having a bad day, he's still clearly the King. Plus, I mean, his groundball ratios were INSANE -- Of the 24 outs he got, 7 were strikeouts, 2 were fly outs, and all of the rest were related to ground balls. His fielding was awesome -- I haven't seen a 3-6-1 double play pulled off by the Mariners in quite some time.


Mr. McUgly - Mr. McUgly is the grandfatherly figure who runs the Speedy Delivery Strikeout Service. He intimidates opposing batters with his pure grit and overwhelming height, and when that doesn't work, he has secret weapons such as a tacky mullet, and his face, to frighten them with. However, it cannot be denied that McUgly does, infact, have a "Speedy Delivery", despite his age, and tonight, he did dominate his section of the Neighborhood, that's for sure.

Randy McUgly did have his stuff today, not that it takes much stuff to dominate the Mariners lineup these days. He struck out seven and walked 2 in seven innings. A Mariners runner was never on third base without two outs. He was aided muchly by a particular infielder, but we'll get to that in a second.


Owl-X - As a graceful bird of prey flying around his territory, Owl-X was nothing short of phenomenal.

Of course, it made the Seattle crowds bitter as all heck to have to see plays where Randy pitched, the ball was grounded to A-Rod, and thrown to Tino Martinez at first. However, let it not go unsaid that A-Rod was amazing to watch. From where I was sitting, the throw from third base to first went straight towards me, and I was really impressed with the stops, twists, turns, and throws that A-Rod made. Grounders that would have escaped normal third basemen were just sucked up into his glove. The thing about him is that he *is* that damn good, and it sucks that the Yankees have him playing third instead of shortstop.


Derek Striped Tiger: A favorite of many, Derek Striped Tiger represents the shy, gentle, and tame side of children.

Actually, I have nothing to say about Jeter in this game. He didn't really do much of anything, besides a few routine plays, and was not one of the three Yankees lucky enough to get a hit.


Prince Yuniesky: The only Mariner to get an extra-base hit today. Sparkplug for all three double plays pulled off by the Mariners. Have I mentioned what a wonderful future it will be, with Felix pitching, and Yunie and Jose behind him in the middle infield?

Crud, I'm tired and having some trouble fitting the Mister Rogers characters, for obvious reasons. Sorry. You have to admit that King Felix as King Friday and Randy Johnson as Mr. McFeely is kinda funny though.
Um, you should have seen Mike Morse playing left field. It was true comedy. Funnier even than Manny Ramirez playing left field. The wacky part is, since Felix didn't actually allow the baseball to be hit to the outfield, Morse didn't actually have an opportunity to catch a pop fly until the 9th inning, when Jeff Nelson was pitching. So, Gary Sheffield hits a fly ball out there. Morse starts backing up to get it... then realizes, oh shit, it's dropping a lot shorter than he thought it was! So he runs up, but it's too late, and the ball drops in front of him. He throws it into the infield, fortunately holding Sheffield to just a single. (Yes. The Safeco scorers called that blatant E-7 a single.) Two batters later, with Matt Thornton on the mound, Jason Giambi hits a fly ball to left. Again, Morse backs up too much, but this time he reverses in time and manages to catch the ball! Woohoo!
Then he throws it to the infield, and I say to my friends: "Holy shit, he throws like a girl." They say, "So do you." I'm like, "Wait a minute, *I* have an excuse for throwing like a girl."
Anyway, the Mariners lost the game 2-0 to the Yankees, which was pretty disappointing. Actually, the weirdest thing is -- for such a hyped game, and a sellout crowd with the Yankees -- the game was REALLY low energy. I mean, I suppose that when you have two great pitchers up there, there won't be very many huge hits or runs or rallies to get excited over. But seriously, it just felt like there was no reason to stand up and cheer all game, and it was all very fast and very subdued.
Thanks to a mixup with my friends, I ended up with a single seat in Terrace Club, which was marked "obstructed seating". I suppose technically it was obstructed, but it had a
pretty good view
- front row of section 216, seat 12. Even better, the guy who had the three seats next to it only had one other friend come to the game with him, so he said I could move over to the nonobstructed seat if I wanted.
Terrace Club is scary. Because there was no pre-game USSM meetup or anything (sigh), and the bullpen hangout area was horribly crowded and full of people even at like, an hour before gametime, I decided to go explore the Terrace Club, since I had never been up there before.
They have seven flavors of mustard for your hot dogs or deli sandwiches there.
No really, count 'em : honey mustard, sweet hot mustard, spicy brown mustard, cranberry mustard, dijon mustard, deli mustard, and yellow mustard. I am not making this up.
The fare in general is a lot like the stuff downstairs, with a few classier food items added. I got a fresh carved roast beef sandwich which was pretty tasty; the same concession also had sauteed penne pasta, tossed salads, and grilled salmon. The coffee shops and ice cream stands all had various pastries and cakes in addition to a bigger variety of drinks. There were two sports bar areas with a ton of TVs and bars and tables and whatnot. In right field they have the Hit It Here Cafe, and in left they have the Left Field Bistro and Beer Express.
You can walk around behind the press box - I mean, in a big hallway behind the whole press area - and there's a big wall filled with Mariners team history. It's pretty cool. I took a
few pictures
of
the wall
.
Anyway, Terrace Club might be expensive, but you still get lots of asshats up there. I was stuck sitting in front of three of them, who were very loud and very dumb. After I'd heard the "Jeter, go get a room with A-Rod" jabs nineteen times, I was getting sort of sick of it. Fortunately, my friends down in the lower right field seats still had an orphaned seat, so I moved there in the seventh inning. For once, the "cheap seats harvest loud obnoxious people" theory was wrong, since there were zero loud obnoxious people in the right field seats, and those tickets cost half of the Terrace Club ones. Hmm.
For a game that started off with Peter the bat boy doing acrobatics, and Felix walking Derek Jeter, things could have gone much, much worse. However, they also could have gone much, much better. You know, like if the Mariners had scored some runs.
Ah well. It's that beautiful time of year where the standings finally have magic numbers on them. Kansas City has been mathematically eliminated from everything (as they have been since sometime in May). Pittsburgh is mathematically eliminated from the NL Central. The Phillies beat Pedro today to be a half game up on the Wild Card again! I'm sure Seattle is technically eliminated from everything, but we won't get to see a nice big E for another week or two.
Also, several people grinned at me wearing my "Vote for Felix" shirt, but aside from Jon Wells of the Grand Salami, I didn't run into any blog folks. Maybe next time!