It seems that with football season started, people can't even come to Safeco to get excited about a Felix start anymore. Attendance for the Orioles games this weekend: 27,429 on Friday; 30,408 on Saturday; 30,212 on Sunday. It was a depressingly empty stadium yet again today -- I was sitting 12 rows behind home plate, in section 127, and our area was pretty full, but anywhere not behind the plate? Totally sparse.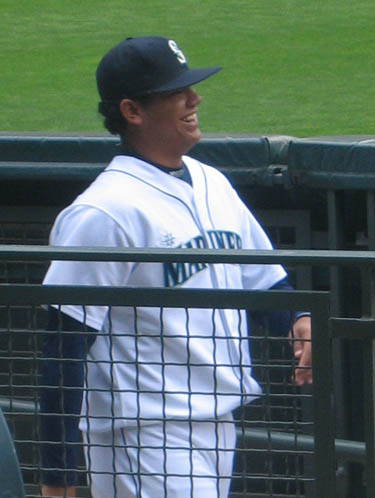 Actually, seriously, I don't have much of a game report to write, but you should totally go look at the
pictures of the game
I took. This time, due to lack of attendance, I was able to take better Felix warmup shots, at least, and I got a lot of foul-screen game shots.
On the way into the park, I got a ton of comments of "I LOVE YOUR SHIRT! WHERE DID YOU GET IT?" from people. Perhaps a Cafepress version is warranted after all.
So, yeah. We got there super-early. I had actually expected to take pictures of Orioles batting practice and get a decent shot of Walter Young, and hopefully get to annoy Eric Byrnes a bit, but instead, when we arrived at 11:30 or so, the Mariners were taking batting practice instead. Huh. So I took some pictures, was walking along to the other side of the infield, when I hear someone yell "DEANNA!" Well, it was Conor Glassey, who was there with his dad. And sure enough,
Conor also had a super-cool Vote For Felix t-shirt
! We rule!
I really wanted to try to get the attention of someone on the team to show them the shirt -- mostly because I think a lot of the Mariners guys would get a big kick out of it after their whole Napoleon Dynamite phase, but also just because I wanted Felix to know that we went to the trouble to make the shirts. But, eh, I wandered around a bit -- the closest I probably got was to Eddie Guardado while he was signing stuff for some kids near the outfield, but he took off before I could say anything to him. Oh well.
I finally bothered talking to
"Moose Man"
, who told us how he buys a little moose keychain before every Mariners game he attends -- and if the team wins, he adds the moose to one of the long lines of moose keychains he wears, and if the team doesn't win, he gives the moose keychain to a random little kid, in the hopes that they'll bring it back sometime and give it better karma. Neat.
We went down to the bullpen to see Felix warm up. Surprisingly (at least, compared to his first couple home starts), there was like, nobody there, even like 10-15 minutes before warmups would start. So, I got to watch warmups and take pictures. Felix was in a pretty good mood, and he was grinning at people behind the fence a lot.
There was a whole bunch of 9/11 festivities, but unfortunately we couldn't see them very well from behind the bullpen. Also unfortunately, we ended up trapped down there until 1:02pm, which freaked me out, except then the game didn't end up starting until 1:10pm anyway. I hear that Bruce Froemming, the home plate umpire, was pretty pissed off about that -- and it sure seems like he was calling a lot of questionable pitches against the Mariners for most of the day, too.
There were two innings of note, really. The first inning for the Mariners saw them scoring three runs. Ichiro led off with a bloop single, and then Jamal Strong got hit by a pitch (it was hard to tell at first whether the ball hit his hand or hit the bat). Ibanez grounded to short, moving them up, and then Richie Sexson walked, loading the bases.
Beltre came up and hit a short hit down the third-base line, and Bruce Chen fielded it somewhat poorly. He threw home, but it wasn't a very good throw and Sal Fasano couldn't hold onto the ball, so Ichiro scored.
Lopez lined out, and then Jeremy Reed walked with the bases loaded, scoring Strong. With Yuniesky Betancourt up, a wild pitch allowed Sexson to score, but then Yunie popped up to end the inning. Still, things looked hopeful -- with Felix on the mound, a 3-0 lead should have been enough, right?
Wrong.
The top of the second inning saw Greg Dobbs playing for us in left field as Jamal Strong left the game with a fractured hand. It also saw an INSANE strike zone, as Froemming didn't call a single borderline low ball a strike. It was ridiculous. Gibbons singled, but then Surhoff and Freire both walked on questionable walks. Newhan hit a sac fly to score Gibbons, okay. Fasano struck out. Yay. But with two outs, Brian Roberts also appeared to be struck out, but instead walked as well due to the questionable low ball calls, so it was another bases loaded situation, and Bernie Castro hit an annoying almost-foul double to left, which Greg Dobbs gathered up reasonably fast, but his arm doesn't really scare anyone, so Surhoff and Freire scored. To add insult to injury, Melvin Mora singled to right, scoring Roberts and Castro, though he then got caught in a run-down between first and second, so he was the third out, but the runs had already scored. Bleh.
By the time the bottom of the second inning started, it was past 2pm, and it was also 5-3 Orioles.
Now, here's the annoyingest thing about the rest of the game:
In the remaining 7 innings, only the 7th (where they scored another run) was not a 1-2-3 inning for the Orioles, helped by a sweet double play in the 3rd by Betancourt, who snagged a line drive from BJ Surhoff and doubled Gibbons off the bag at 2B.
In the entire game, the Mariners never had a 1-2-3 inning on their side. They always had at least 4 batters come to the plate. Unfortunately, they couldn't get the streaks of hitters on base *together* -- and as such were shut out for the rest of the game. It might have helped if they didn't keep getting called out on third strikes that shocked them. Even Ichiro argued with the ump, which says something, although nobody got thrown out of the game today.
Sal Fasano swung for one strike so hard that his bat flew out of his hands and bounced off the Orioles' dugout and onto the field. If it had been about a foot higher, it could have probably decapitated someone in the first row of seats behind the dugout.
In the 9th inning, with a vaguely hopeless situation out there, and Greg Dobbs having struck out three times already, a guy down the row from me yelled "DOBBS, YOU SCUMBAG, YOU HAVE A BAT, NOW USE IT!" Next pitch, Dobbs singled to left. Not that it mattered, but still.
Actually, it was pretty cool being so damn close to the field. I could hear the umpire yell or grunt or whatever after each strike.
Oh, another weird thing -- the scoreboard guys had "51 Suzuki" up again instead of Ichiro's name. And then later on, when Dave Hansen pinch-hit for Torrealba, they never actually changed it from Torrealba's name or stats anywhere -- the only change they did was that they showed Dave Hansen's picture on the board. It was kind of weird.
Oh well. The Mariners lost, which sucked, but the Phillies won, the Marlins lost, and the Astros lost too. Wheeeee. And the third inning looks sweet, what with most of the guys getting on base and scoring, capped by Pattycakes's home run. Even better, the Phillies used Rheal Cormier in the proper way -- pitching a useless inning in a blowout. I know it's not worth hoping, but 1.5 games out of the Wild Card...
OH! And the Rainiers beat the River Cats again, so they are going on to play Nashville in the Pacific Coast League championships! Yaaaay! The Wisconsin Timber Rattlers are also in their championships! Yaaay! The Missions are not, but that's okay. This is great and hopeful for the future.