Bill Bavasi is very proud of his perfect record regarding arbitration -- he's still never had to go through it.
Today the Mariners
signed Gil Meche to a 1-year contract
, avoiding arbitration. I've heard varying reports on the actual contract -- it sounds like it's for $3.7 million, but $225k of it is incentive-based, where he will receive $25,000 for reaching 190 innings, $50,000 for 200 innings and $75,000 each for pitching 210 and 220 innings. Various other sources have said something about the contract itself being non-guaranteed, but that may have just been a misinterpretation.
To me, this contract sounds exactly like what you'd expect after Bavasi's comments in
the USA Today article
the other day where he said that "we need Meche and Pineiro to pitch to their potential". In fact, I'm surprised it wasn't even more incentive-laden and less base salary, to be honest. Though, the most interesting point about this contract to me is that it says the Mariners only want to see Meche as a starter, not in the bullpen, because if he did go to the bullpen, there's no way he'd pitch anywhere near 190 innings.
Oh, what were you saying? It's Friday, Deanna, where's the Foto? Right, here we are: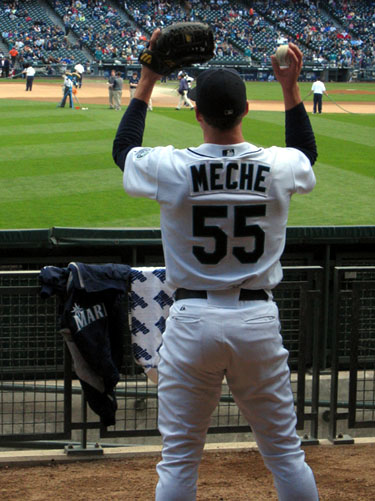 "Is this a baseball which I see before me, the
sweet spot toward my hand? Come, let me clutch thee."
It's funny remembering the game I took this at.
June 14, 2005
. It was the first of the three Phillies-Mariners games. I was wearing a Thome jersey and rooting for the Phillies, and therefore Meche had to go throw 8 innings and only give up three hits and one run in what was one of his best games of the year. Dave Hansen hit a home run, and Ichiro got his 1000th major-league hit, though Randy Winn had a batting average ten points higher than him at the time. Given how Meche usually hates pitching against lots of lefties, it's really quite amazing that he wasn't fazed by the Phillies lefty-loading their lineup, what with J-Roll, Lofton, Abreu, Thome, and Utley.
Anyway, I hope Meche does well this year, I really do.
Also, they put up the
scheduled appearances
for Fan Fest. For player appearances, it looks like King Felix, Dobby the Bench Elf, J-Rod the Washburninator, J-Reed, J-Putz, and J-Jima are there both days; J-Moyer is there only Saturday and Richie Sexson is there only Sunday.
As far as blogger appearances go, I believe that myself,
PositivePaul
, and
Conor Glassey
are confirmed for Saturday, and I don't know about Sunday. I will try to conspicuously wear my Vote For Felix t-shirt; come say hi if you see me! I look sort of like
this
.