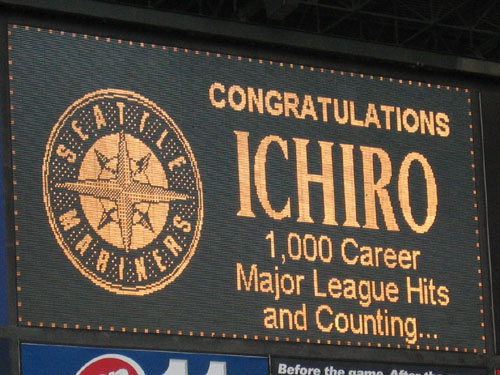 I went to tonight's Phillies-Mariners game. It was a really short game. What I learned tonight is that:
1) Bobby Abreu is an extremely nice guy (he signed stuff for like ninety billion people before the game)
2) Jimmy Rollins is an extremely short guy (He stood next to Richie Sexson. It was priceless.)
3) Bret Boone is an extremely poor baserunner (Not just his ridiculous stealing attempt, but when Morse hit that great sac fly, I almost worried Boone wouldn't make it from 3rd to home in time.)
3a) Tomas Perez let Boone have the shortest double I've ever seen (No joke. Have you ever seen a double that barely leaves the infield dirt?)
4) Jon Lieber can throw the ball just fine to first base, unless he's fielding it (Though he did a fine job of rolling it to first, but not in time to get Winn.)
5) Dave Hansen is good, and it was a nice home run, but it's still amusing that he has a higher batting average than OBP
6) Lofton might be an old dude, but he's a fast old dude
7) Meche seems to throw less pitches as the night goes on, not more (We bet on when he'd leave the game, and projected it to be around 6 innings with 110 pitches. He left in 8 with 120 pitches.)
8) Ichiro is awesome, even if Winn has a higher batting average right now
9) Lieber means lover/beloved, Thal means valley. Isn't it great what you learn when you think it's neat that the Phillies have a Lieber/Lieberthal battery?
I'm going to the games on Wednesday and Thursday too. Phillies! Wheee!
By the way, I've adored Mike Lieberthal since he came up to the Phillies a bazillion years ago, but... what are those cushions behind his legs? Do other catchers use those? I don't think I've seen them before, but that looks like it's certainly got to be easier squatting with them on!