This story actually starts towards the end of June. It was a grumpy morning for me, I was running late for work, was feeling pretty tired, really just wanted to go back to sleep. I walked into the BART station near my house, absentmindedly ran my Clipper card over the machine, and suddenly noticed that there was a BIG ELEPHANT IN AN OAKLAND A'S JERSEY STANDING IN FRONT OF ME!
This is one of the A's promotions with BART -- they have their mascot Stomper riding around on the trains sometimes, and even better, occasionally you'll catch the street crew in stations giving away free A's tickets and BART tickets! This had happened to one of my coworkers who lives in Oakland a few weeks ago as well, but since I live in San Francisco, which is decidedly Hipster Giants Fan Land, I figured there was no way I'd ever get that lucky. Apparently I was wrong!
You may be wondering, what did I have to do to get free A's tickets?
I had to get my picture taken with Stomper.
That was it. Really. And if you know me at all, you know I LOVE getting my photo with mascots and baseball people, and have been known to chase down mascots in Japan with my friends. Think about this one: first, I don't have to chase down Stomper for a photo. Second, they WANT me to get a photo with Stomper. Third, they're going to give me free tickets to a baseball game for getting my photo with Stomper. Does it get better than that?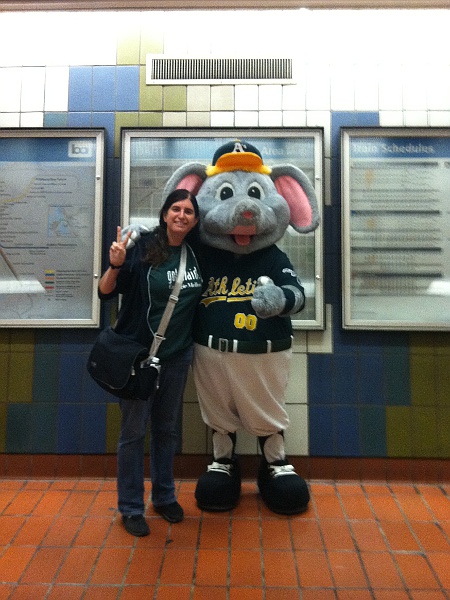 Actually, it does, because the tickets they gave me were for the 4th of July game! I'd already been thinking of going on the 3rd or 4th, vaguely in the hope of seeing Bobby, but even so, just to watch baseball on July 4th. And it ALSO gets better because they gave me two $5 BART tickets, which would pay for me to get to the game! And the tickets were for 200-level seats behind the bullpens, not something crappy in the middle of the outfield! How lucky is that?
(The retarded thing is, I swear to god, there were people just saying "no thanks" and walking past the A's crew and going down to the platform. WTF? How do you turn down BART tickets and baseball tickets? San Francisco is dumb. I walked off saying "You guys made my day!" and went to work with a big smile on my face instead of a big frown.)
Anyway, as for the day of the game itself, I went with one of my coworkers who lives in Oakland, and we had a pretty good time. I mentioned that I knew Bobby Valentine from my days in Japan, and hoped to say hi to him, and I even wore my Bobby 2010 t-shirt from the
Keep Bobby in Chiba
campaign back during the 2009 season when the Lotte front office was stupid and decided to fire him. UNFORTUNATELY, the downside of us having seats in the 200-level for a day game with no batting practice and a crowd-drawing team like the Red Sox was that the ushers and staff were being particularly careful about letting people who didn't have appropriate tickets down to the front of the field, and I made a few attempts to get down to the dugout but completely failed. Here, however, is proof that I really did make the attempt: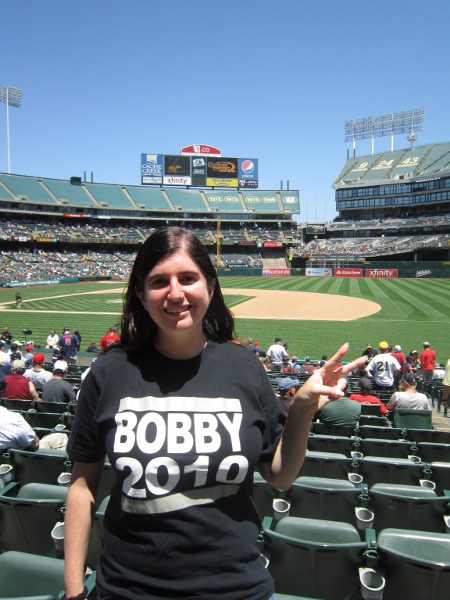 And I saw a guy in the stands holding up a "In Bobby V We Trust" sign during the game, too: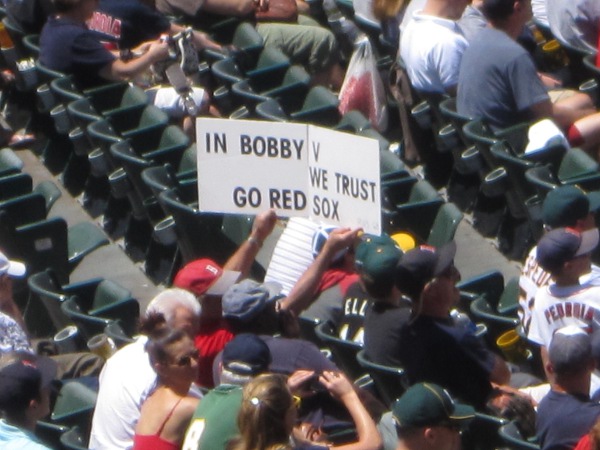 Anyway, disappointment about not seeing Bobby aside, and given that I actually root for the A's in general, it was really a pretty good game. Aaron Cook, who's mostly spent his career in the Rockies system, started for the Red Sox, and AJ Griffin, who's barely older than my interns at work, started for the A's.
Because it was the 4th of July, they were theoretically giving out some kind of red, white, and blue A's hats, although we not only were too late to receive one, we didn't even SEE anyone wearing one anywhere. But, they had a whole bunch of pregame ceremonies involving the Marines and various other military things, including a bunch of fighter jets flying over the stadium after the singing of the National Anthem.
And then things got underway. Brandon Moss hit a home run right over the "400" sign in dead center in the 2nd inning to put the A's up 1-0, and then in the 4th, David Ortiz tied things up for the Red Sox by hitting a home run of his own into the corner of the right-field stands, slightly over from the A's mini-ouendan cheering section, making it 1-1.
I haven't really been paying close attention to the MLB like I used to back in the old days, so my brain started to wonder "How many career home runs is that for Big Papi now?" and before I could even look it up on my phone, someone a few rows behind us said "Hey, that was his 400th career home run!"
And sure enough, the A's announcer even called that out the next time Ortiz was up to bat, and there was a stadium-wide round of applause for him: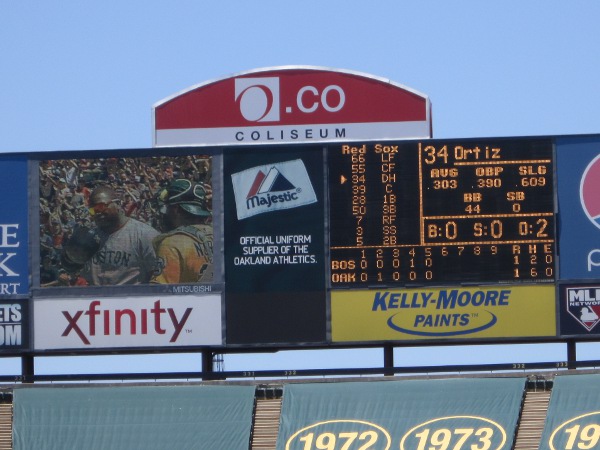 (Honestly, in a semi-related point, I was kinda shocked to hear what stupid shit Manny Ramirez has been up to since last I lived in the USA -- but at the same time, I'm kinda sad I never got out to a Sacramento River Cats game to see him while he was playing there this year. Apparently he was released a few weeks ago, at his own request.)
The Red Sox did go up 2-1 in the top of the 6th after Ortiz walked, Jarrod Saltalamacchia (who I pointed out as "the most annoying name to stitch on a uniform") reached on a fielding error by Jemile Weeks and Adrian Gonzalez singled in Ortiz.
But the A's tied it up in their half of the 6th when Brandon Moss hit a "double" that was really a sun ball that got lost by 3 guys in left field and just dropped, and then Brandon Inge hit a real double to bring him in ("Inge-sanity!"), and then Coco Crisp hit a triple to right to lead off the bottom of the 7th and was brought in by a single by Jemile Weeks, and that made it 3-2 and the A's won the game.
Box score here
.
There were a surprising number of people carrying brooms around the stadium: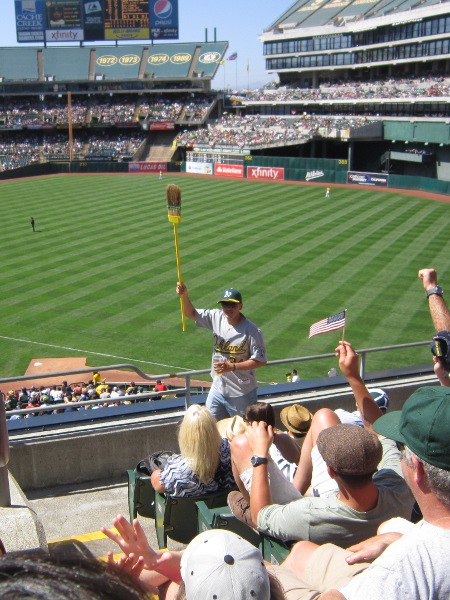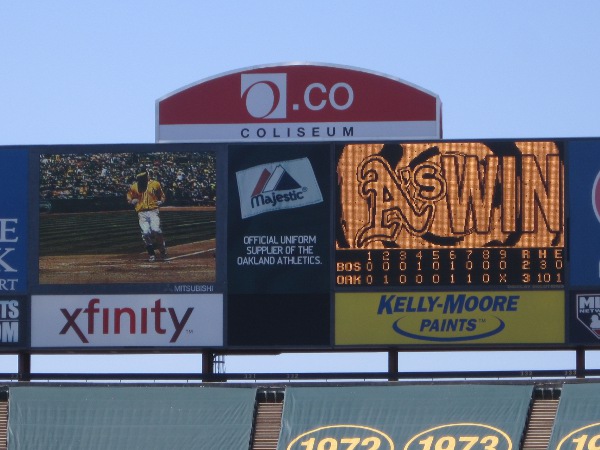 But well, that's about what you can expect.
Personally, I was glad the game ended by 4pm because it was pretty hot and sunny out there. On the other hand, because BART was running on a Sunday schedule it took forever to get on a train! They actually have police holding up people at the staircase to the station and only let people through in waves, so that the platforms don't become crowded enough to be dangerous. I was surprised, since in Japan, teams would often run extra trains after games to disperse the fans (well, Seibu and Hanshin and teams that owned their own train lines at least. Nevermind...)
Still, it was a good time at the park. If I'm lucky I can try to see Bobby around Labor Day, I guess.