When I was about 5 years old, someone asked me what I wanted to be when I grew up, and I said I wanted to be a pitcher for the Philadelphia Phillies. My mom told me that girls couldn't become baseball players, and I cried for like a week.
Well, last Friday, July 6th, I went up to San Rafael again to watch the Pacifics. The difference this time was that it was actually to watch the Maui Na Koa Ikaika team... because Eri Yoshida was starting for them! I figured I just HAD to go up there if she would be pitching so close to home, after reading about her for so long.
I thought the game was at 7pm, left work right after our company meeting, hit the road around 5:45pm, got to San Rafael around 6:20pm... and was very surprised that the stadium wasn't particularly crowded. Then I found out that the game was at 7:30. However, this worked in my favor because I got a GREAT seat, I was in the "Dugout Club" again at a table RIGHT against the field. To my left was a lady who modelled in Japan like 30 years ago and the rest of my table was a Japanese family, the father was from Nagoya, the mother from Shizuoka, and the kids born and grew up in California. But they spent the whole game speaking Japanese anyway, which was amusing because it took them a bit to realize I was fluent and could understand/speak with them. (I started explaining the intricacies of independent league baseball in Japanese...) The mother kept up a stream of very motherly babbling the entire game, including "Why are there no cheering sections or big scoreboards here?" about the atmosphere, and "She looks like a junior high school student!" about Eri Yoshida herself.
I spent the pre-game wandering around the stadium a bit, to get food and look around and take photos. I noticed Tsuboi wasn't in the lineup again, and asked a staff guy, who thought he'd been released! OH NO! But then I ran into the team trainer, a Japanese guy who kinda serves as a translator for Tsuboi as well, while he was talking to someone in Japanese, so I just sort of butted in on their conversation for a second to ask what was up with Tsuboi, and he's like "Oh yeah, you were here a few weeks ago in a Fighters hat, right? Tsuboi injured his shoulder... we'll see what happens but..." The three of us talked about Eri Yoshida a bit, and THEN Trainer-san told me something VERY interesting, namely "There's another Japanese pitcher on the Maui team here, this is his first day, he's a lefty, former pro yakyu guy with the Seibu Lions... they're supposed to have him pitch after Eri-chan because so many Japanese people are here tonight..." and my brain suddenly clicks and I'm like "WAIT A MINUTE, IS IT YOSHIHIRO DOI?!" and he's like "Maybe?" I'd heard that Doi was looking to catch on with another team over here after getting cut from the Orioles, so it certainly would make sense.
(Also, from blog reader Ken:
Tsuboi out for 10-14 days
with a sprained shoulder, apparently. Since the team had a week off, I guess it works out well for him, and I hope he gets back into the lineup soon since I'd like to see him play again.)
Anyway, eventually the game happened. And around 1500 people were there. For a stadium that seats 800 people officially. They had bleachers set up behind the dugout area, and standing-room only arrangements. The local papers apparently wrote about Eri Yoshida so a bazillion people came out to see her pitch. By the time I went to take photos of her warming up in the bullpen, it was almost impossible to actually walk back there, because there were so many people in a space not intended for so many people.
Of course, the sad part is, she had a kind of bad outing - only 3 innings, 5 walks, 1 strikeout (and the 3rd strike was dropped so the runner advanced, I was all like "what do you call that in Japanese, nige... nige... furinige?") and a hit batter, so she was taken out in the 4th inning after walking in a run. Bizarrely it seems she was only charged with 1 earned run out of the 5 she gave up. After she came out, Steve Boggs hit a 3-run homer that cleared all of her runners.
Still, it was pretty cool to watch a 20-YEAR-OLD JAPANESE GIRL throwing pitches and having BIG AMERICAN DUDES SWING AND MISS.
The other cool thing is that Yoshihiro Doi DID pitch 2 innings! He gave up a run but he also got a strikeout or two and looked pretty good. After he finished his innings and walked by us to go to the bullpen, I called out to him in Japanese, "Hey Doi, good job, nice pitching!" (お疲れ様!) and he looked over surprised but then smiled like "Huh? Oh, thanks!" (ああ、どうも!) And the people around me were all like "Holy shit! Do you know him?" and so I explained how I'd seen him pitch for years in Japan and this was his first game for Maui and so on.
The Pacifics won the game 7-3.
Box score here
.
After the game I went over with the Japanese family I'd been sitting with, to try to get a photo/signature from Eri Yoshida. Despite having a somewhat bad start, she stayed after the game and signed for pretty much everybody who asked! It was really nice of her. Although I really wanted to talk to her a lot more and tell her how much I admire her, since I wanted to be a major league pitcher when I was a little kid, there were so many people around that I just got a photo and an autograph and wished her a hearty ganbare and moved on.
However, while she was being mobbed, nobody was talking to Doi, so I came over and chatted with him for about 10 minutes. I asked him about how he'd ended up there, and yeah, he'd signed a few weeks ago but had to wait for paperwork to start actually playing, and was a little nervous because he hadn't pitched in front of live batting for a few months. (I told him he did fine, of course. He told me my Japanese was really good and asked why I was able to speak so well.) I explained that I was a Fighters fan but of course had seen him pitch with Seibu many many times, and that I used to live in Saitama, so we got into a long conversation about Saitama. Bizarrely, I used to live really close to where he grew up, when I lived in Kawaguchi. We were talking about riding our bicycles over the Warabi track crossing, which is a somewhat obnoxious high bridge; he used to ride that every day to go to Kasukabe Kyoei HS; I used to ride it once or twice a month to go watch baseball at Lotte Urawa or Yakult Toda stadiums. Again, I was having such a strange moment of "I can't believe I'm standing here talking to Yoshihiro Doi about living in Saitama." I'm pretty sure this qualifies as a "only happens to Deanna" kind of moment.
Also, blog reader Eric came up and said hi as well, while we were in the group of people waiting to talk to Eri Yoshida. Since I'm kind of "retired" from this blogging stuff and not in a country where a white girl stands out as much anymore, I'm not used to getting recognized, so that was kind of cool.
The only downside was, getting the game timing wrong and some crazy roadwork on the way home meant that I nearly had a big Zipcar failure. I think it all worked out okay, though, and now I've got a better idea to overestimate on future runs up to San Rafael.
Anyway,
click here for my entire photo set from the day
, or here are a few highlights: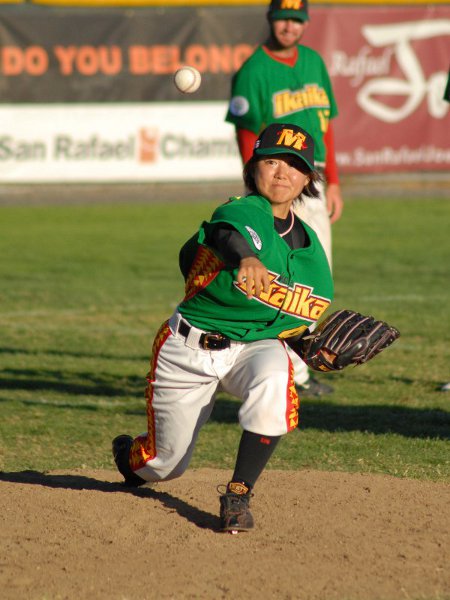 Eri Yoshida warming up in the bullpen.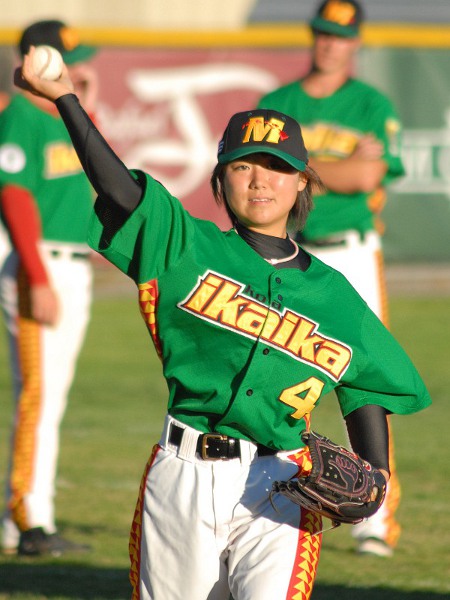 Eri Yoshida warming up in the bullpen.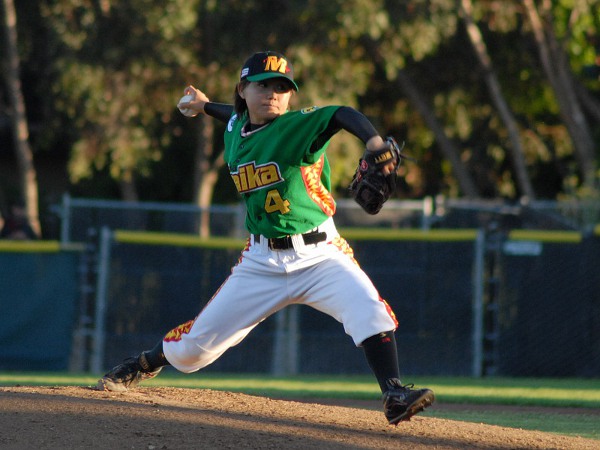 Eri Yoshida on the mound. Look at the knuckles!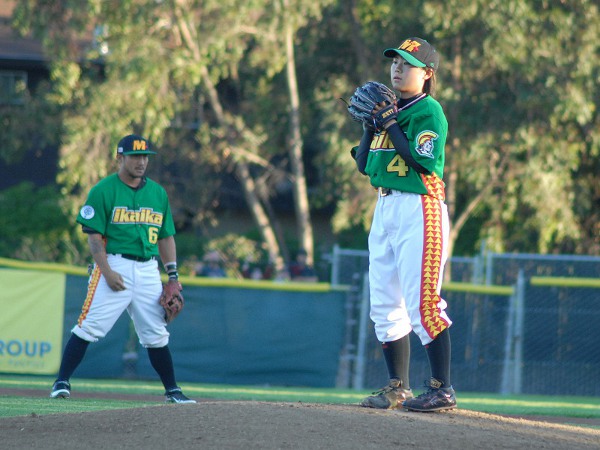 Eri on the mound with 2B Gered Mochizuki in the background.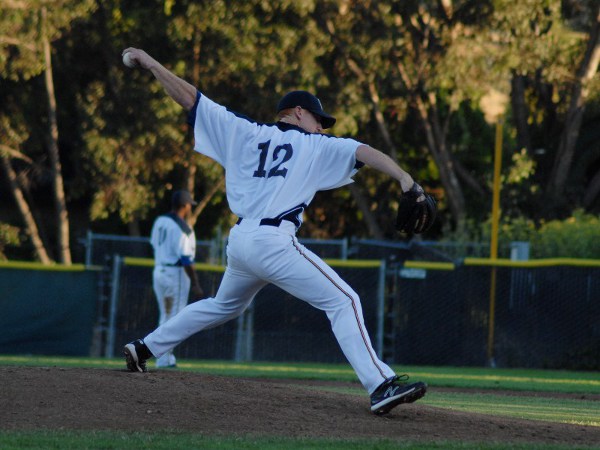 Pacifics starter Brian Gump. Brian
also blogs about baseball
and has some amusing things to say about his time with the Pacifics.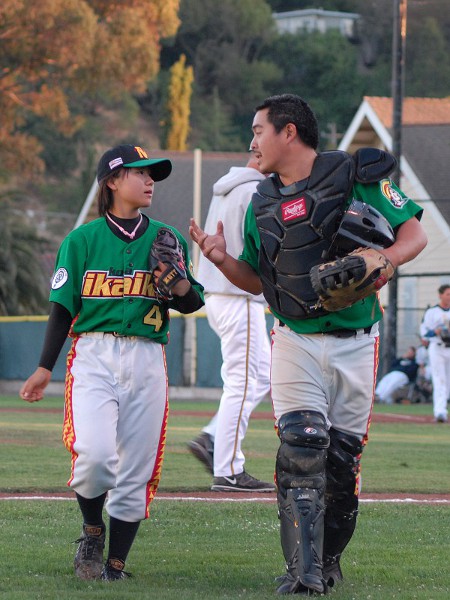 Eri coming off the mound with catcher Logan Kanamu.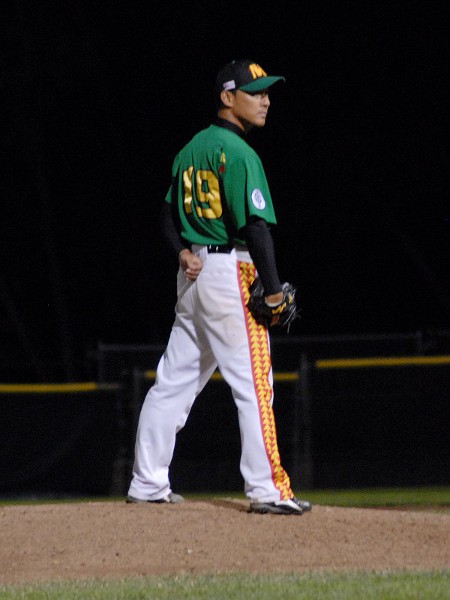 Doi on the mound for the Ikaika.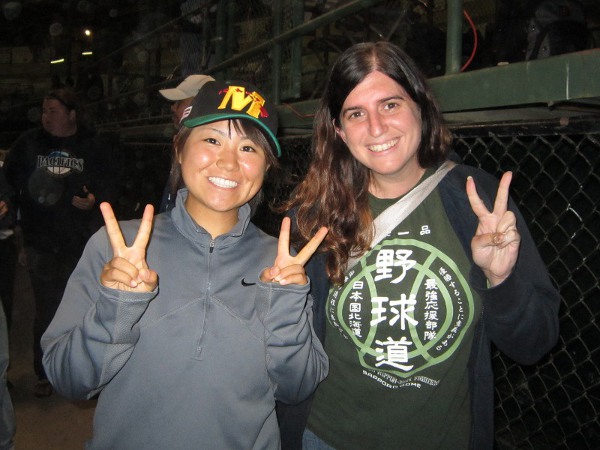 How cool is this!! Despite it being an away game and her having a somewhat bad outing, Eri Yoshida stayed after the game and signed autographs and took photos with people for quite a while! So I was lucky enough to get a photo with her. She complimented my t-shirt :)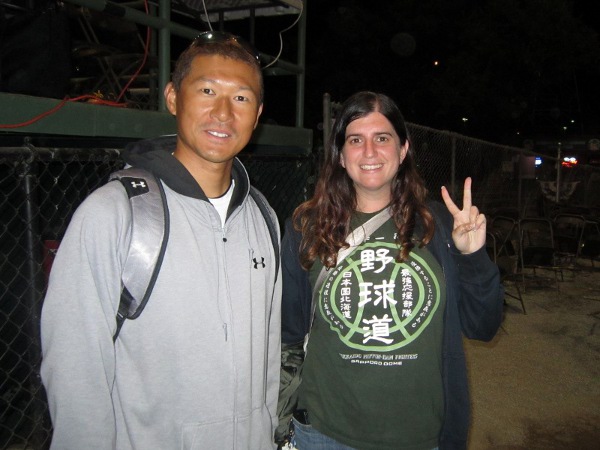 I also asked Doi if I could get a photo with him since we were talking for a while, but I'd only brought the one shikishi. Honestly, I like photos more than autographs anyway :)
So anyway, I'm about a week behind on blogging games, but yesterday I saw the Tacoma Rainiers vs. the Colorado Springs Sky Sox when I was back up in the Seattle area, and I got to catch up with Brian Sweeney and Luis Jimenez a bit, so hopefully I'll write something about that game and put up pictures before too long :)