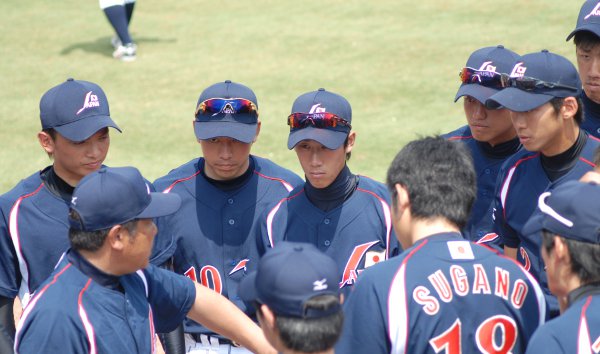 This is the game that was supposed to happen Monday night but became the morning game of a double-header on Tuesday. Originally, had Game 2 happened as planned in Durham, Game 3 was going to be at 7pm on Tuesday night in Cary, but instead, they put Game 2 at 11am in Cary, and then had Game 3 at 6pm in Durham.
For those wondering, they're really only 20 minutes apart or so. We looked at the weather in the morning on Tuesday and were able to get to the park in Cary fairly easily. The Cary game was at the
National Training Complex
, which is huge and has four full MLB-scale baseball fields. Undoubtedly, a big reason why this series took place in North Carolina at all is because USA Baseball is based there. I definitely got the impression, from talking to people, that this series was more of a showcasing for the US college players than for anyone scouting the Japanese college players, although the scouts were certainly watching Fujioka and Sugano.
Anyway, it was really hot and sunny, and we found a place to sit on the Japan side, right behind the dugout -- and immediately I ran into my friends from the other game, who said "Good thing you made it! We found out about this game when we got back to our hotel!" and I'm like "So did we!" I also ran into some of the cameramen I sat with for Game 1.
I got a photo with 3 guys from Team USA, who happened to be standing around by the team tent. I felt like, hey, might as well ask, it couldn't hurt, right? It's funny how all the US guys seem to be 6'3", really.
Me with Tyler Naquin, Michael Lorensen, and Erich Weiss.
I went to the bullpen to take pictures of Takahiro Fujioka warming up because he's awesome. As I was taking photos, there was this older guy watching Fujioka throw too. He saw my Chunichi shirt and asked me in Japanese, "You a Kawakami fan?" and I'm like "Yeah, when he was on Chunichi I really liked him. Nomura reminds me of him, you know?" and we got to talking. He asked if I was working at the game and I said no, I was just a big fan, and no, I didn't get to see Kawakami on this trip, though he's still playing in the minors here, etc. He asks if I've watched a lot of college ball and I explain that I loved college ball when I lived in Japan. So he asks if I saw Yuki Saitoh, and I'm like "...well, of course..." and then I admit that I'm a Fighters fan actually, but I start going on about how frustrating the media can be for players like Saitoh, and like they were in the past for Nakata Sho, and Darvish, and so on. And my favorite player was Hichori.
Well, uh, get this... this guy I was talking to was none other than Masao Yamada.
THE NIPPON HAM FIGHTERS GENERAL MANAGER.
Wow, do I talk too much. But, he seemed really amused by me -- and he kept saying "kuwashii!" which is Japanese for "Geez, you know EVERYTHING, don't you?" He gave me his business card, but sadly it doesn't have an email address. Also, he was there scouting with Matt Winters -- after the tourney they were going to go barnstorming through the southern US and hunt for some AAA guys that the Fighters might be interested in bringing over to Japan. He offered to introduce me to Winters, which sadly never happened. Alas.
I did put in my own two cents about how the first time I saw Fujioka was because I had come to a Toyodai game in the hopes of seeing Masahiro Inui pitch, and saw Fujioka (then a sophomore) instead, and have been watching him for the past 3 years and honestly think he's better than Inui. The Fighters drafted Inui in the 4th round this past fall and were really high on him. Yamada laughed and thanked me for my input.
Fujioka finished warming up and I called out, "Fujioka-kun! Ganbatte kudasai!" and he tipped his cap at me with a slight bow.
As the game was getting underway, a small ouendan materialized, too. Some people from the Japanese society at Duke showed up with a real taiko drum (which they said they built here in the USA). A guy in a Hanshin cap brought some blue megaphones, and so we were all yelling encouragement at the Japan team in Japanese. The first time the taiko drum beats happened, the entire Japan team came out of the dugout and looked up like "WTF?!" but they seemed happy about it.
I should also mention that the announcer at this game, while being SLIGHTLY better at the Japanese names than the one in Durham, was still pretty awful. He kept calling Hayata Itoh "Itu". To the point that some other guys in the dugout were yelling "ITU!!!" at him.
So, yeah, there was a game. For the first 6 innings it was a crazy pitcher's duel. Fujioka was amazing, he struck out 9 guys in 6 innings, with 2 hits and 2 walks. I stopped by to chat with Conor, who was sitting out with a radar gun and being all scout-like, and asked what he thought of Fujioka, and he said, "Your boy's pretty good. Nobody's getting solid contact off him at all."
Japan finally got a run ahead for 1-0 in the 6th, when Ryosuke Obuta singled and then Yoshihiro Ikeda hit a triple out to center, scoring Obuta. Daichi Suzuki walked and stole second, but then a pitching change later, Hayata Itoh struck out, and boy was he not happy about that. Nakashima replaced him in right field after that, and it almost looked like Itoh took himself out of the game, really.
Unfortunately, all hell broke loose in the 7th inning. Ficociello doubled, Elder singled to bring him in to tie the game at 1-1. Reynolds also singled, and then the US team orchestrated a delayed double steal -- that is, the Japan team threw to first and got Reynolds in a rundown and then Elder ran home, making it 2-1. Weiss pinch-hit and also singled, and then it was 3-1 and Fujioka came out of the game, which was very sad for me.
Tomoya Mikami replaced him on the mound, except that Mikami had literally been warming up since the 3rd inning or so, in this 95-degree heat. I was pretty sure he'd have nothing left in him by the time he got out there, and I was right -- Lorenzen bunted and got on when Mikami misfielded the ball, and then Fontana hit into a fielder's choice (but Obuta's throw to the plate was wide and so Weiss scored anyway, 4-1). Fontana got himself out in a rundown for the first out of the inning. Yay. Marrero singled, scoring Lorenzen; 5-1. Naquin doubled to left, scoring Marrero, 6-1. Elander singled to center, scoring Naquin, 7-1, and then Lyon pinch-ran for him. That was it for Mikami.
Lefty Yuta Iwasada replaced Mikami on the mound... and got a flyout from Ficociello, who was up yet again. A single from Elder brought Lyon to third but that was it as Reynolds grounded out to third to end the inning.
It was so depressing that I spent the 8th inning up in the small amount of shade the concourse offered, because I was really overheated, a little sunburnt, and quite thirsty. The Yomiuri cameraman I'd been chatting up earlier in the game asked, "You left your scorecard and camera?" and I said, "I can't bear to look at it again." I spent a while talking with him and another guy from Sponichi, which was interesting. (Amusingly, they asked "Have you considered writing about Japanese baseball?" and I felt too lame to say "I'm a semi-retired blogger...")
Anyway, I can tell you for a fact that the
USA Baseball Box Score
for this game has some errors -- notably, Koji Fukutani replaced Yuta Iwasada on the mound and pitched the 9th inning for Japan. Also, Tomoki Takata pinch-hit for Keisuke Okazaki in the bottom of the 9th as well.
Though, speaking of the 9th, more excitement happened when Dominic Ficociello had a broken bat foul and his BAT went flying into the stands right towards us! I ducked, the bat landed a few rows back. Mike went and retrieved it, and now we have a great souvenir from the game! In the US, college baseball players don't usually play with wooden bats, either, so it's kinda crazy. The bat was split straight down the handle part, there's still some tape on it.
Fukutani gave up another run, and the Japan team managed to score a run in that inning I was ignoring the game, so the USA team won the game 8-2. Whatever.
I took over 1000 photos during this game. A few came out somewhat decently.
First, here's way too many shots of Fujioka: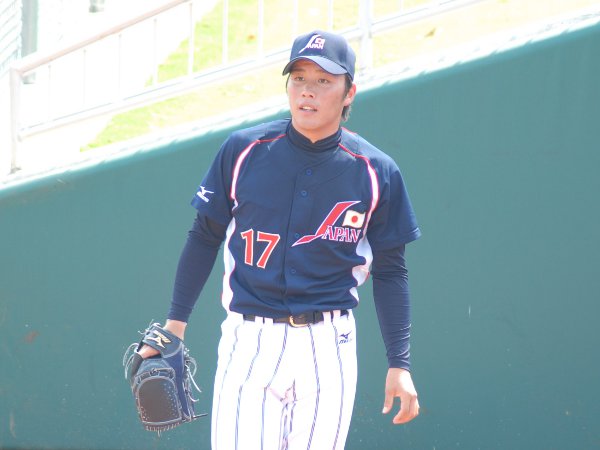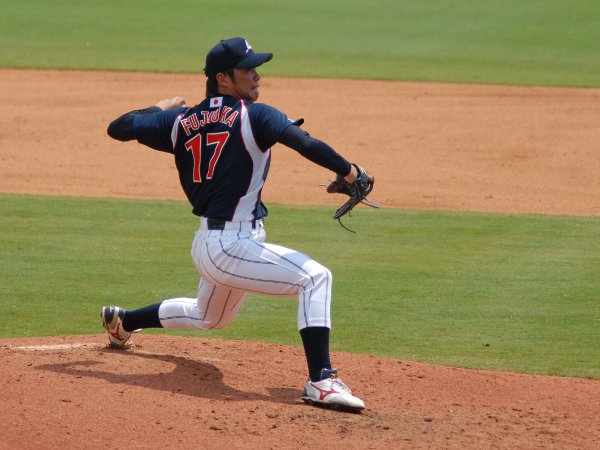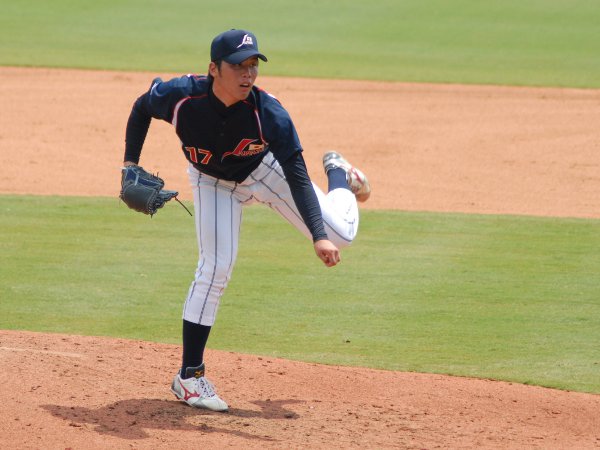 This was the USA starter Kevin Gausman. He has this ridiculously high leg kick. Conor tells me it's even more ridiculously high than it used to be.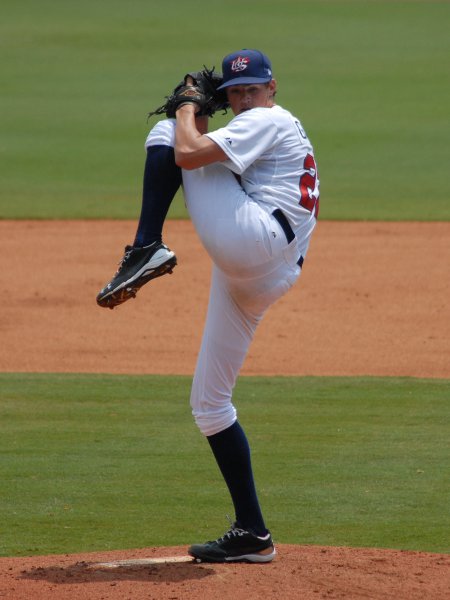 Tomoya Mikami is a pretty tall pitcher from Hosei, so I've seen him quite a bit. He's quite tall for a Japanese guy (190cm), and converted from an infielder to a pitcher his freshman year of college.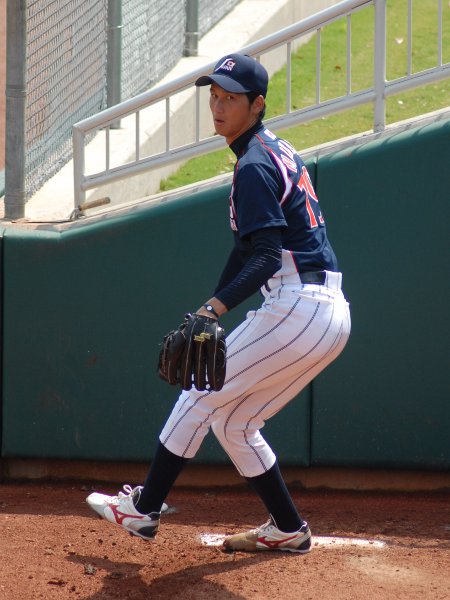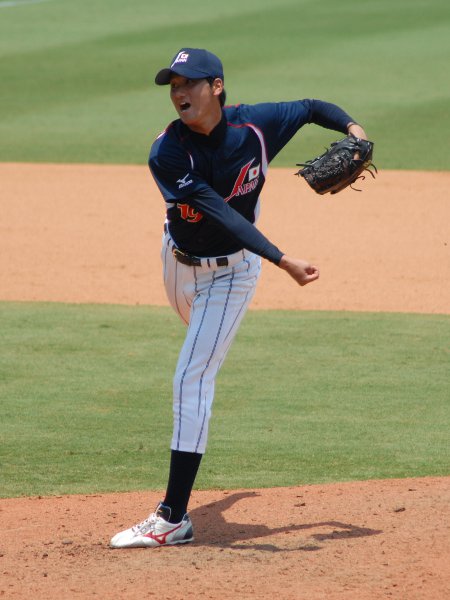 Here's lefty Yuta Iwasada, from Yokohama Shokadai.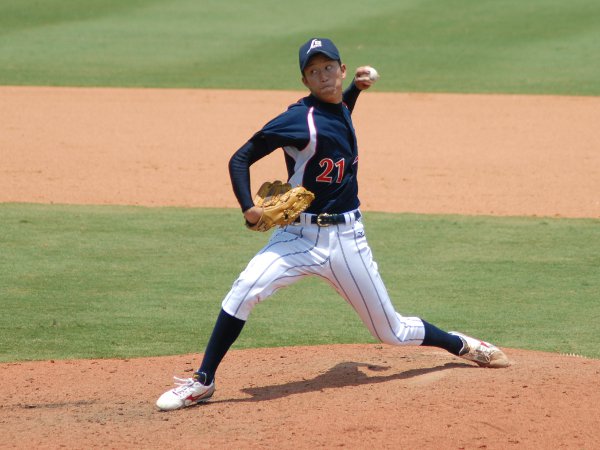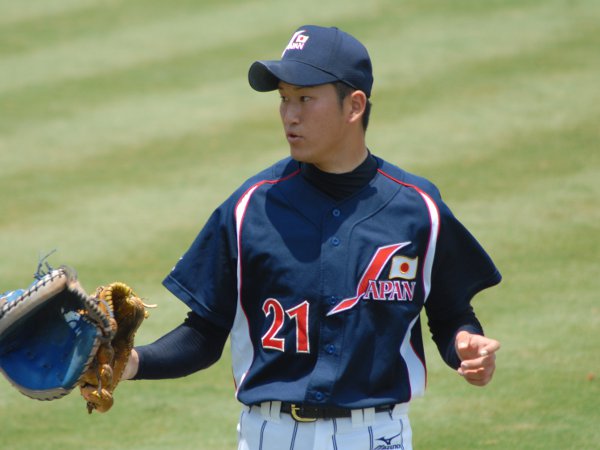 And here's Koji Fukutani out there on the mound pitching the 9th for Japan (well, the first is in the bullpen). He's Keio's closer, it would have been nice if he was holding a lead...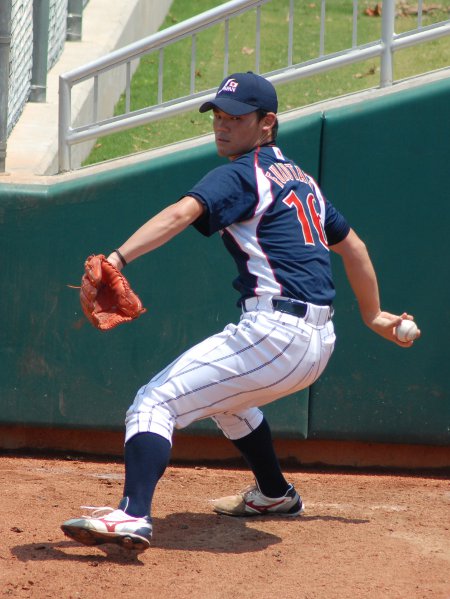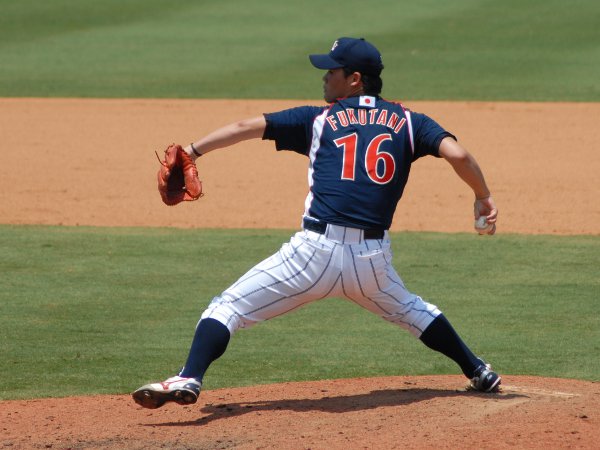 (he's always had this kinda weird head twist after he throws a pitch...)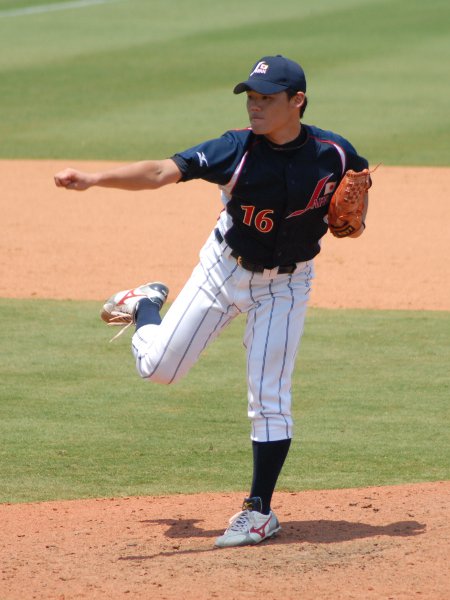 Here's Hodaka Yamakawa, the boy who hit that huge homer in Game 1 and was launching them during batting practice, but only managed to hit a long long fly ball during this game...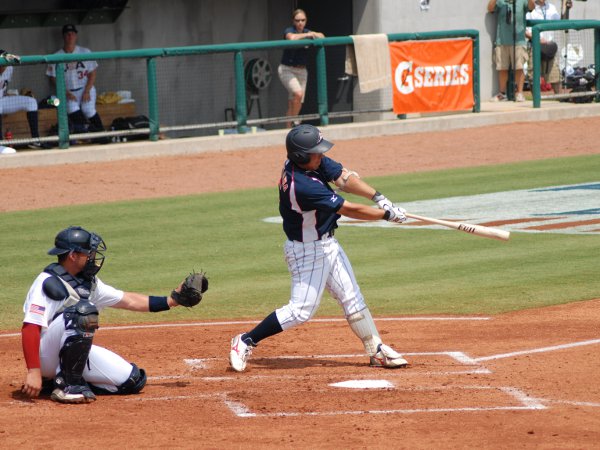 (Doing his best Batozaki imitation?)
It would have been nice to see Hayata Itoh smile at all during the game, but...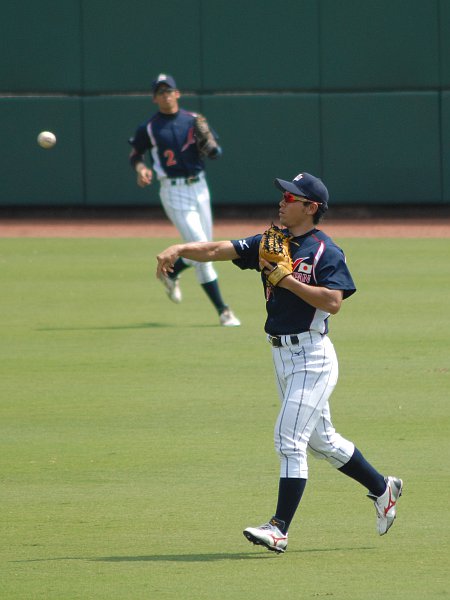 Here he is in the field.
Hitting a fly out, sadly.
And striking out. Not the best day for the boy who is usually super-clutch whenever I see him play.
Hosei's Hiroshi Taki, who had a pretty crappy day at the plate. It seems he got a lot better once I stopped watching him...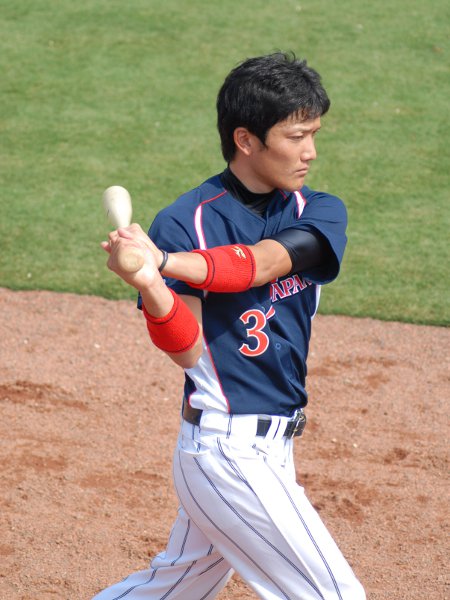 Warming up.
At first base.
...this looks cool but in reality he's about to hit a foul. :(
Rissho's catcher Yuta Yoshida, former Sanko captain, etc. I hope I can find him again when I'm back in Japan sometime.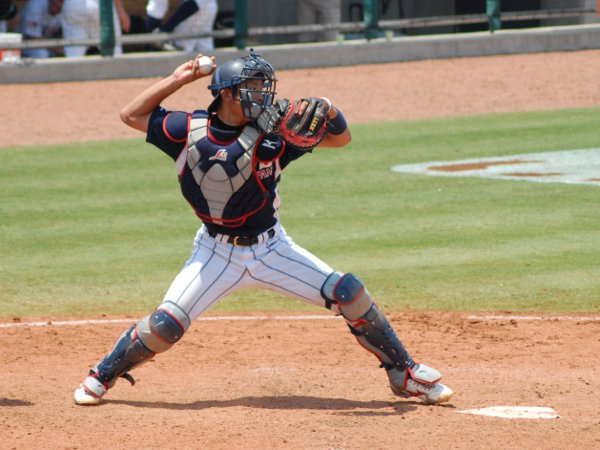 Yuji Kaneko, switch-hitting third baseman from Ritsumeikan. I liked him both in the field and at the plate, but I pretty much never get to see Kansai college ball. Switch-hitters are really rare in Japan for whatever reason.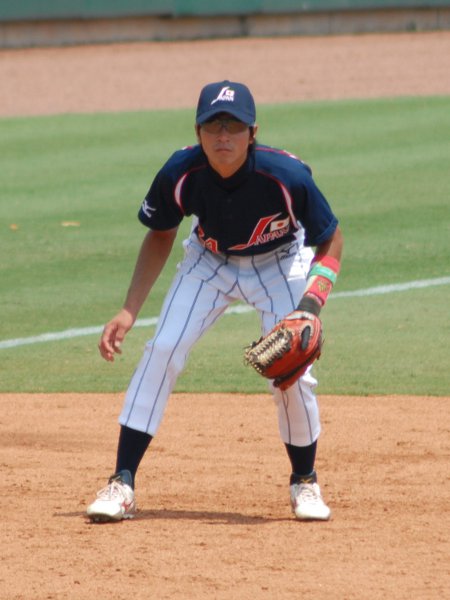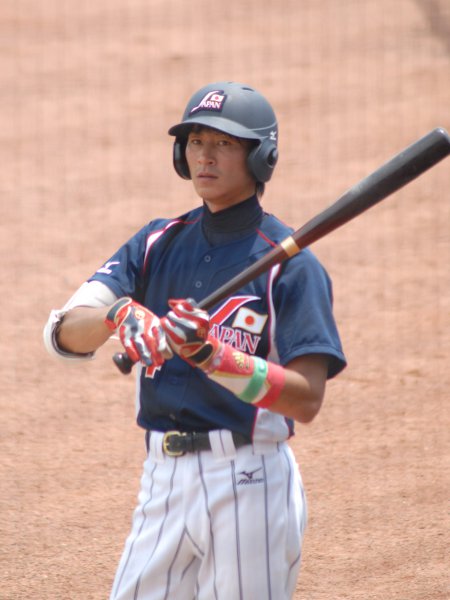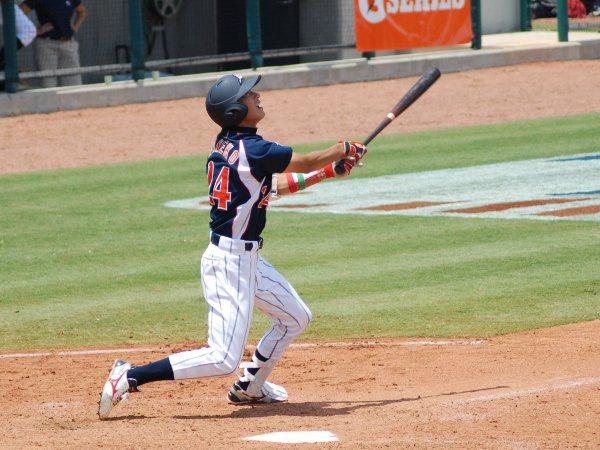 Waseda's Koki Sasaki. I feel like I've seen him play a lot over the last few years, and yet I'm not really sure I have an opinion on him. Still not sure why Habu wasn't on this team. Either way, I took a bunch of photos of him because my Waseda fan friends wanted some.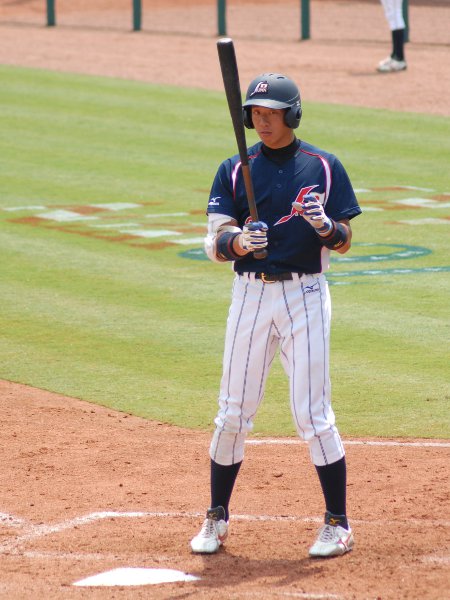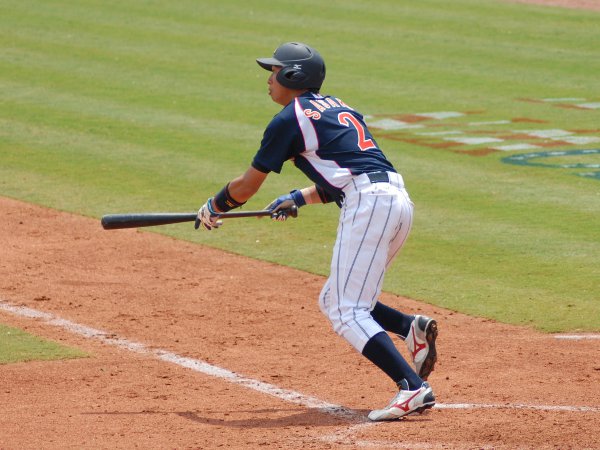 (It looks like he's going to score, but no, the ball was caught.)
Toyodai captain and national team captain, shortstop Daichi Suzuki. Got one of two RBIs for Japan in this game.
Catcher Ryutaro Umeno, who tried his hardest at the plate to tag these guys out, but it just wasn't meant to be.
With Fujioka, the starting battery.
Umeno.
Trying to tag out Lorenzen.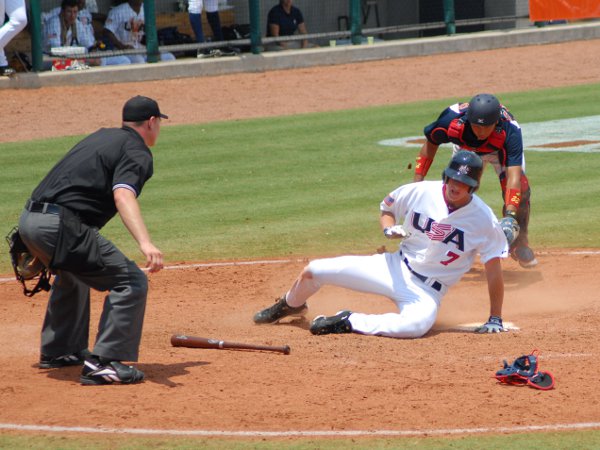 Trying to tag out Weiss.
Second baseman Ryosuke Obuta, from Tohoku Fukushi. Scored both of Japan's runs in this game, bizarrely.
(this is him scoring the first run)
Rikkio's captain, Keisuke Okazaki, who went to PL Gakuen HS. Okazaki was coaching first base for Game 1, and finally made it into this game as a pinch-hitter and first baseman to replace Taki, in the 7th inning.
Meiji sophomore Hiroki Nakashima, whose job in this series seems to basically have been platooning with Hayata Itoh and replacing him in right field.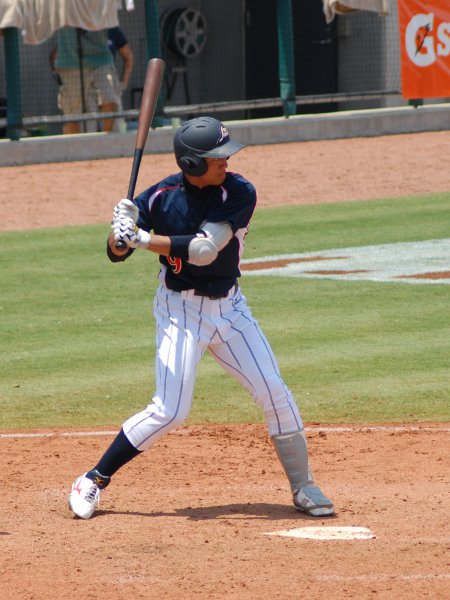 Hosei alum and current manager, Koji Kanemitsu.
The Japan dugout at some point about halfway through the game.
Final depressing score: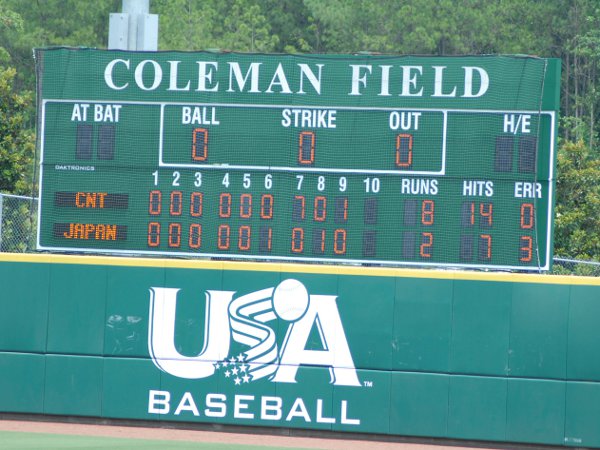 Teams shake hands together, before prepping to go back to Durham to play ANOTHER game...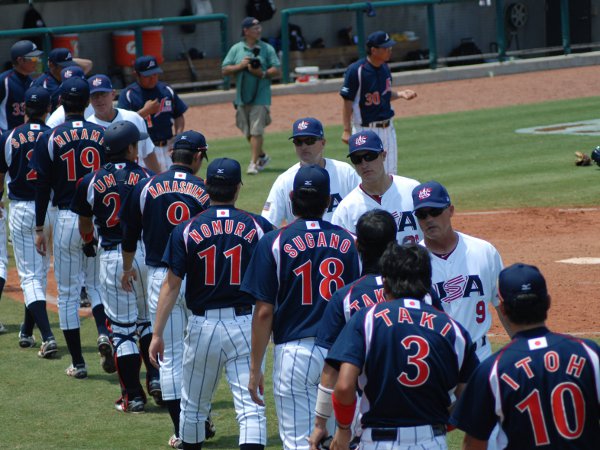 These people brought a taiko drum to the game and were drumming to cheer for the Japanese team:
Mike retrieves the broken bat flung towards us by Ficociello:
And here's what the entire field looked like (since I've mostly just posted zoomed in shots of players):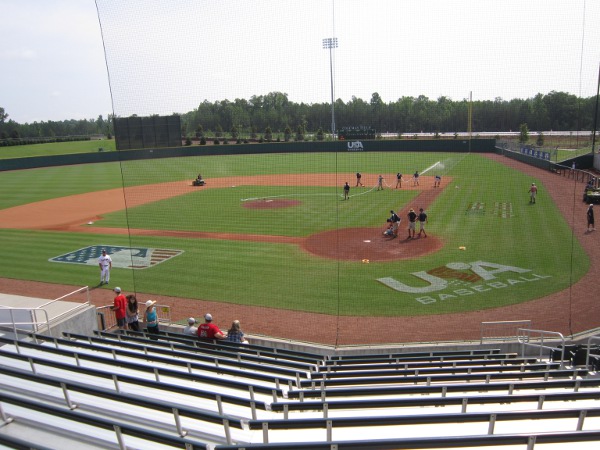 After the game we drove back to Charlotte. By random chance, we pulled off the highway to refuel in Kannapolis and realized we were right by FIeldcrest Cannon Stadium, so we drove over there and looked around a bit. This is where Game 4 was played... well... more like, this is where the first 3 innings of Game 4 were played, before it was rain delayed for 2 days and continued today in Omaha. (
No, really.
)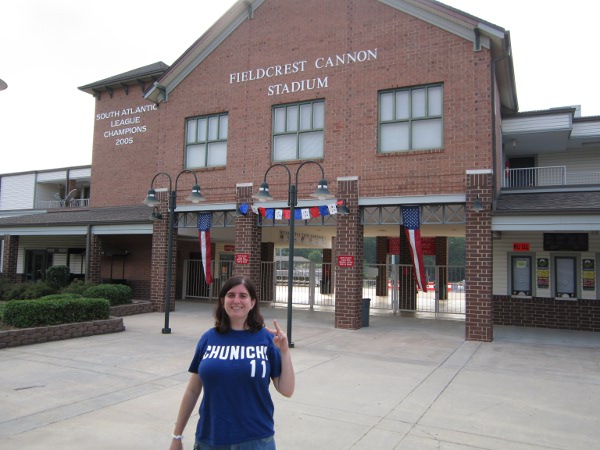 Looks like a nice enough stadium for a Low-A place (it's home of the Kannapolis Intimidators), although I swear it also looked like a converted racetrack to me. I dunno.
Anyway.
One final story here would be that broken bat we got -- we realized that we definitely couldn't take the bat on the plane with us back to Seattle. Maybe as checked luggage, but even so, it might count as a sharp weapon either way.
So we decided to ship it back home.
We tell the car navi system to find us the nearest post office, which it does, about 4 miles away.
Arriving at the post office, we walk in with the bat, grab a long container and some bubble wrap, and go up to the counter to explain that we got the bat at the game, etc, expecting to get some weird looks.
Instead, the guy behind the counter totally freaks out like "MY NEIGHBOR'S A SCOUT FOR THE WHITE SOX! OH MAN I WAS TOTALLY GOING TO GO TO THE GAME!"
He starts showing the bat to all the other employees like "Look what these lucky bastards got at the Team USA game this afternoon."
Anyway, we eventually manage to wrap the thing in bubblewrap and cram it into the shipping tube, fill out the address thingy, etc. In the process of doing that we talked to the counter guy, who mentioned he'd even thought of going to the 4th of July game. We tell him it got rescheduled to later that night, and Mike even gave him his ticket, since we weren't going to use it, we're like "Well, this will get you in for free if you decide you want to go! There'll be fireworks!"
The bat did show up as scheduled on Thursday afternoon. It was much easier to get OUT of the shipping tube than it was to get IN. Now my only problem is that I'm not really sure what to do with it! I've got display boxes for baseballs, but for broken bats? I'll have to figure something out. In the meantime, the cats are really frustrated that they can't fit into the shipping container. I tried to explain to them that it was for
bats
, not
cats
, but you know how these things go.