Part 3 in a series.
See Part 1
,
See Part 2
.
As we close in on the finals of the summer taikai, I find myself wanting to revisit and finish my monster Nichidai San posts from the spring. They did infact go on to win the entire Tokyo spring taikai, though that shouldn't really surprise anyone, and now they're contending for a spot at summer Koshien. I started this series of posts as a sort of glorified "Sanko Senbatsu Photopost", and then got distracted.
Last time I covered the first 4 of the lineup -- oddly, the lineup I saw at the Jingu Taikai last year, and the lineup at Senbatsu, and the lineup in the West Tokyo Qualifying Tournament, hasn't significantly changed between then and now, although the last 5 spots tend to get switched around a bit. The only thing is, I found a lot more stuff written about the first four guys in the lineup than the next four, to be sure. They're certainly all strong players though -- none of these guys is a weak spot in the lineup at all, and every one of them is prone to launch a homer at any time (and has).
The Youngster, Ryoya Kaneko
(
HS meikan
)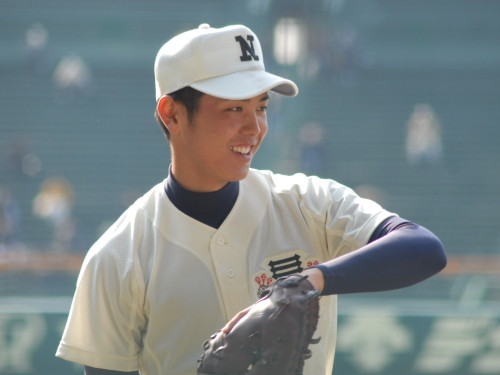 This year's power team is almost all 3rd-years with the exception of Kaneko, the sole 2nd-year in the starting 9. (Which practically guarantees he'll be team captain next year, although there are certainly a few other 2nd-years on the 18-man roster.) Despite being one of the youngest on the team, Kaneko is also listed as being one of the tallest on the team, at 180cm. He's said to have a really good batting eye and is expected to develop into a power hitter when he fills out, which bodes well for him as a lefty-batting first baseman.
Kaneko also played for the All-Tokyo team when the Urban Youth Academy came over for a few friendship games in June, again being one of the only underclassmen.
Shortstop Koki Shimizu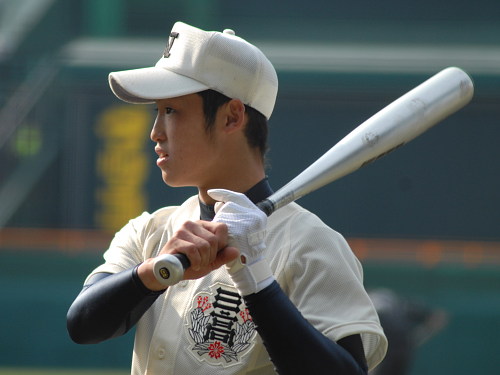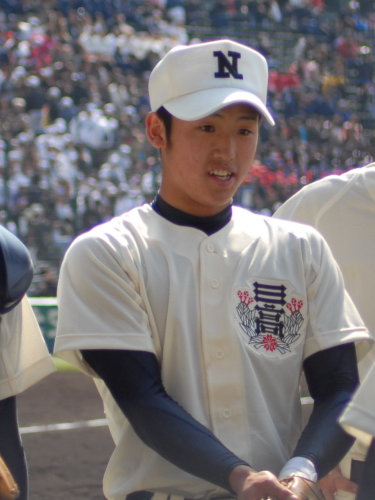 Voted by the rest of his team as the biggest "yancha", which kinda means "pain in the ass", Shimizu is a solid shortstop with strong footwork. You probably wouldn't notice how good he is because he's one of those stealthy shortstop types like Hirokazu Ibata.
The Secret Power, Kenichi Suganuma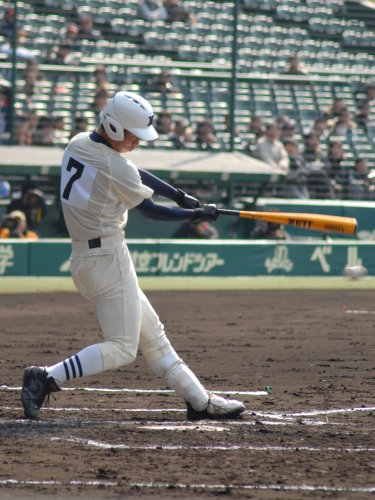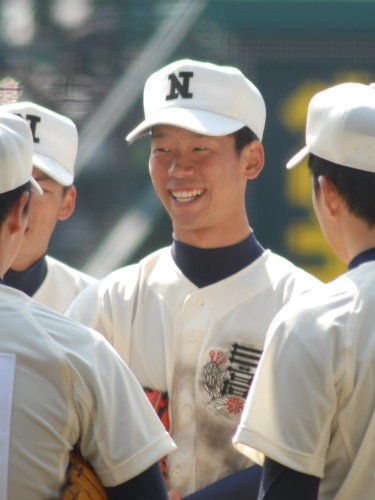 Suganuma didn't particularly appear to be a huge power threat when I saw him, and he batted only .235 during that Senbatsu, but then he went on to hit 4 homers in the Tokyo Spring Taikai, which was pretty insane. Shimizu claims that Suganuma's become a "weight baka", and he said (in the Kagayake Koshien no Hoshi magazine) that he went from being able to lift 45kg to 90kg in a year.
Suganuma usually wears uniform number 7, and was ostensibly the left fielder at some point, but has been playing second base in pretty much every official game Sanko's had in 2011. I'm guessing that he works together well with Shimizu, though I recall him being a decent 2nd baseman in the games I saw him in...
Taking One For The Team - catcher Takahiro Suzuki
(
HS meikan
)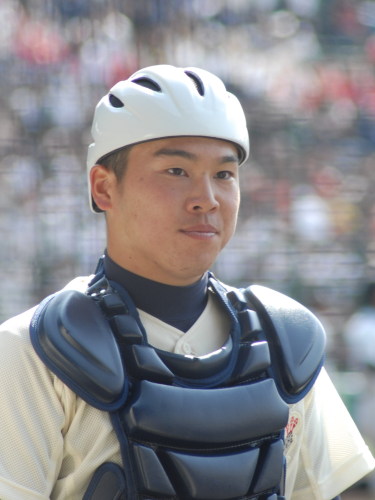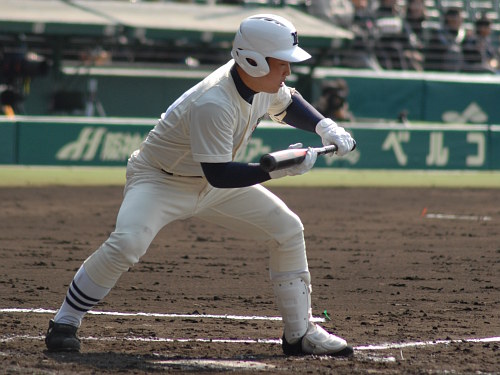 Here are your normal photos of catcher Takahiro Suzuki -- smiling by the dugout, bunting up the runner, both of which he's good at. But what really made Suzuki a hero in the eyes of many high school baseball fans is what happened in the top of the 8th inning of this game, on March 25, 2011. I happened to be sitting behind the dugout for this just because I wanted to see Sanko, so I also had a great angle for what happened.
Edwin's blog
recount and
the Sanko blog
recount (in Japanese).
Basically an errant throw to the plate bounced and hit Suzuki in the face, and it allowed Meitoku to score a go-ahead run. The game paused for a while as Suzuki kind of got knocked out, and they put a towel to his mouth as he appeared to have a bloody lip and might have lost a tooth. I was using my zoom lens as a binoculars to figure out what was going on, and got the following shots...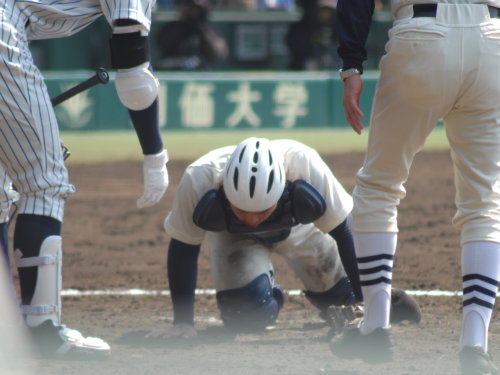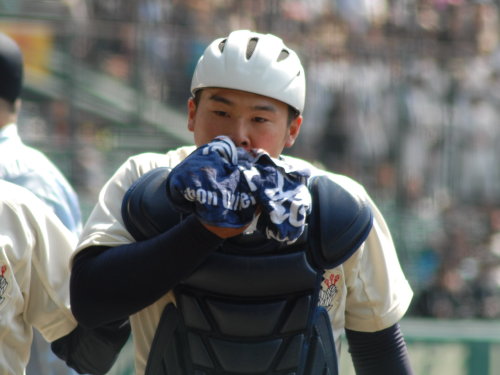 The game paused for a bit, and then Suzuki did what was way above and beyond the call of duty -- he came back out after a few minutes, finished the inning, and then in the bottom of the 8th, with runners at first and second, he said he wanted to bat, went to the plate, and SMACKED ONE to the center field wall, scoring Suganuma and Yoshinaga to bring Sanko up 6-5 over Meitoku, which is where the game would end.
The Sanko blog describes it as "Covered in blood and sweat, Suzuki showed his fighting spirit and hit the go-ahead 2-RBI double."
Here's a
Youtube Video
recap of the game. If you go to about minute 10:45 you can see what happens -- Suganuma's throw to the plate and Suzuki going down. Then at 12:04 Suzuki comes up to bat, clearly with a bloody lip, and BAM. I've seen players play through a lot of random things, but this was definitely up there.
Anyway, the great postscript to this is that Suzuki -- who has been described more as "the guy catching Yoshinaga, a solid but not spectacular player", in the
Tokyo Spring Taikai final game
against Kosei... the game went into extra innings, and Sanko even brought in Yoshinaga to pitch, who had largely not been pitching in that tournament. Anyway, Sanko does win the game... on a walkoff grand slam by Suzuki.
Awesome.
And now that I'm finishing this, Sanko and Waseda Jitsugyo are slated to face each other in 2 days. I'll try to put my Yoshinaga monster photopost out before then...