I'm calling this a "fake photo" because I didn't take these photographs. No, these are from one of the gems of my tendency to always look through the baseball magazines of any Book-Off I went to in Japan, just to see what oddball stuff might end up there. One time, I found a copy of the 1987 issue of 甲子園の恋人たち, a Koshien photobook magazine that seems to have mostly been around in the 1980's, for 350 yen.
Guys who went to Koshien in 1987 are basically all 41 or 42 years old now, so it's pretty amusing to look back at the photos of them as teenagers. (What's even weirder is, while I recognized a whole bunch of the players in here, I'm sure there were even more guys that went pro but were already finished way before I would have heard of them.)
So in honor of the fact that Koshien is starting in slightly over a week, and for another reason that'll become obvious at the end of this post, I decided to scan in a few things from this magazine. Some are just magazine pages, others are from the 3x3 "cards" pages they had in the back of the book. (Not real cards, though they called them that in the table of contents.)
Some Young Whippersnapper Catcher From Shimane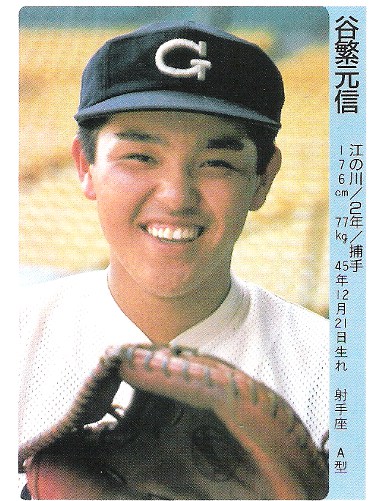 Proof that Motonobu Tanishige is not, infact, a robot from another planet. (And may be infact be the best catcher of the last 20 years in Japan not named Furuta.)
A Pro Golfer. You've Probably Heard Of His Brother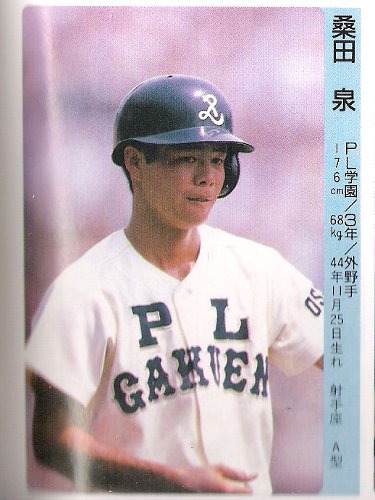 Izumi Kuwata, who also played baseball at PL Gakuen, two years behind his brother Masumi, though Izumi was an outfielder, not a pitcher. He's still an active pro golfer in Japan.
Here There Be Dragonlings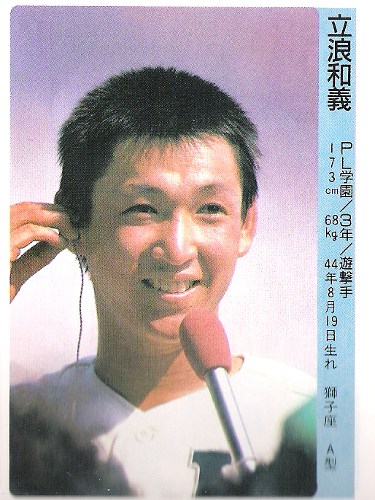 Kazuyoshi Tatsunami, who seems to have been the biggest superstar of this Koshien class, judging by this magazine and others from the time period. Also one of the greatest Japanese baseball players of all-time.
Another Spaceman From Teikyo To The Fighters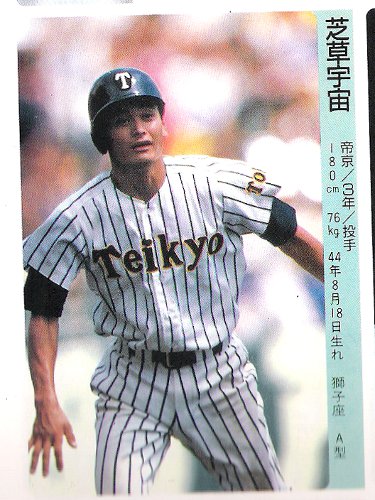 Hiroshi Shibakusa, who had a long career pitching for the Fighters, a few years of doing other stuff, and is now back with the team as a pitching coach. (His name is pronounced "hiroshi" but the kanji are for "space". I think it had something to do with him being born in the summer of 1969.)
Some Pitcher From Tochigi, or A Whale Of An Infielder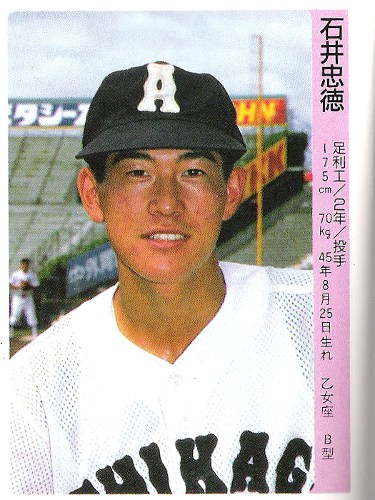 At the time of the 1987 Koshien, this guy was named "Tadanori Ishii" and he was pitching for Ashikaga high school. 4 years later, after winning one game as a pro pitcher for the Yokohama Taiyo Whales, he converted into an infielder and changed his name to Takuro Ishii, and went on to get over 2000 hits in an excellent career as a shortstop, mostly with Yokohama. He'll be 42 next month and is still occasionally in the starting lineup as a 3rd baseman with the Hiroshima Carp, because he's JUST THAT AWESOME.
When Tigers Fade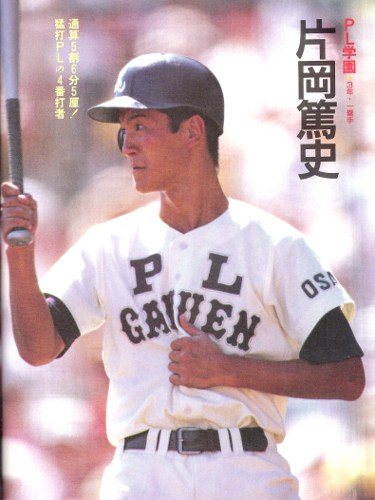 Patrick and I were just talking about Atsushi Kataoka, so this is for him.
Kokorozashi, or Barnstorming All The Way To Lancaster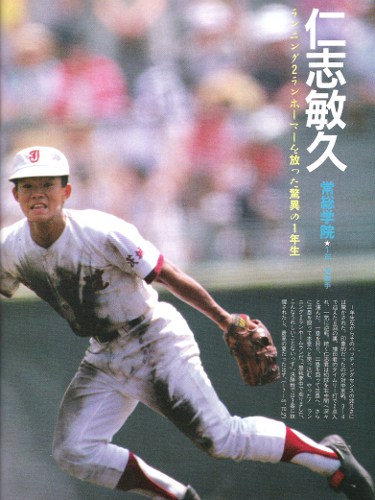 Toshihisa Nishi was a Koshien star with Ibaraki's Joso Gakuin HS, then Waseda, then the damn Giants. I'll still remember him best leading off for the Baystars, though. He retired last year after playing in the indie leagues in the US.
He Shocked Us In Many Ways, Including His Last.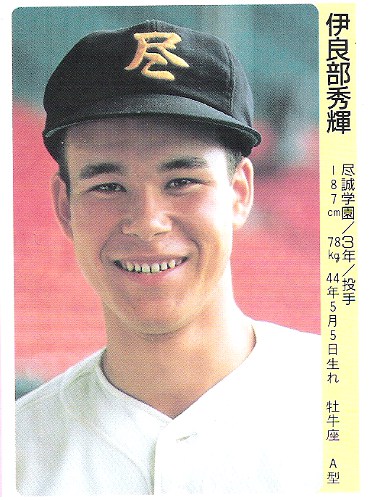 This is a boy named Hideki Irabu, who you may have heard of. His career was always one of ups and downs, and his life probably wasn't easy a lot of the time as a half-Japanese kid trying to hide that fact, but it's interesting to look back and see him smiling out from a page like this, and think of what kind of future people imagined for this big fireballer back then...
I'm intending to do an Irabu photopost sometime soon, since I never did get around to doing one when I saw him pitch in the summer of 2009, on what was my first great Koshien roadtrip, so this seems like an appropriate time for it anyway.