A's win bidding for Japan's Iwakuma
When I took my barnstorming trip through Hokkaido and Tohoku this August, that I never had time to write about here, one of the funniest moments of the trip was when I went to catch the shinkansen home from Morioka. I went to get a bento in the station and thought that there were some really big guys ahead of me in line... and then realized that they were Hisashi Iwakuma and Takeshi Yamasaki. No joke. The entire Rakuten Eagles team was taking the same train as me. Sure, they were wearing white button-down shirts and slacks, which is normal travel attire for ballplayers, but some of those guys are pretty easily recognizable.
Of course, I was carrying my huge Fighters duffel bag with me at the time, being as I'd just gone to 4 Fighters games in 3 different prefectures over the span of 5 days, and taken the train to all of them. And I felt pretty ridiculous-looking, as a big gaijin running through the train station carrying a bunch of crap, and I even think a few of the players were laughing at me. So I didn't say anything to any of them.
Now I feel pretty stupid for that -- I could have at least asked for a photo with Hisashi Iwakuma and gotten shot down...
Anyway, being as this is Marinerds, this is not a post about how fast he throws the ball, or about how he
completely redid his pitching motion a few years back
or any technical stuff. Sorry. I just have some cultural notes and some photos to share, as usual.
First off, for those who learned Japanese from videogames and anime, and do correctly know that "kuma" is the word for "bear", it isn't the same kuma kanji that is in his name. 熊 is bear. Hisashi Iwakuma's last name is 岩隈, and THAT kanji 隈 that can be pronounced "kuma" actually means shadow, so his name pretty much means "the shadow from a large rock", which is pretty appropriate as Iwakuma's a really tall guy and casts a pretty big shadow.
Though, when he signs stuff he signs as "Kuma" in English. (You can see some examples if you Google on
"Iwakuma signature" in Japanese
. It looks like he used to sign in Japanese a REALLY long time ago, but switched to an English signature in recent years.)
This year, when Rakuten made "player-produced" lines of merchandise, like t-shirts and towels and pens and such, each player in the promotion was supposed to pick an animal and a theme for their merchandise. (I talked about it a bit
back here
.) This is what the Iwakuma merchandise rack looked like: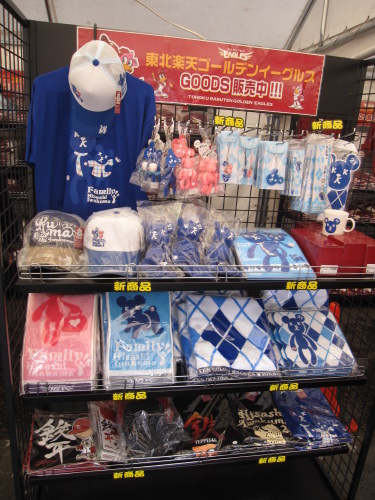 The theme being "family", and as such, the animal avatar being a baby bear, since he has two young children, and it's a play on the word "kuma", which if you hear it on its own, could have several different meanings. (Japanese is fun that way.) Iwakuma's blue glove is one of his trademarks, so the majority of the "kuma" merchandise is a blue baby bear.
Iwakuma's wife is named Madoka, and she happens to be the daughter of
Koju Hirohashi
, former Seibu infielder and coach, now a Rakuten coach. Iwakuma also has his wife's name embroidered on said trademark blue glove: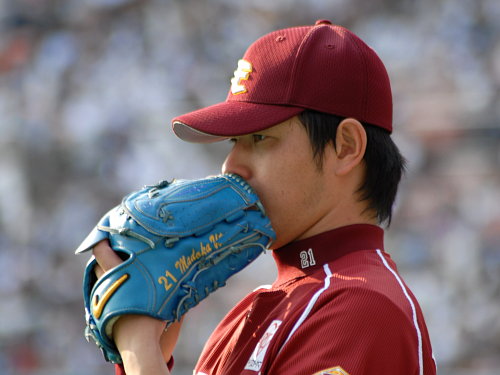 (I took this photo of him on May 9 2009, at Chiba Marine Stadium. It was actually hard to get a clear shot of the glove. I have a few more photos of him
in this post
.)
And in the meantime, he and his wife also do
charity work
to support orphanages and children with disabilities.
I've been an Iwakuma fan for a few years. He's hard not to like; a family guy who works hard at his job and is really good at it. And for ages and ages he was in the shadow of so many other guys here, and just kind of modestly accepted his position. (This was especially true when he was
robbed of the WBC 2009 MVP award
.)
Anyway, here are a few other photos from that May 2009 game where I was lucky enough to be in the camera well at Chiba Marine Stadium thanks to Bobby Valentine and Larry Rocca being the most awesome guys on the face of the earth: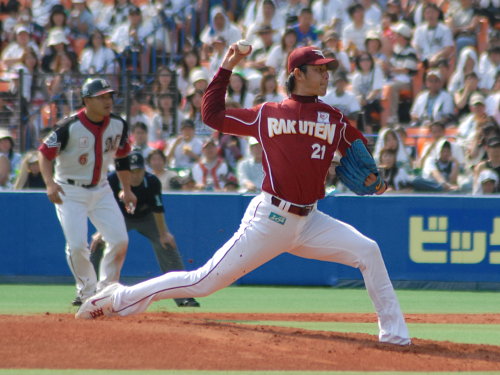 (The guy in the background, btw, is Iguchi. On the last shot, it's Ohmatsu.)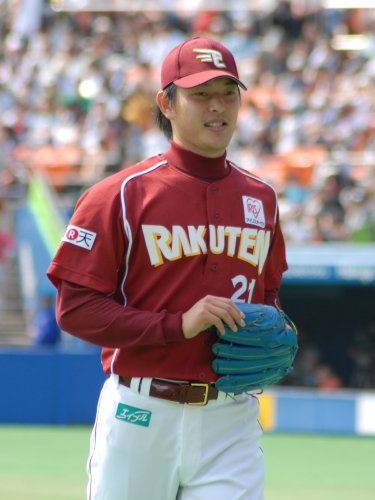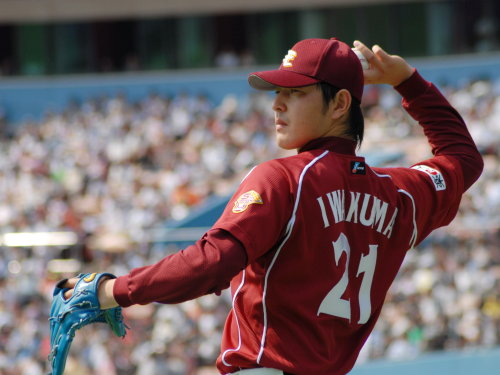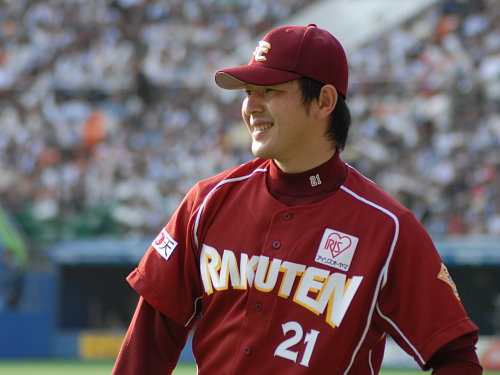 Seriously, I pretty much only went to Chiba that day to watch Iwakuma and take photos of him. I'm glad I did. He was awesome.
And one more reiteration of a funny shot from when
Lisa
and I were hanging out in Sendai a few years ago before a Fighters game. She's actually a Rakuten and Lotte fan, and loves both Ma-kun and Iwakuma, but when we were going around taking silly photos around the stadium, we saw these cardboard cutouts of Iwakuma and Ma-kun and just HAD to do this one...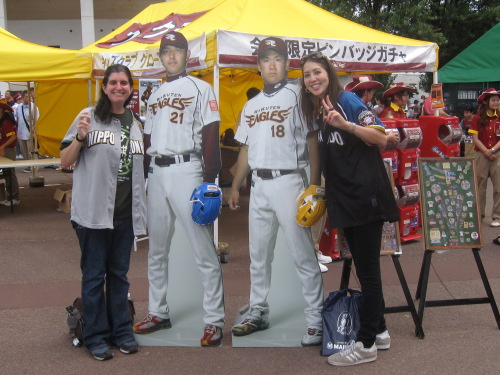 Sadly, I suppose that is the closest I'll ever get to taking a photo with Iwakuma himself, unless I do a good job of stalking him after I move back to the US this winter. I do have an Iwakuma #21 t-shirt, so you may see me wearing it around Safeco Field next summer when the A's come to town...