I'm back in Japan. Tonight I'm going to the Fighters game at the Tokyo Dome, and then tomorrow I'm getting on a train and going to Hokkaido. More about that later.
My last weekend in the US, we roadtripped to Portland for the weekend so Mike could buy books at Powell's, and I insisted we take in a minor-league game at PGE Park. Little did I know that the Portland Beavers era is coming to an end and the Beavers will be leaving the city next year (it's still unclear where they're going) thanks to the stadium being remodelled to be a soccer-only stadium so the Timbers can join the MLS.
We saw the Portland Beavers (AAA Padres) play against the Albuquerque Isotopes (AAA Dodgers). Seth Etherton started for the Isotopes. Coincidentally, the last time I saw him pitch was his last ever major league appearance (Royals vs. Mariners on June 3 2006), and the Mariners hit him up good, and he's been wandering between teams quite a bit since. Cesar Carrillo started for the Beavers.
Anyway, Etherton pitched well in this game and the
Isotopes beat the Beavers 5-1
. I recognized some players, and lots of them, I didn't. Mike Restovich was playing for the Isotopes, he used to play for Softbank, but he never got into the game, just was on-deck at one point.
There were a ton of cub scout troops at the park because they were going to have a sleepover on the field that night to watch the meteor shower or whatever, which is kind of cool in theory, but being surrounded by a ton of hyper boys who don't actually care about baseball and just wanna go on the field and run around is kind of annoying in a way.
I didn't realize that PGE was a super remodel of an old old ballpark that had been standing in that spot for almost a century; the first time I ever walked by it about ten years ago, it just looked like a gorgeous new ballpark, and I'd never looked it up before.
Anyway, here are some photos.
Being a Japanese tourist outside the park beforehand.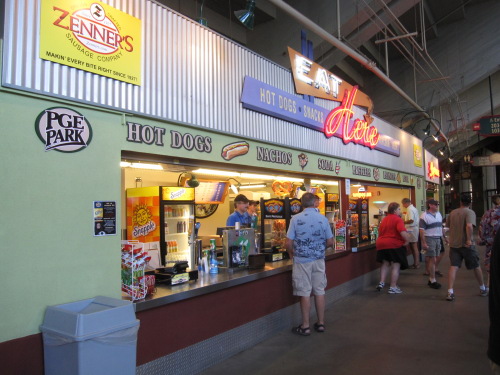 Really nice concessions for minor league, though maybe not so for MLS.
There's a ton of luxury box things here, which is kind of odd for minor league too.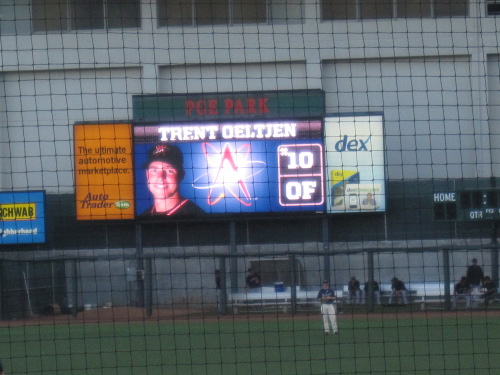 And there's a board that showed the players' info and also showed video between innings.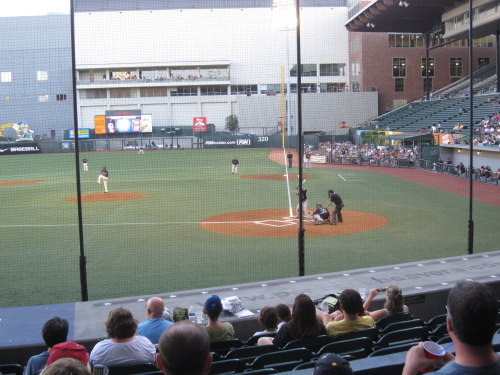 Looking out at the game.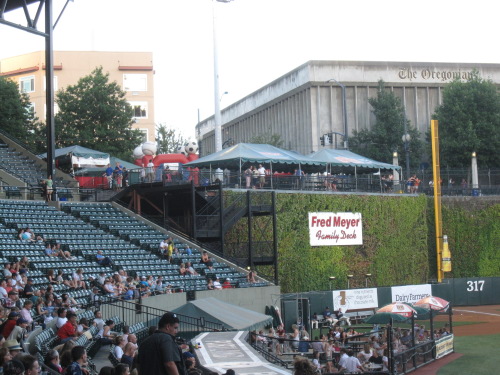 The left field patio thingy (and the bullpen is behind those fieldside picnic tables too)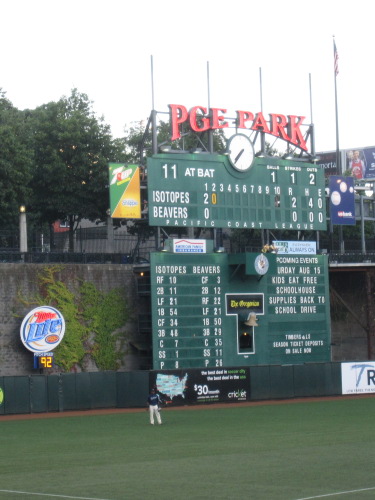 Awesome oldfashioned scoreboard -- except that meant that the score guys were often screwing up who was on base and at bat and all.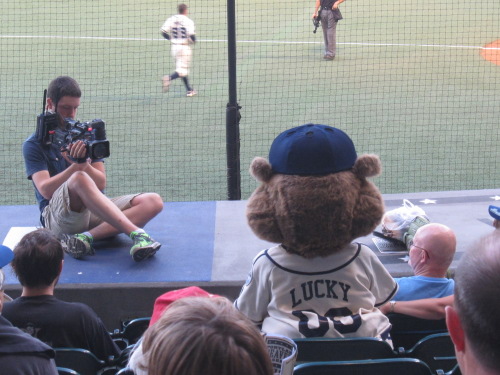 The mascot came to be with some folks on screen in the 3rd inning, because they won upgrades or something.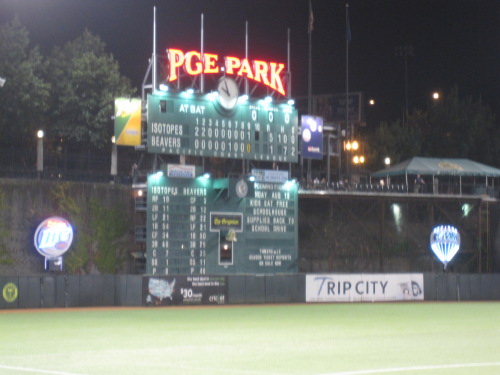 Final score (yeah, blurry).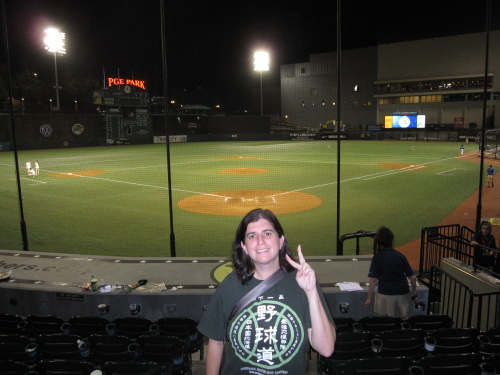 Touristy shot behind home.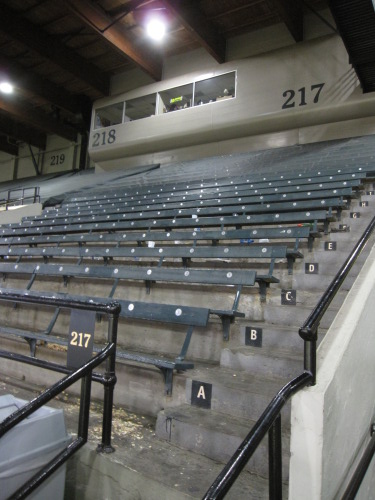 Actual bleacher bleacher seating. Upper parts were covered, though.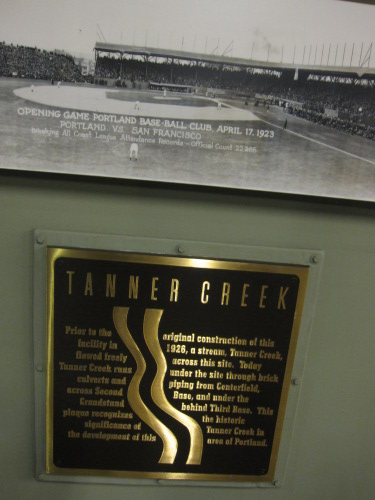 Old old photo of the first game played in this spot, and explanation of the creek in the area.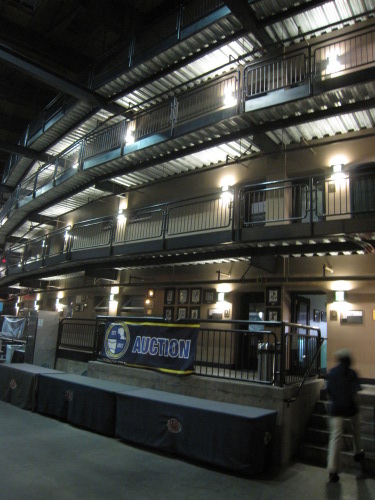 What those luxury boxes look like from the other side.
The starting lineups (I didn't find them until afterwards).
Me posing outside the Beavers team store.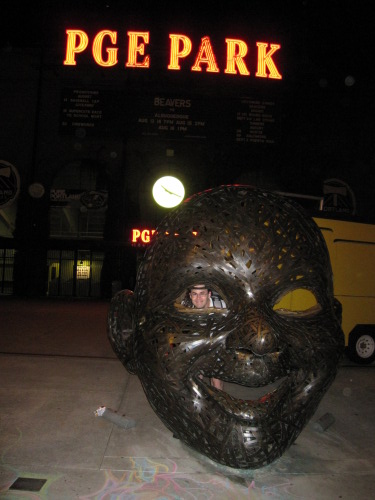 There's this weird mask sculpture out front of the stadium, so Mike is being an eye in the face. Whee.
Seriously, sorry I haven't been writing much. It's been a busy summer and it's just about to get busier, although maybe I will have some time to write while on the road, we'll see.