Hey -- just a note to say that I am in Sapporo but will probably not be writing much in the next 3 days, despite that I'll be at games, because I'm crashing with a friend who doesn't have internet at her place yet.
The rest of this, I wrote on the train today while travelling from Tokyo to Sapporo. It took over 10 hours total. The tunnel is NOT that exciting but the scenery in northern Japan is beautiful. I'll expound upon this more sometime if you really want to know.
My upcoming game/travel schedule:
Aug 20: Tokyo->Sapporo (by train)
Aug 21: Fighters vs. Lions @ Sapporo Dome
Aug 22: Fighters vs. Lions @ Sapporo Dome
Aug 23: Sapporo->Akita (by train)
Aug 24: Eagles vs. Fighters @ Akita
Aug 25: Akita->Morioka, Eagles vs. Fighters @ Morioka
Aug 26: Morioka->Tokyo (train)
Aug 27: Tokyo->Hiroshima (train), Carp vs. Giants @ Mazda Zoom-Zoom
Aug 28: Hiroshima->Matsuyama (boat), Tokyo Big 6 All-Stars @ Botchan Stadium
Aug 29: Matsuyama->Takamatsu (train), Kagawa Olive Guyners vs. Tokushima Indigo Socks
Aug 30: Takamatsu->Tokushima (train), Tokushima->Wakayama (boat), Wakayama->Tokyo (train I guess -- haven't figured out that far out yet)
Should be a pretty fantastic roadtrip aside from reports of possible rain. Sigh.
Anyway, I got back to Japan on Wednesday, and sadly missed International Day at the Tokyo Dome, as all my friends informed me later ("You could have done YMCA on the field again, and translated all the English crap that they were saying during the game for us!!") but was back in action for Thursday night's game -- the last Fighters Tokyo Dome game of 2010 and maybe my last ever if I go through with my plan to move back to the US at New Year's (well, I suppose I could time a trip to Japan in the future to coincide with them, but...). It was special for me because I got my entire start in Japanese baseball at a Fighters game at the Tokyo Dome back before they moved to Sapporo, so I wanted to try to get to at least one last one before leaving.
For some stupid reason, they were only letting fans come in through gate 25 for outfield unreserved -- that is, rather than Marines fans at gate 11 and Fighters at Gate 25, so it was RIDICULOUS. I got in around 4:40pm, but friends had saved a seat for me, so it wasn't a big deal. I went around greeting some people (got a few "I thought you moved back to the US after you didn't show up in Chiba or the first few games here!") and then went to do pinbadges. I was decked out in Hichori Green and ran into Hichori's mom in the concourse, who smiled and said hi when she saw me.
This time of year is called Obon, and a lot of people go travelling to visit relatives or friends outside of Tokyo, so basically everyone came to the game with souvenir sweets from various places around Japan to share with everyone. I came with a box of fruit bars from Seattle, which went over well too just for the novelty, I think.
And I also went around talking to various people who were Brian Sweeney fans when he was with the Fighters and I told them that I went to a Mariners game and saw Brian and he's doing well and all -- when I showed them the photo of him in the Mariners bullpen but holding my Fighters BB keychain, it was like "that's so cool that he's in the majors again but hasn't forgotten us! Did you see him pitch? Is he doing well there?" I even talked to Akki, who was basically like "Is he still pissed at me?"
The Fighters starter was Masaru Nakamura, who just graduated from Kasukabe Eikyo High School in March. He's 18 and will be 19 in December. And this was his SECOND pro start already. Holy crap, huh? They used to call him the "Darvish of Saitama" when he was in HS, despite not being half-Japanese. And Yuki "Karaage-kun" Karakawa started for Lotte, and he just turned 21 last month. What a day for young kids.
Also oddly, the ouendan changed our call for Nakamura to "Ganbare, ganbare Masaru!" which is making me wonder if that's what we will continue to yell for Masaru Takeda also...?
The kids kept things tied at 0-0 for the first 5 innings and then everything rained down from Lotte in the 6th. Imae singled, Iguchi walked, Fukuura also walked to load the bases, and then Saburo hit a grand slam into the very front row of fans in right-center; we weren't even convinced it was a homer until a dude stood up with the ball and threatened to throw it back and some guards came over to make sure he didn't.
Atsunori Inaba made some FANTASTIC plays in the last few innings including some amazing catches against the wall, a bullet throw to third where he gunned down Shoitsu Ohmatsu running, and another play where he outran Yoshio Itoi for a catch in right-center. And all this from a guy who turned 38 two weeks ago. Inaba is awesome. I am honored to have had a final chance to sit behind him in the right-field stands.
The Marines eventually won the game 7-0, which sucks, but I had a good time anyway. Karakawa got a complete-game shutout. And the Fighters ouendan wanted to do the Tokyo Dome Chance Theme but there were never enough people on base, so we just did it for the entire 9th inning instead...
Another funny thing I have no video of is that during YMCA, when last year a groundskeeper at first base would have gone crazy, this time BB came out to first and was trying to MAKE a groundskeeper go crazy. But the groundskeeper wasn't having any part of it. It was cute though and we all cheered for it.
The big event of the game for us was when BB came into the right-field stands and cheered with us in the 8th inning! He stood with me and my friends for Kensuke Tanaka's at-bat..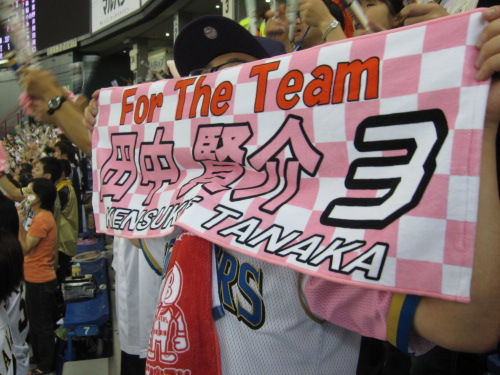 This is my friend Tsuyoshi with his new Kensuke towel that he made.
Kensuke call with pink inflatable hands.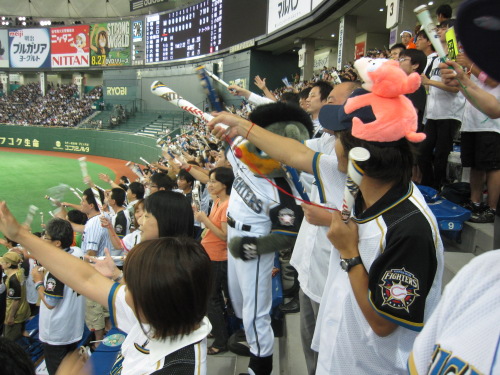 "Kattobase, Kensuke!"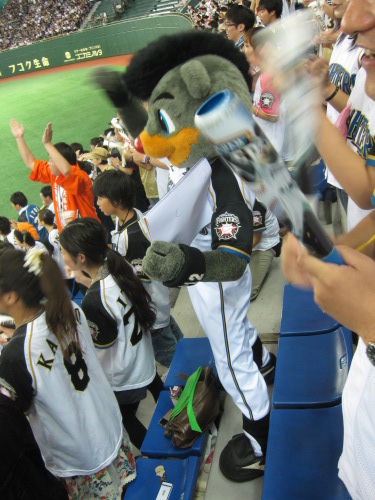 And a better shot of BB in front of us doing the motions.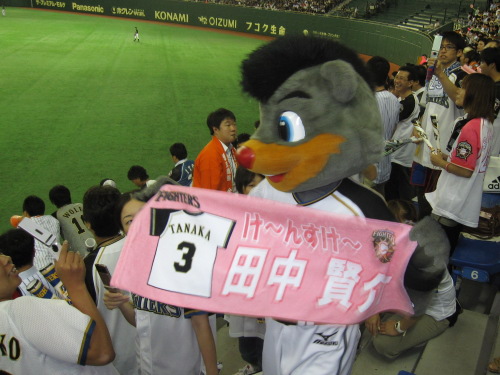 BB takes one of Junko's towels and holds it up too... but then Kensuke grounded into a double play to end the inning. BB pretended to cry and use the towel like a handkerchief.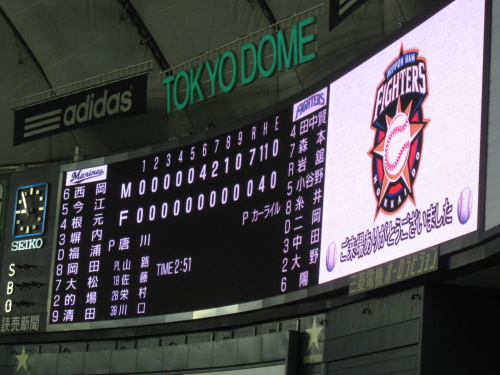 Final score.
And well, I'm uploading this now. If any of you are going to the Fighters games up here, drop me a line -- I can read email on my phone even if I can't update Blogger :)