Three weeks of glorious vacation in Seattle, where it's 72 degrees every day and not humid, and I have no set schedule of things to take up my time. Sounds great, right?
I had delusions of grandeur that I was going to spend my weekdays while Mike's at work just working on my backlog of baseball stuff to do, like going through and writing about all the high school games I attended before I came here, cropping tons of pictures, and planning out the trip I'm taking when I do go back to Japan next week.
Obviously, that didn't happen. I got pulled back into working on some stuff for a completely non-baseball-related event some friends are holding, and then also spent a lot of time going off and meeting friends for lunch, or doing some shopping for things I can't buy in Japan, such as clothes not intended for toothpick midget women. I find it amusing how I'm average here, but a huge tall pile of Amerikajin when I'm over there.
I have been watching bits and pieces of Koshien when I have time; I really wanted to see Kanto Daiichi and Waseda Jitsugyo (aka Soujitsu) since I actually saw them in the regional qualifiers, but so far only managed to see KD1. They crushed Sano Nichidai 9-2. Bizarrely, their foreign English teacher was interviewed over Asahi's TV feed -- I was super-jealous, I've always wished I knew how to get a job teaching at one of the powerhouse baseball schools. And as for Soujitsu, I had to miss their game last night, but they beat Kurashiki Shogyo 2-0 (and Yasuda-kun got two hits, yay). Their next game is against Chukyodai Chukyo, who I did make a point of watching because I wanted to see Isomura-kun again because I am a big dork, and they won 2-1 over Nanyo in a really close game.
If you want to read English recaps of all the Koshien games with play-by-play, as usual, the place to go is
Edwin's blog
. He's crazier than the rest of us, and was even up until 4am Pacific time for the end of the Asahikawa vs. Saga game yesterday. I've been trying to hang out a bit in the japanesebaseball.com Koshien chat room too, and trying to be more on-topic than I have been in the past.
So anyway, I went to a Mariners game last Wednesday, and am finally getting around to putting up any kind of post about it. I wasn't even going to bother watching the Mariners at all this trip, but I had something really really really important to do, which was to visit Brian Sweeney in the bullpen. When Brian first got called up by the Mariners, I sent out email to a bunch of my Fighters friends, and they pretty much all said "You have to go tell him a good 'GANBARE!!' for us when you go to Seattle!"
Of course, I nearly had a heart attack that morning when I checked the Mariners' website and it had a headline of "Mariners trade Sweeney to Phils". Fortunately, thank god, they meant MIKE Sweeney.
So, this game had the "Family Pack" ticket deal, so I ended up going with 6 other friends, as one guy figured out that if you had at least 4 people, it was cheaper to buy a ticket and voucher for a hot dog and drink than it was to just buy a ticket, so we did.
I wore a Chiba Lotte Marines t-shirt specifically because nobody in Seattle can ever tell that it doesn't actually say "Mariners" on it. Naturally, right outside the gate I ran into a Japanese dude from Chiba wearing a Kuroki #54 ticketholder neckstrap who immediately recognized my t-shirt, and we chatted in Japanese for a few minutes, much to the bewilderment of my friends, who couldn't figure out why someone would just come up and start talking to me like that.
Anyway, I went in earlier than the rest of our group, around 5:30, but Mariners batting practice was already over. And Rangers batting practice ALSO finished before 6pm, which is crazy early. The reason for this was that there was a Special Olympics softball game going on, which is kind of cool, but I spent most of that time still just wandering around the stadium -- it'd been a while since I'd gotten to just walk around the park and see what's there. I bought a few souvenirs for friends back in Japan, and I got my picture with the Moose again: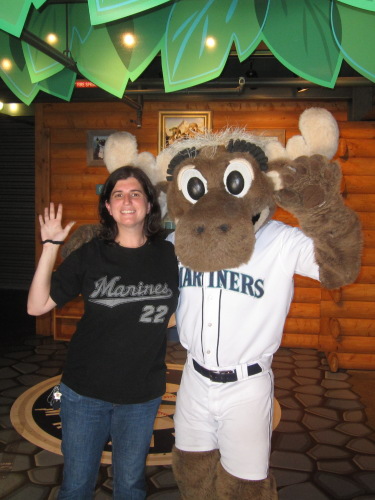 And I saw on the big screen coverage that Brian was being one of the batboys for the Special Olympics softball game -- a couple of Mariners and Rangers players were -- but by the time it was over, the ushers were being strict about who could go down and stand near the dugouts. Doh.
So I went to the bullpen and just hung out there until the pitchers came out. One of the coolest things ever was that the Mariners battery for the day was Doug Fister and Adam Moore. I had seen them as a battery once before...
in Everett in 2006
. I saw Fister's first pro game, and he pitched 5 perfect innings, and Moore was 2-for-4, and they were the two guys I was most impressed with that day, so it's really neat to see them in the bigs together again 4 years later.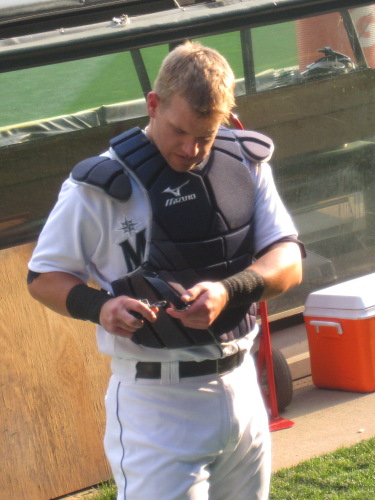 Adam Moore, strapping on his catcher's gear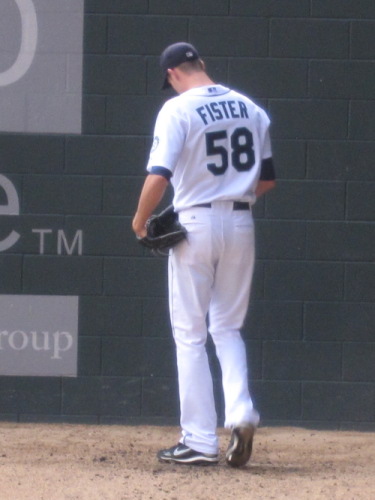 Doug Fister is still super-tall, but no high socks.
Actually, if you want to see some better bullpen shots, go look at
Megan from Section 331
's. It was funny, I saw her standing on the OF concourse with her camera aimed at the bullpen but didn't think she'd hear me or recognize me if I yelled up, so I didn't. Either way, I only had my pocket camera with me rather than my big one.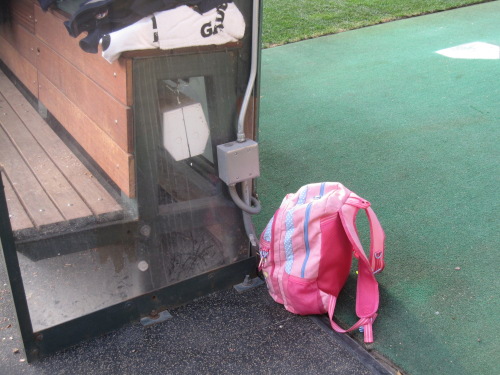 I was also happy to see that JJ Putz's pink backpack or a descendant thereof is still being used to bring out snacks and whatever to the bullpen, and of course, provide some mild rookie hazing. I have happy memories of watching Brandon Morrow walk across the field carrying it.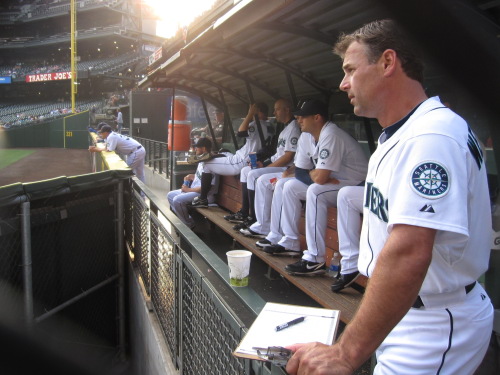 Looking into the bullpen during the top of the first inning. John Wetteland seems like a really good bullpen leader guy.
So anyway...
When the pitchers came into the bullpen, I was still stuck at the top half of the area because there had been a private party in the CF patio before the game, and the guards wouldn't let me down there. But, I yelled out to Brian, and he waved, and after the national anthem and after the bullpen had their meeting to high-five Doug Fister heading out to pitch and so on, Brian had me tap the guard and they let me come down to the lower fence.
First thing he says to me, of course: "What the heck are you doing wearing a Chiba Lotte Marines t-shirt? I would have thought you'd show up in a Fighters Morimoto shirt or something! I saw that 'Satozaki' on the back during the anthem..."
"Brian, you're the ONLY non-Japanese person in this entire stadium that can even tell that this shirt is missing an R. I think they all have 'Satozaki' confused with Kazuhiro Sasaki, who also wore #22..."
"Oh, you've got this all figured out, huh?"
But I put on my Mariners jersey anyway, and hung out for a while down by the bullpen until the middle of the first inning (fans aren't allowed to talk during innings, but before the game and between innings is okay). It was just really great to catch up with Brian for a bit, he's just as nice and funny as he was in Japan, and I did get to tell him that everyone in Japan wishes him good luck, and so on. And he was asking how I'm doing, how stuff is going back in Japan, etc. Seriously, I was really sad when he left the Fighters and I think it's beyond cool that he's pitching for the Mariners again.
And it was funny to hear about how they have a lot of the same pre-game stuff here as they do in Japan, at least the pre-game meetings and bullpen huddles and whatnot. It's just so unbelievably cool. I was tripping over words a lot, I think, because it was actually pretty crazy to be out by the bullpen chatting with an actual major league pitcher. I mean, Brian's still Brian, but now he's wearing an MLB uniform and there are a bazillion fans who speak English around, so the fact that he'll still come chat with me is really awesome :)
Anyway, I convinced him to take a silly photo so that I can relay back to the Fighters fans (and maybe players) that he returns their greetings...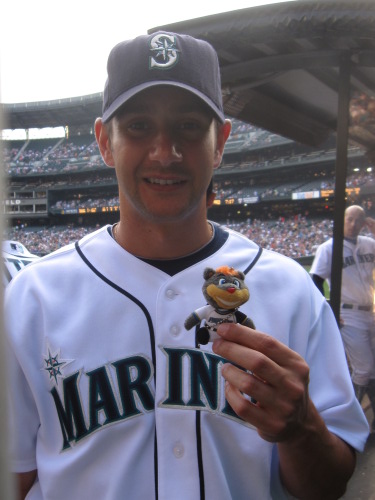 I dunno, I figured this was a photo that nobody except me could take -- who else would have a Fighters mascot doll keychain on their bag?
But Brian was a pretty good sport about it. Seriously, he's got to be one of the nicest guys in baseball ever. Maybe it's a Sweeney thing, as a quick websearch on the string "nicest guys in baseball" uniformly comes up with Mike Sweeney.
I didn't want to bother him too much, so I went to my seat to catch up with my friends in the bottom of the first inning. None of them are huge baseball fans or anything, so when they asked where I was, I just said I'd been chatting with someone I knew from baseball in Japan.
And so there was a game. You can
see the box score and wrapup on the Mariners site
, really. The Rangers won 11-6. I took a few photos of events along the way...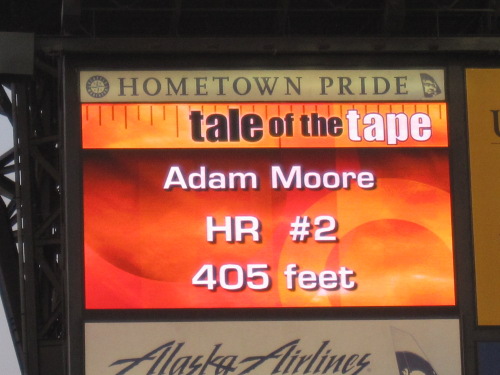 Adam Moore hits a 2-run homer in the 3rd! This made the score 4-2 -- the first few innings actually were pretty close and it seemed like the Mariners might actually win the game.
Funnier, the guys behind me showed up in the 2nd inning, so one's like "Who hit the first home run of the game?" because they thought the #2 referred to the evening, not to the number of HRs Moore hit this year.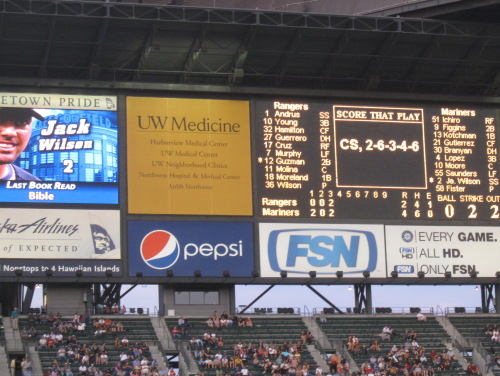 Immediately after that, Michael Saunders gets caught stealing second in a rundown. I start writing down "CS 2-6..." and trying to count who had it afterwards, and they helpfully put up the fielders on the board. Also, "Jumpin Jack Flash" Wilson lists his last read book as the Bible. I am not sure what that indicates.
See this thing in the wall? Can you guess what it is? It is what happens when Franklin Gutierrez makes a RIDICULOUS catch to steal a homer from Vladimir Guerrero. You can see a video of it from
this article
.
It's kinda funny that it happened on the same day that everyone was asking me about Masato Akamatsu's catch out in Hiroshima, I guess.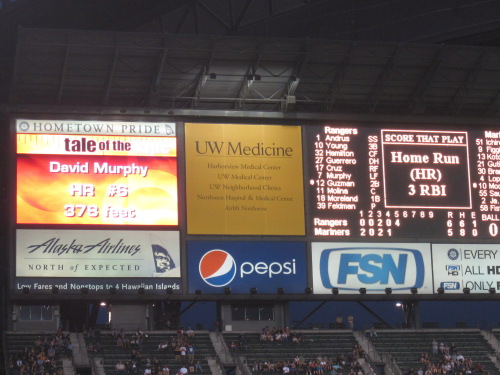 Guerrero lost his HR, but Murphy hit one shortly afterwards, to make it 6-5.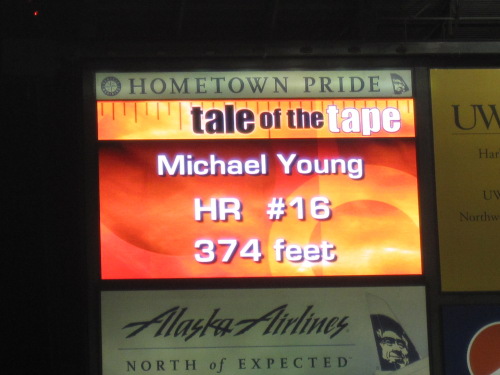 And this grand slam by Michael Young pretty much put the final nails in the win for Texas here, bringing the score to 11-6.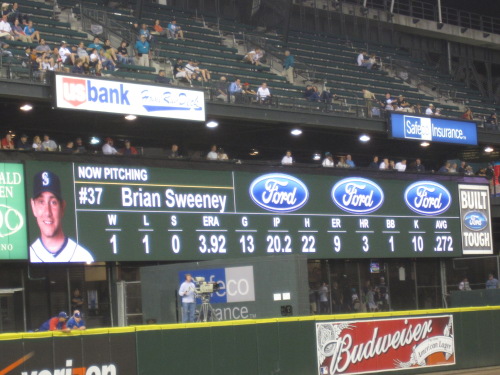 BUT I WAS REALLY HAPPY BECAUSE BRIAN SWEENEY PITCHED THE 8TH INNING!!!!!
No, really -- it was funny because I turn to one of my friends like "That's the guy I was talking to before the game!"
"What? You're kidding."
"Not kidding. He pitched for the Nippon Ham Fighters for 3 years in Japan. I used to cheer for him all the time in Japan too. But now I feel like if I get up and yell a good luck cheer and clap my hands, I'm going to get punched."
Brian pitched one inning and didn't give up any runs. He walked Nelson Cruz and gave up a single to David Murphy, but that was it! Very cool.
I applauded, but I think everyone around me thought I was crazy.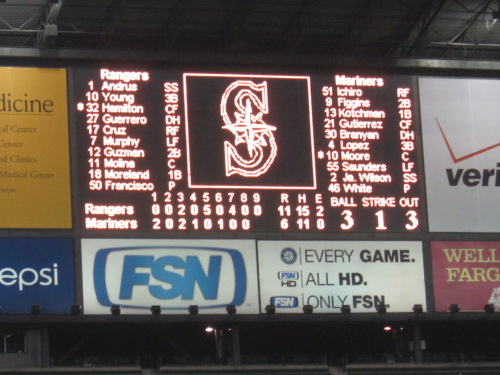 Anyway, yeah, the game ended around 10:30pm, which was pretty late.
I always have a tough time explaining the "Eighth Inning Exodus" to people in Japan, since beating the traffic isn't really an issue there, but this game went late enough that I could kind of understand it. The funny part is, if you wait long enough, you also end up beating the traffic as there's nobody left!
I was also able to wander into the "Mariners Wall of Fame" area behind the food court near home plate, and take some photos with stuff, since almost nobody was around: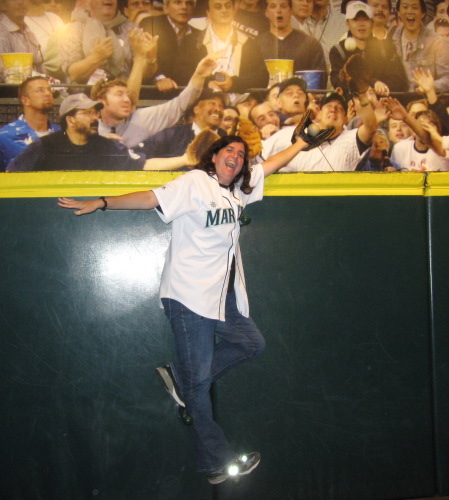 Here's something they have set up so you can pretend to be Ichiro, which is exactly what a bunch of Japanese tourists were doing. Do I count as a Japanese tourist now?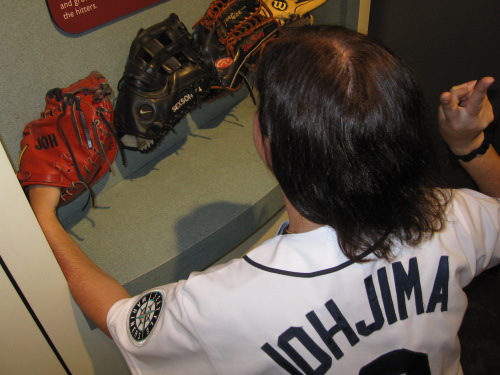 One of the exhibits is a bunch of bats and gloves from former Mariners players. Since I was wearing a Johjima jersey, I got Mike to take this photo since I thought it'd be kind of cool.
Yeah.
Being at an MLB game is weird. I don't really know what to do most of the time without the organized cheering. I think I've been brainwashed.
On the other hand, it's a reasonable enough way to hang out with some friends for an evening, and it was really, really awesome to see Brian, and even luckier that I got to see him actually pitch! Hooray.