I kind of assume people reading this know what Soukeisen is, but in case you don't, let's get that out of the way first: it's the word used for any competition between Waseda and Keio, and in this particular case, it's the bi-annual baseball match between the two universities, which has been going on for over a hundred years, and is probably the single most famous college rivalry event in the entire country. (Think like Harvard and Yale, only a lot more of the country cares about it than in the US.)
It's a big enough thing that I first heard of it way back when I was still in college in the mid-90's. I had a Japanese conversation partner that was an exchange student from Keio, and she didn't really care about baseball at all -- we played volleyball together sometimes -- but even she told me she was happy that the US college semester ended in mid-May so she could come back to Japan in time to go to Soukeisen with her friends and get totally drunk and sing their school songs together at Jingu.
Unfortunately, it's also a big enough thing that it gets ridiculously big crowds of people, especially since Yuki "Handkerchief Prince" Saitoh, the most famous college pitcher in recent history, enrolled at Waseda. The Saturday games of Soukeisen have been drawing crowds of around 26,000, which is pretty huge. Me being me, I prefer to go to the less-crowded games and sit right up front and take photos and really see and hear the players, rather than having to hunt and claw for an empty seat up high and face huge lines at the food stands and the bathrooms. On the other hand, it is kind of fun when both teams have ouendans set up in the infield and outfield. Waseda even splits its brass band, so you get TWO groups playing music and yelling during their inning halves, and a lovely not-really-echo when the two groups are singing "Konpeki no Sora" after scoring a run.
Anyway, I hadn't been to a Soukeisen in a few semesters due to scheduling and the crowds. And last semester, I
really regretted it
after the incident known as "Ohishi Theater" where Tatsuya Ohishi, Waseda's closer and my favorite college player, started the Sunday game at shortstop and played there for most of it before pitching the last few innings, also getting in a few hits, and essentially being a one-man show for the team.
On Saturday night, I looked at the
game results
for the game, where Keio TRAMPLED Waseda 11-2 behind the ever-steady Nobuaki Nakabayashi. I checked the Waseda pitcher list -- Saitoh, Matsushita, Kusuda, Fukui, Ohno. There was one name glaringly missing from that list, so I came to two conclusions:
1) Something really freaking bizarre was going to happen on Sunday
2) It was going to involve Tatsuya Ohishi.
I was still waffling about going up until around 11:40am, when I left my house to go to the train station. I was riding the train downtown, and I checked the Tokyo Big 6 page around 12:25 to see if the starting lineups were there, and they were!
AND IT WAS GOING TO BE KEIO'S KOMURO AGAINST WASEDA'S OHISHI.
Oh, this was going to be good.
Junpei "JP" Komuro is a 4th-year who basically split pitching duties equally with Nakabayashi in the spring, and had a couple of good games in the fall too, but he basically spent his entire career at Keio not pitching in league games thanks to Katoh, Aizawa, and Nakabayashi. He's a righty sidearmer from Omiya and he's actually a lot of fun to watch, but I would never call him an overpowering pitcher per se.
And Ohishi... well, I've babbled about him a ton. He's been known to top out at 154km/h on the guns at Jingu. He throws a slider, a fork... when he's on, he's unhittable. In 106 innings pitched in college, he's notched 153 strikeouts. (He had an 11-strikeout game this semester... in relief.) And up until Soukeisen, he had allowed one earned run this semester. If he'd wanted the league ERA title, all he had to do was sit on his butt and not pitch at all for the weekend and run off with his nice little 0.37 ERA.
But well, that's not really his style.
So I get to Jingu around 12:40pm, and see the huge lines to get into the seating behind home plate, and I see a huge line to get into Waseda ouendan/student seating, but surprisingly, there is NO line to go sit on the Keio side at all, so I basically go in and walk up the stands and ask, "Is this seat empty?" at the first place I see a promising seat, and it is. So that worked out well, at least.
This was my view:
You can see that the stadium is fairly full.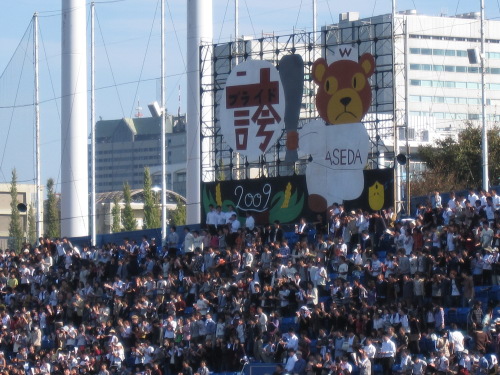 My view of Waseda's cheering group. That's this year's big Waseda Bear, which only seems to surface for Soukeisen.
I was much closer to Keio's cheerleaders, though still a few sections over.
I should also mention the somewhat bizarre ramifications of this game:
1) If Keio won this game, they would win Soukeisen, and
Meiji
would win the Tokyo Big 6 Fall 2009 championship.
2) If Waseda won this game, there would be a third game on Monday. If Waseda could win on Monday too, THEY would win the Tokyo Big 6 Fall 2009 Championship.
3) If Soukeisen went 2 days, the Rookie Tournament would start on Monday, but if it went 3 days, the Rookie Tournament would start on Tuesday.
4) Tuesday is a national holiday. But the interesting matches of the Rookie Tournament don't start until the 2nd day, once Todai is eliminated.
So, the best-case scenario was really for Keio to win this game. Especially since Keio hadn't actually won Soukeisen since 2006, so that would DEFINITELY be a strange occurrence.
(I'm really not a Waseda fan. I'm just an Ohishi fan. I don't really HAVE a college I root for per se, but if I had to pick one I'd probably go with Hosei.)
Anyway, Ohishi came out there and started working his usual magic. Urushibata, strikeout! Fuchigami, strikeout! Yamaguchi... okay, Yamaguchi singled to right. And then he stole second, and Waseda freshman catcher Shota Sugiyama chucked the ball into centerfield, so Yamaguchi got all the way to third base. But then, Hayata Itoh... STRIKEOUT!
I briefly wondered if the day's bizarre event would be Ohishi striking out 18 guys, which is what he would need to pass Kenji Tomura's strikeout total of 46.
But, no, that is NOT what would come to pass.
Kazuya Onodera led off the top of the 2nd inning for Keio, and hit a solid double to right. Tatsushi Yumoto followd it up with another single to right, moving Onodera to third. And then Ryosuke Yamamoto followed that with ANOTHER single, this time to left, scoring Onodera.
1-0
. These were all pretty hard-hit balls, I should add, and Ohishi was only throwing in the 130's and low 140's, not his usual flamethrowing stuff when he's pitching in relief.
Masahiro Nagasaki then made the first out of the inning, trying to bunt, failing, trying to bunt again, failing, and on the third try first baseman Hironobu Hara just watched the bunted ball roll foul.
Junpei Komuro came up and bunted, but this time Ohishi was ready for it and fired the ball to third base, getting Yumoto on the force. Two out, runners at first and second...
...and Keio captain Tetsuya Urushibata hit a huge one out to centerfield. It wasn't a home run, but it went to the wall and Hiroki Kojima was scrambling for it as Yamamoto scored, Komuro scored... and Urushibata made it to third for a triple!
3-0
. Hitoshi Fuchigami then walked on four straight pitches. (This was ALSO strange.) There was activity in the Waseda bullpen, but Ohishi continued pitching... and Yamaguchi got ANOTHER hit, this time a double to left. Urushibata scored,
4-0
. Yamaguchi would eventually be 4-for-5 on the day with 3 doubles.
Hayata Itoh walked, and it was back to Kazuya Onodera again, who had led off the inning. Onodera grounded out to first, though, the throw to Ohishi covering the bag, and that crazy inning came to an end.
Meanwhile Komuro was just setting down the Waseda batters like it was no trouble at all. It was surreal.
The 4th inning saw Keio go postal on Ohishi yet again. Urushibata led off with a single and stole second. Fuchigami bunted... and Ohishi threw out Urushibata at 3rd base yet again. Oops. Yamaguchi doubled again, and Fuchigami had to hold up at 3rd. Itoh struck out, but then Kazuya Onodera, the Fall 2009 batting champ, hit a single up the middle and that scored Fuchigami and Yamaguchi.
6-0
. Yumoto walked before Yamamoto hit a pop fly out.
Ohishi was up to 96 pitches through four innings, and
moved to play centerfield
at that point as Yuya Fukui entered the game as pitcher.
Things settled down between both teams for a few innings at that point, so I'm going to interrupt this post for a minute to just point out that before Soukeisen, in 24.1 innings this semester, Ohishi had given up 13 hits and 4 walks and 1 earned run, and in this game alone, in 4 innings, he gave up 9 hits and 4 walks and 6 earned runs.
My conclusion? Ohishi can throw fast! He can hit! He can run! He can field! He can play centerfield or shortstop! He can fly through the air with the greatest of ease!
However, he CAN'T effectively be a starting pitcher.
I wonder what the difference really is in mentality, since he's been able to do things like pitch 5-6 innings in relief in his alter ego as Superman, but every time he's been a game starter, it's been a diaster. Is it just in his mind, or is there something he's seriously doing differently that makes it impossible? I worry, because you know I think he's a fantastic pitcher, and I really enjoy watching him pitch, but I also come from a mentality of "Relief pitchers are the guys who aren't good enough to start", and I'd rather think of him as being a lights-out closer rather than a pathetic failure as a starter.
Anyway, Komuro had a shutout through 7 innings, until the bottom of the 8th when Masato Fujiwara pinch-hit for Kenta Matsushita as an "obligatory 4th-year" appearance, and ended up SLAMMING one out to right field, I thought it was gone but it bounced at the wall over a jumping Yamaguchi and dropped for a triple. Taketo Shinsako, also a 4th-year, pinch-ran for Fujiwara, and then Ayuki "Keijiro's Little Brother" Matsumoto hit a sac fly to center which scored Shinsako to make it
6-1
.
(The obligatory appearances by 4th-years is because Soukeisen is effectively the retirement game for these guys -- many of whom will probably not continue playing baseball once they graduate -- so in a lot of cases you'll see a whole bunch of 4th-years put on the roster for the last game, and they work their way in as pinch-runners or whatnot, just to make a last appearance.)
Yuki Saitoh came out to pitch the 9th, I guess since he only made it through 4 innings on Saturday and it was a blowout, they figured he might as well make the crowds happy. And he did... only it was the Keio crowds, as he gave up an infield single to Itoh. Itoh then stole 2nd base on the 2nd pitch to Onodera... and the third pitch to Onodera was wild and moved Itoh to third. The 4th pitch to Onodera hit him on the back. Yikes. (It was 4 straight balls, too.) So then Yumoto grounded out, and Itoh scored on the play.
7-1
.
I was surprised to see Komuro still pitching the 9th given that he was up to 103 pitches and there were plenty of seniors who should have been able to get their obligatory last appearances in, but he continued. With one out, he hit Shohei Habu in the leg with a pitch, though, and then Yusuke Ohmae pinch-hit for Hara. Ohmae is a pitcher as far as I know, but I guess in this case he was just a lefty bat in a blowout game. But Ohmae ALSO surprised everyone by singling to right, moving Habu to 3rd! A freshman, Koki Sasaki, pinch-ran for Ohmae, and stole second during Shota Sugiyama's at-bat. Sugiyama, also a freshman, hit a sac fly to right, scoring Habu.
7-2
. And before the out-of-sync ouendans could finish a round of "Konpeki no Sora", Toshiki Yamada singled to center, scoring Sasaki.
7-3
.
And Komuro kept pitching. After all, there were two outs.
Captain Yosuke Yamakawa, another dude we've barely seen this semester, pinch-hit for Saitoh in the 7-spot, and fouled off pitches. Foul, foul, foul. After 4 fouls and 10 pitches total, he singled to left, moving Yamada to second.
That was 128 pitches for Komuro, and he came out of the game.
People saw a big lefty coming in from the Keio bullpen and were like "Oh my god, is that Nakabayashi?" but no, it was Takumi Matsuo, #17, also a 4th-year lefty.
So Yuya Watanabe pinch-ran for Yamada at second base, and Koji Udaka pinch-hit for Little Brother Matsumoto.
And naturally Udaka slammed a double to right, scoring Watanabe.
7-4.
Now, if the Bizarre Ohishi Effect was truly to take place, he should have come to bat at that point and hit a 3-run home run and tied the game, right?
Except the Waseda manager thought differently and pulled their lefty-batting closer-turned-centerfielder and put in a pinch-hitter, righty sophomore Daisuke Ichimaru, whose first and only appearance this semester was on Saturday.
And Ichimaru grounded out.
Game over, Keio wins 7-4
. And so Keio won Soukeisen as well, for a change.
Both teams went to bow and wave goodbye to their respective cheering sections. Urushibata, the Keio captain, was BAWLING. Players kept coming over and playfully hitting him or turning his cap or whatever. The thing is, for him and Nakabayashi and a few of the other guys, this marks the end of SEVEN YEARS playing baseball in a Keio uniform, since they were all together at Keio high school as well. That's got to be pretty overwhelming.
I was kind of bummed to be sitting so far back though, because the postgame interview was Urushibata, Komuro, and Onodera. Urushi was still wiping his eyes, and Onodera kept waving to random people in the stands. And I couldn't really see/hear any of it.
Anyway, I left shortly after that, with the interest of getting something to eat and getting home in time to watch the Japan Series game 2, which would start at 6:15pm and supposedly have Darvish pitching. The good part is, I got home in plenty of time. The bad part is, I apparently missed the closing ceremonies and the Meiji victory announcement. I kind of realized that on my way out of the park when I saw the Meiji baseball club bus parked out there, but wasn't about to head back in or whatever.
(But there are a few photos from it up on the
Meiji baseball team blog
, and it looks like I would have had to stay until past 5pm, which was just not happening.)
I'll probably try to go to at least some part of the
fall Jingu taikai
, which involves both high school and college teams -- if nothing else, to see Meiji (U), Soka (U), and Teikyo (HS)...