Okay, I made an executive decision this morning to go Jingu for Soukeisen (the Waseda-Keio rivalry grudgematch), on the hunch that something weird was going to happen and it was going to involve Tatsuya Ohishi. I was right on both counts, but I'll be writing a separate post about that.
As a result, I'm at home tonight again, and I'm going to semi-liveblog much like yesterday, which is a lot less stressful than trying to write down every play of the game. As usual, you can come join the
chatroom
on japanesebaseball.com or comment here or whatever.
                     

Sakamoto ss                Kensuke 2b
Matsumoto cf               Hichori lf
Shaven Doppleganger 3b     Inaba rf
Rami-chan dh               Shinji 1b
Turtleface rf              Sledge dh
Tani lf                    Koyano 3b
Shinnosuke c               Itoi cf
Lee 1b                     Tsuruoka c
Furuki 2b                  Kaneko! ss

----------                 ----------
Utsumi (9-11, 2.95)        Darvish (15-5, 1.73)
Yes, Darvish is starting for the Fighters, so apparently all of that DOOM AND GLOOM we have been hearing is either the Fighters trying to deceive the media, or them just not wanting to get our hopes up, or... who knows.
All I have to say is, if he struggles out there, they BETTER pull him the minute it seems he's having trouble.
6:17
Game on. Sakamoto hits a pop fly out to lead off. Hooray.
6:18
Matsumoto grounds out to short.
6:20
OGASAWARA'S CLEAN-SHAVEN DOPPLEGANGER STRIKES OUT!!!!!
Well, that's a good start so far. Let's hope he can keep it up!
6:28
Inaba two-out single followed by a Shinji single to right, advancing Inaba to third... I'll take that!
6:31
But then Sledge strikes out and that's the first inning down. 0-0.
6:33-6:41
Rami leads off with a double to right, followed by a Kamei strikeout that takes bloody forever, and a Tani strikeout, and an Abe groundout. Darvish still looks good!
6:46
My once-per-game moment of "Thank GOD we converted Itoi from being a pitcher" just happened, of course (he singled to right-center). And Tsuruoka bunted him up. Now we're just hoping Kaneko can drive him in...
6:50
Nope, strikes out. So that's two innings down, still 0-0.
7:05
I was getting all ready to write "Nothing interesting happened in the third inning except SY Lee getting caught stealing second, ha ha" except then with two outs INABA LAUNCHED A HOMERUN INTO THE RIGHTFIELD STANDS right at two Giants-towel-wearing people, making it
1-0 Fighters!!
and Shinji followed it up with a double and this is getting exciting!
Also after hearing the Fighters ouendan sing "Shiroi Ball Fantasy", which is the Pacific League renmeika (official league song), I am wondering, does the Central League have a renmeika too?
7:09
Sledge launches a single to left, scoring Shinji! That makes it
2-0 Fighters!!7:11-16
Weird play there, Koyano hit a hard grounder up the middle and the throw didn't beat Sledge to second. Ha! So still with two outs, the Fighters are attacking... two on for Itoi... who BOOM! Double to right! Sledge and Koyano score!
4-0 Fighters!
And Utsumi is being summarily escorted off the mound for being unable to get left-handed batters out. Shun Tohno enters the building. And strikes out Tsuruoka.
So that's 3 innings down now, Fighters have a 4-0 lead!
7:26
Um, Ramirez got a hit and Yoshiyuki Kamei hit a two-run homer to left field that bounced off the foul pole, so now it's
4-2 Fighters
. Doh.
7:34
Kensuke walk, Hichori hit, Inaba pop out,
7:38
Shinji strikes out :( So still 4-2 Fighters, now through 4 innings.
7:44
Giants are pulling this two-out stuff too now, with Furuki and Sakamoto AND MATSUMOTO getting hits, three in a row... luckily Matsumoto's was to shallow center and Itoi was able to charge it but... DANGEROUS...
7:48
OGASAWARA STRIKES OUT! YAY! And leaves all 3 guys still on base.
Darvish's best pitch tonight, by the way, seems to be his curveball, which has actually been landing for strikes almost all of the time, and seems totally unhittable. 148km/h might be the fastest I've seen a pitch of his, too.
7:53
Fighters go down 1-2-3 in the bottom of the 5th, so it's still 4-2 Fighters, now through 5.
8:15
Still 4-2 through 6. Darvish is finished for the evening and Naoki Miyanishi replaced him. Also, I HATE "Toukon Komete", the Giants song.
8:35
Still 4-2, now through 7. Kiyoshi Toyoda pitched the bottom of the 7th, anyway, and Takayuki Kanamori comes out to pitch the top of the 8th...
8:50
Finally some CHANCE MUSIC! Genghis Khan theme for Kaneko, who comes up with one out in the bottom of the 8th. (Itoi singled -- he's 3-for-4 today -- and Tsuruoka bunted him up.) Unfortunately he grounds back to the mound. By the way, Kimura Shota is pitching the 8th apparently.
8:52
No he's not. Norihito Kaneto replaces him to pitch to the lefty Kensuke Tanaka.
8:54
Chitty Chitty Bang Bang chance music.
8:56
Fly out, inning over, still 4-2 after 8 innings. I think it's Hisashi Takeda time...
8:57
Why yes, it is Hisashi Takeda time.
9:06
...and now it is two outs in the top of the 9th with Kamei on first. SO close. Come on...!
9:08
Shinnosuke Abe hits a pop fly! Out to right! Right to Inaba!
FIGHTERS WIN IT 4-2!!!!
Darvish gets the win and Hisashi gets the save, I believe.
Well, that at least guarantees all three games will happen at the Tokyo Dome! Hooray!
Nashida admits in the manager's interview, "Brian Sweeney was prepared to start today as well -- if Darvish hadn't been okay..."
Few TV shots for fun: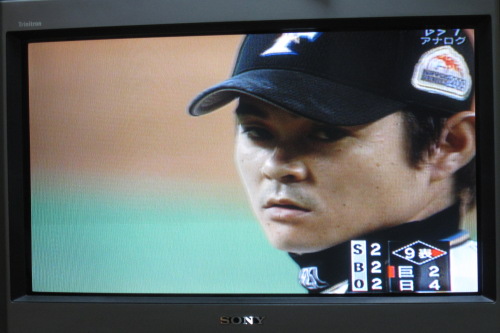 Hisashi time!
Final score, and ouendan.
Darvish interview!