Decided it wasn't worth dragging the laptop with me for a one-day trip. I'm off to Osaka to watch the Fighters-Buffaloes in the Pacific League playoffs (aka Climax Series; whatever).
I'll be back Monday night; best-case scenario I only have one game report to share with you because the Fighters win today; second-best is that I have two game reports to share and the Fighters win tomorrow; worst-case is I have two game reports to share and I am extremely grumpy that I'll be seeing the Buffaloes vs. the Lions at Seibu next week.
Hopefully that will not happen. Maybe Shugo "Shaggy" Fujii will even win today!
In the meantime, here's hoping tomorrow's showdown between
Kimiyasu Kudoh
Jamie Moyer and Hiroki Kuroda goes well.
And in case you had any doubts about my feelings on the postseason...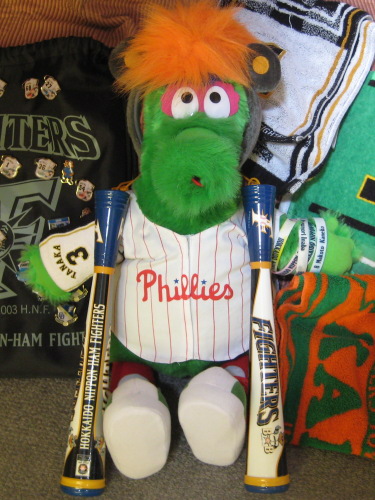 Good thing I'm not a Hiroshima Carp fan; my Phanatic would definitely rue the day I dragged him across the Pacific Ocean.