It's Christmas, I suppose, but it's just a normal work day for me, so I haven't given it that much thought. I just watched Sennichi Hoshino as the Bistro SMAP guest on the SMAPxSMAP Christmas special, though, and that was really awesome. I'll talk a little more about it when I can get a copy of the episode and some screen shots like I did when Shinjo was on the show last year. Suffice it to say that all of the members of SMAP seemed to be huge Hoshino fans, and he's so naturally charismatic that it was really entertaining.
Anyway, I was busy the last few days entertaining some friends who were in town for the weekend, but then this morning they left to go back to America, so I had nothing to do for the afternoon today, so I decided to go see if I could find
Fighters Town Kamagaya
at long last.
The backstory here is that the Fighters set up this great minor-league stadium and training complex in Middle-of-Freaking-Nowhere, Chiba Prefecture, about ten years ago. I suppose that even back then it must have been a little weird that the Fighters were in Tokyo and had their farm team in Chiba, and the Chiba Marines had their farm team in Saitama, but now it's even weirder because the Fighters are in Hokkaido.
I took the train to Kamagaya Station, which involved going to Funabashi first and then taking the Tobu Noda line into the countryside. Lest you think I'm joking, take a look at the map of where I went today: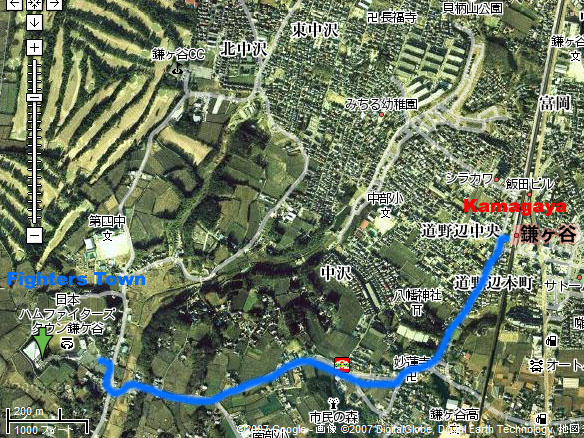 I am sure there are plenty of people living in Kamagaya proper, but the place where the Fighters stadium is located is in the middle of a bunch of tree fields and other farmlands, and is about a mile from the station, give or take a few hills.
To get there, you exit Kamagaya station at the west exit, and you turn left onto a street called "Pear Street Kamagaya". You know you're in the right town because plenty of shops have Fighters signs up all over the place:
You walk down Pear Street for a while. There's only shops and stuff for about two blocks, and then the sidewalk becomes super-narrow and there's a few houses and a lot of trees and some blank land, and just when you're wondering, "Am I still going the right way?" you see a helpful signpost saying "Fighters Stadium" to the right...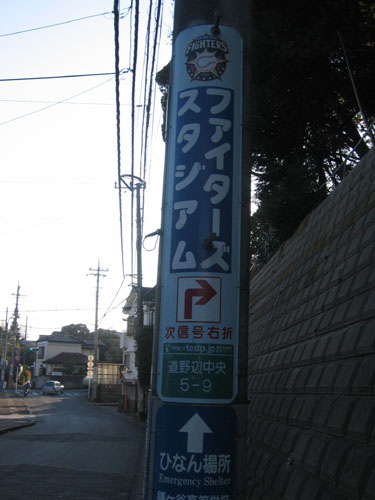 There's a REALLY confusing interchange after that right turn, though. You need to follow to the RIGHT of this temple: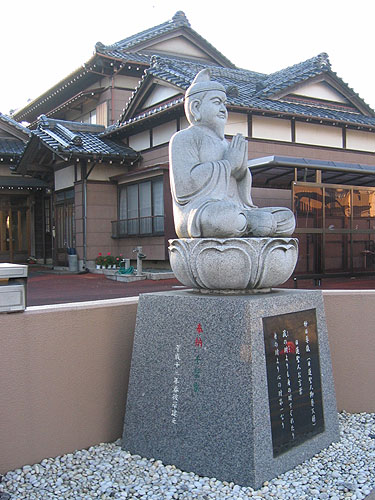 And then you walk for a bloody long time, mostly past these bizarre fields where they're growing trees all sort of connected with each other. Just when you're AGAIN wondering if you're ever going to reach the stadium, you hit a big downhill slope with ANOTHER helpful signpost: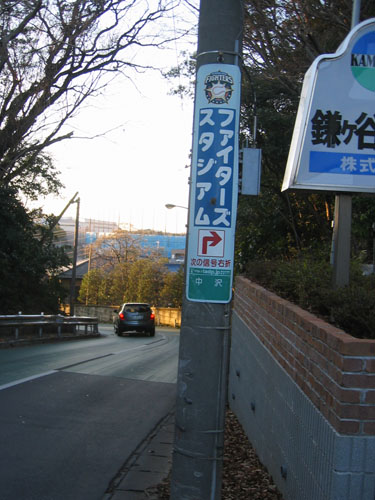 And you realize the blue thing in the background is the stadium! So you go down the hill and turn right, and find out that yes, you are in the right place: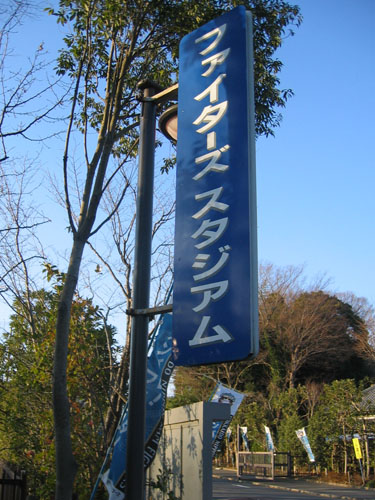 ("Fighters Stadium")



("Nippon Ham Fighters Town Kamagaya")



(I want this car.)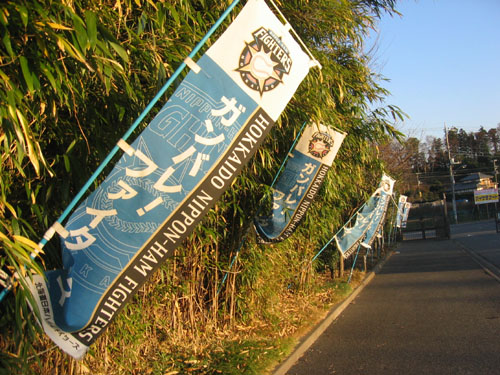 ("Ganbare Fighters!")
Just inside the gate, there is a dilapidated information sign. Currently, it has the names of the recently-drafted Fighters players. Earlier this week there was apparently a New Players Ceremony there, but of course I was at work.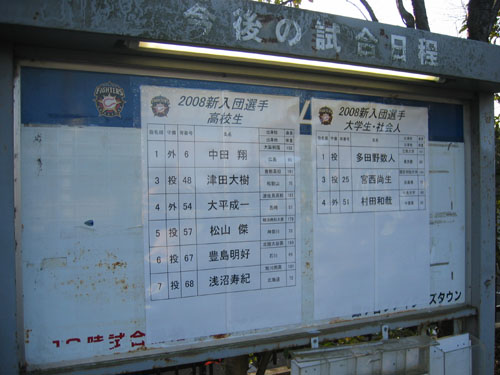 Now, to be honest, there was a sign on the gate that said something like "関係者以外立入禁止", which means something like "Unauthorized personnel forbidden", but at the same time the gate was OPEN. And when I was just standing there taking pictures of the stuff outside the compound, an older guy even walked out of the gate past me and said "Hello," in a friendly voice, so I figured, what the heck, I'll just walk in and take pictures, and if anyone gets angry I'll claim I couldn't read the sign and the gate was open after all.
There's a sign with information about the stadium in front. The grandstand was under construction and I didn't really try to go into it.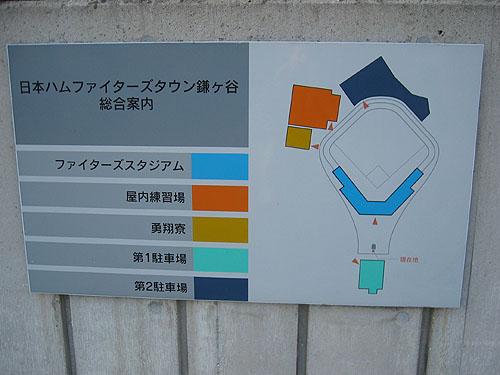 I walked up around the right side of the stadium. There was a gate to the field, but these guys are much smarter than those other minor league parks, and know to lock their gates or risk random gaijin wandering onto the field:
And here is the outfield seating. Though I'm not actually sure whether anyone sits out here during games (they didn't list separate prices for outfield seats):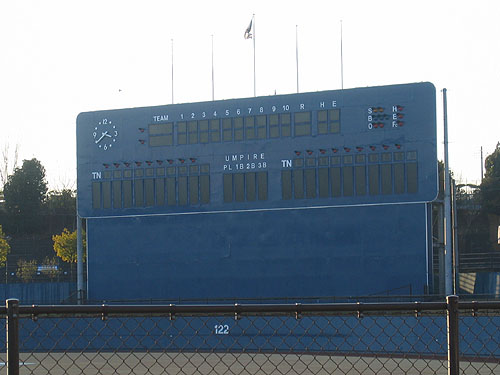 I walked around to the centerfield scoreboard and took a picture of the infield from there. It really looks like a VERY nice stadium compared to all of the other minor league ballparks I've seen here so far. I wonder what minor league attendance is like in general -- something I ought to check out at some point.
Anyway, while I was loitering behind the centerfield scoreboard I heard a familiar sound -- the sound of a baseball hitting a glove. And then at that moment I realized that beyond the LEFT field side, there were some people throwing a baseball back and forth. I have no clue whether they were minor league players doing personal training, or random team personnel, or what, but I had this feeling that it was probably a better idea for me to get out of there than to go try to talk to them. I mean, for all I know they'd be cool about it, and maybe there IS more to this "Fighters Town" thing that fans are actually allowed to go to, but just in case, I really had no particular desire to spend Christmas Eve in a Chiba prefecture police station trying to explain why I was trespassing on a minor league ballpark, or spying on baseball players, so instead I just left. Yeah, I'm a wuss.
I'm going to go back there sometime for a minor-league game, I hope, but it's not really the sort of place I feel like going to just for the heck of it, especially since it takes like 2 hours to get there with the walking. Still, it was interesting to see a more rural part of Kanto, I suppose.