Writer's block continues. I literally wrote this entry for a whole week, doing a few paragraphs a night, and at this point figured I should finish it rather than delete it, just for my sake.
So, yeah, last Sunday I went down to the Tokyo Dome to check out this
Master's League
thing since I'd been genuinely curious since a few weeks ago when we noticed they were playing a game following the Dragons Fan Fest. I was again the only non-Japanese person I saw in the stadium, although this time it made a lot more sense. Why would anyone come to see a bunch of 50-year-old ex-baseball players waddle around, unless they had sentimental attachments to these players from years and years ago?
I came in, bought a program, got a lineup list, found a seat about 30 rows back near first base, and then wandered down to the field to see the warmups (it was possible to just go up to the screen down in the outfield). Only catch is, I had brought my little camera and I had forgotten to charge the battery. Whoops. So I got about 10 pictures total before it died.

Tokyo Dreams coach Tomoh Wakoh. Great uniforms, huh?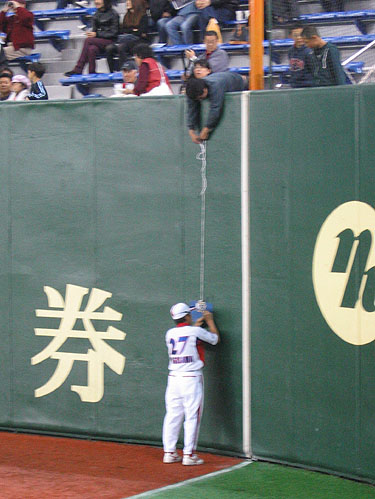 A fan gets Sapporo's Sohroku Yagisawa to sign something. Rope tricks are pretty common here.
I waited around for a while until the starting lineups were announced. There were several things to note about these:
1) Several players on the team have the same uniform number, which I didn't realize until I was writing them down
2) When they announced a player they not only had to give the position they were playing today, but practically announce their entire life history, where they were born, what high school or college they played for, and what professional teams they played for, and so on and so forth, and usually would add a sentence explaining "why you should remember this guy".
And then the pre-game festivities started. They had cheerleaders come out -- yes, this league has a group of cheer girls called the
Tricolore Lancers
. The girls danced to a couple of songs -- all American oldies, which was pretty funny to me.
For the record, some of the girls in the cheerleading squad are young enough to be the granddaughters of several of the players on the team. Yeah, there's a 46-year-old on the squad (Kuroda Yukari, whose day job is apparently being a teacher, and she even wrote a book about being a 44-year-old cheerleader a few years ago), and a few girls in their early 30's, but some of them are as young as 19 years old.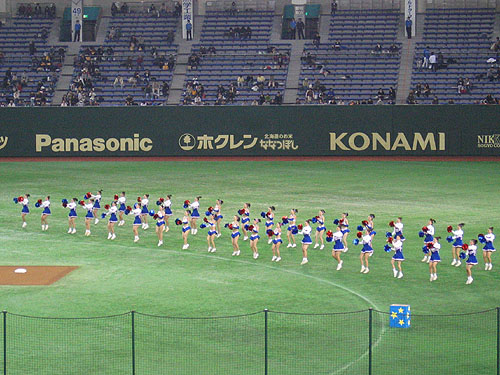 After that they had a ceremonial first pitch, but I totally didn't hear who it was by. I was too preoccupied watching them have
Elf-chan
, the Chiba Lotte Marines' ball-carrying dog, bring baseballs out to the mound. I think Elf's gotten a lot better trained in the last few years :)
They announced all of the players who were playing and not playing, just so they could come out and be applauded and all. Several players got huge rounds of applause -- notably, when coach Yutaka Enatsu came out there was a bigger round of applause than for anyone else, I think, although Choji Murata also got a pretty good reception of course, and various other guys too.
I had been wondering why I saw so many people in various Yakult Swallows jerseys running around before the game, since I didn't really see ANY fans wearing jerseys for the most part, but that became evident when they announced Ken Suzuki, who just retired from the Swallows this year. Despite that only one of them had an actual K.Suzuki jersey (I saw a K.Ishii, two Miyamotos, an Aoki, and a Furuta, among others), they were all quite happy and quite vocal to see him there.
The game started pretty close to on time. The Tokyo Dreams took the field. The first thing I noticed is that Norihiro Komada is really pretty chubby these days -- not that he was a small man by any means when he still played, but I think he hides it really well when he does TV appearances and whatnot, usually wearing a suit and sitting behind a table. I'm a pretty big fan of his post-career since he usually makes me laugh (he's a commentator on Megaspo sometimes, and he was in movies like Mr. Rookie), but wow, I really had no idea. 1B-DHes really don't age so well.
The second thing I noticed is that former
Fighters heartthrob Yukihiro Nishizaki
(who is now 43 and still pretty cute) was throwing like 100 km/h on average. Yikes.
Anyway, CF Masahiro Takahashi, one of maybe four people in this game who can still run fairly fast, led off with a double for the Sapporo squad, but that was all they'd get in the top of the first. The DH and third batter was 60-year-old Tsutomu Wakamatsu, the Yakult Swallows legend, and he could barely get the ball out of the infield.
I noticed that there was a small oendan in the left field seats -- maybe about 10 guys cheering for each player. I wondered if there would be an oendan in the right field seats as well, but in the bottom of the first inning, that same group of guys in left field started cheering for the Tokyo team as well! It took me a while to figure it out, but they were pretty much either doing the actual player cheer songs, or doing cheers in the style of the team that player spent most of their career with. (It became notable mostly when they started doing the Seibu Lions running cheer and later on when they broke out Yakult umbrellas.)
The starter for Sapporo was another Fighters pitcher from the 1980's, a guy named Hiroshi Tsuno, whose name had surfaced a whole bunch at the start of the 2007 season. Tsuno was drafted by the Fighters in late 1983 and was their Opening Day starter in 1985, a few months shy of his 20th birthday. Yu Darvish was the first guy since Tsuno to be a Fighters Opening Day starter within 3 years of graduating high school -- and Darvish wasn't even alive when Tsuno did it. Crazy. Anyway, Tsuno, who is now 42 years old, was topping out around 125-126km/h, which seemed vaguely unfair to me at the time, as the first three batters for Tokyo (average age: 47) grounded and flew out fairly quickly. The entire first inning took a whopping 9 minutes total.
I had seen some recaps of games saying that most Master's League games only took around 100-140 minutes tops. I was beginning to understand why.
51-year-old Hiroshi Masumoto replaced Nishizaki after one inning on the mound. Masumoto threw around 105-120 km/h. A group of women cheered for the Sapporo team batters from behind the homeplate net, but the inning went 1-2-3, ending with a foul fly near first base, and Norihiro Komada waddled out to make the catch. In the bottom of the 2nd, Tokyo catcher Tatsuo Omiya singled, but that was it. The second inning ALSO took 9 minutes.
The third inning took a whole 20 minutes, though. Yasutomo Suzuki led off with a walk, and then Makoto Takada hit a single to right, and then Masahiro Takahashi, who had led off the game with a double to left hit ANOTHER double to left! Suzuki and Takada scored, making the game
2-0
. Since Takahashi had spent 13 years of his career in Yokohama, the oendan guys in the outfield sang the Yokohama Bay Stars song to cheer for it, despite that the other two guys had no affiliation with Yokohama. I was starting to figure out the rules of their cheering, see. Anyway, Takahashi advanced to third on a wild pitch a bit later, but other than that there was no scoring for the rest of that half inning. Wakamatsu hit another weak pop fly and I felt kind of bad for him. Tokyo didn't do much in the bottom half though -- another former Yokohama guy, Kaname Yashiki, hit a single to left, and then Tsuno tried about five times to pick him off first but failed. He didn't really need to do it anyway as he struck out Nakano and Hourai, both swinging, hitting upwards of 130 km/h on his fastball.
And thus the first third of the game passed in 38 minutes.
58-year-old Yutaka Saotome pitched the top of the 4th for Tokyo, and actually managed to get a 1-2-3 inning out of the Sapporo squad. Tsuno had to abdicate the mound for Sapporo and was replaced by -- get this -- Yoshinori Satoh. Only it wasn't the flame-throwing 17-year-old Sendai Ikuei kid recently drafted by Yakult (佐藤由規), but the 53-year-old legendary Hankyu/Orix pitcher (佐藤義則). This Satoh got the first two batters quickly (including a super-lazy Norihiro Komada who didn't even bother running up the line at all when he hit a grounder to first), but then Tatsuo Omiya got a single.
And then the Yakult fans got to be REALLY vocal as Ken Suzuki came into the game t pinch-hit for Hiroshi Satoh, avoiding the Satoh-Satoh matchup. The Yakult fans did Suzuki's real cheer song and were really excited when he also hit a single! His first single in the Masters league! Wheee! But with runners at first and second, Shinya Ashizawa hit a long pop fly out to left field, chased down by Masahiro Ishii, who lost his hat going after it. Both teams' left fielders were really having a pretty tough day of things.
That inning also took 15 minutes.
The next inning, however, was full of excitement and would take 26 minutes all by itself.
It started simply, with Hirofumi Kohno pitching for Tokyo. He got one out, then that pesky Takahashi guy hit ANOTHER double to left -- his third of the day. Kamikawa grounded out, and then it normally would have been Tsutomu Wakamatsu's at-bat, but they decided to do one of these matchups that this league is pretty much entirely set up for.
Assistant manager Isao Shibata came in as a pinch-hitter for Sapporo. Shibata basically used to be the leadoff hitter for the Oh-Nagashima dynasty of Giants teams.
So Tokyo countered by putting in pitching coach Yukio Ozaki. Ozaki would have probably had a pretty great career if he hadn't pitched ninety bazillion innings per year from the time he was a 17-year-old rookie and blown his arm out.
But, either way, they were both Koshien stars (and huge rivals) back in their day... that is, in 1960 and 1961. Shibata's team usually beat Ozaki's.
Which is fitting, since in this Masters' game, now that both men are 63 years old, Ozaki pitched to Shibata, and Shibata hit a double to left, scoring Takahashi, to make things
3-0
.
The best part is, though, the excitement didn't stop there. Ozaki came out of the game, and people were all murmuring about who would come out next. The people down the row from me were even like "Do you think it will be Enatsu? That would be so great!!"
It was better than Enatsu.
It was Choji Murata.
Murata is a pretty legendary pitcher in Japan for various reasons. First, he was the first player in Japan to have Tommy John surgery done. Second, he had a
weird high-kicking windup
. Third, he was a four-decade player (1968-1990). I'm sure there's even more, but you get the idea. Murata is 58 years old now, but he can apparently still throw amazingly fast.
He did throw a ball clear over the catcher during his warmup, and then ended up walking the first batter he faced (after which he bowed down on the mound like "Oh no!!"). The next batter was Hirose, and after a couple of semi-normal pitches -- which were still going across the plate at 130 km/h (which is 80 mph to the metrically challenged), Murata paused and stood in his trademark stance for a minute. Then he kicked up his leg, reared back, and let the baseball fly.
The crowd went, "Oooooh."
The ball went, "Whooooosh."
The catcher went, "Oh crap," as the ball flew way the hell over the plate.
The 50-year-old runner on first base went, "Oh, my aching back!" as he ran to second base on the wild pitch.
But eventually Murata struck out Hirose. I was wondering if they were just keeping him out there for one batter as a gimmick, but no, he came out the next inning too and faced 5 batters total. He walked one, struck out three, got a groundout from another, and his pitches all averaged 130 km/h (I think 135 was the highest I saw). Seriously, maybe I'm easily impressed, but there are guys half his age who can't throw that fast, y'know? Either way, it was pretty awesome that I got to see him pitch for real.
Kazuyoshi Ono came out to pitch the 5th inning for Sapporo, and after two normal outs, something really funny hapened. Satoru Nakano, the Tokyo right fielder, hit a low looping fly ball to left field. Masahiro Ishii, who as I mentioned was getting quite a workout -- all of these right-handed batters could only hit the ball to left field now -- went to chase down the ball. He ran in to get it but missed by a foot or two, and dived (well, or more likely, he just fell over).
Normally this would mean a double for somebody as the fielder got up and retrieved the ball and/or the centerfielder backed them up or something, but instead, Ishii couldn't get back up. Nakano wasn't the fastest guy on the planet or anything but by the time another fielder came out there and retrieved the ball from the corner, Nakano had rounded the bases and run home. He even slid into home plate headfirst for the hell of it, getting up in the middle of a pile of dust with a big grin on his face.
3-1
.
For whatever reason, the cheerleaders were interspersed with fans when dancing on the field between the 5th and 6th innings. It was sort of bizarre.
Tokyo picked up another run off Ono in the bottom of the 6th. Motonishi led off with a single, and then Kakiuchi -- a fairly recent retiree who was apparently very popular at some point, as he had many people cheering for him and bouncing up and down -- hit another single. Ichikawa hit a sac bunt, and then there was Ken Suzuki again, coming up with one out and runners at second and third. He hit a line drive to right field, but amazingly Seiji Kamikawa was in the right place to make the play and he caught the ball, so it was just a sac fly, as Motonishi scored.
3-2.
A pitching change to Matsunuma and his gigantic mustache saw a pop fly out by Ashizawa to end another 15-minute inning, for a total of 94 minutes at that point.
Hideyuki Awano pitched the 7th and 8th innings for the Tokyo squad, and actually looked like a real pitcher for it. Apparently he also fooled the Sapporo guys into thinking that, because they went down easy in the 7th and semi-easy in the 8th (after Ken Suzuki dropped a liner to third, with one runner at first, he was able to throw the ball to second and start a double play. I feel like the infield fly rule should have applied or something, but maybe not).
Matsunuma's facial hair got the first two guys out in the 7th, and Hisao Niura struck out Nakano -- on big, looping, 80 km/h pitches that were practically eephus at times -- but then things got weird.
63-year-old Sohroku Yagisawa pitched to Hourai and got a pop fly out, and then 55-year-old Kojiro Ikegaya pitched to Motonishi and he singled up the middle, between the middle infielders. Then Hisanori Yokota came out to pitch for Sapporo, and got beaten up by the Tokyo nine. Kakiuchi's crazy fans bounced even higher when he hit a single as well, and then Ichikawa walked, so the bases were loaded for Ken Suzuki to come up to bat. The Yakult fans also went crazy, and then went even crazier when he almost hit a home run to right field -- it bounced off the wall and scored Motonishi and Kakiuchi and moved Ichikawa to third.
4-3.
The best part was that the Yakult group all broke out their umbrellas and started the Yakult Umbrella Dance for the runs, and even the guys in the outfield, someone had an umbrella and did likewise.
Given the nature of this league, it shouldn't surprise anyone that the next thing they did was pull off a squeeze bunt, Ashizawa successfully bunting home Ichikawa AND managing to be safe at first.
5-3.
I'm not quite clear on what happened next. I had thought it was another squeeze attempt, but I think in reality, Ken Suzuki missed a signal and ended up running home independent of anything being hit, and was tagged out pretty easily, although Ashizawa somehow got to second on the play. Maybe it was just a missed bunt. (I really don't know. Muraoka was still at bat, Suzuki was out, Ashizawa was at second, when the dust settled.) Muraoka singled to right and Ashizawa scored from second, making it
6-3
. Kaname Yashiki then grounded out to third to end the inning, though he did a somersault into first base trying to slide in, which was pretty funny.
The game had taken 2 hours and 10 minutes to that point.
37-year-old Hiroshi Ishige, who was a closer for the Giants in the early 90's, came out to close out the game. He was also throwing in the mid-130's, but it's not as impressive as it was for Murata, I think. Anyway, Masahiro Ishii led off with a long hit into the gap in centerfield, and he ran, and ran, and... tried to make it a triple and ended up getting himself tagged out at third. Whoops! One down. Yoshinaga walked, but then Yasutomo Suzuki hit a pop fly out to right, and Makoto Takada hit a pop fly out to center (amidst some cheers of "Ato hitori!"), and the game was over.
Ken Suzuki and Choji Murata were the game heroes, which was pretty funny. Suzuki was all like "I'm so glad I could join all of these great players and help the team!"
Unlike a normal game, with a normal oendan, there weren't really big groups of people staying around to cheer team songs or anything like that, so I pretty much just left, amidst some more weird looks from people like "Why is an American at this game? It really doesn't make any sense," to which I just smiled at them and walked onwards. I came home and watched Hoshino Japan beat Korea in a pretty narrow game. It's really nice having baseball to watch in the offseason, although I think this might have been a rare weekend of it, before the big winter drought starts.