First off, let me say, I am a retard. I was thoroughly convinced I would be seeing Meche vs. Detroit today, then Millwood vs. Sele tomorrow, and whoever on Sunday (I don't care, it's my season ticket game anyway). But, no, it was the Indians today already. Oops.
Second off, let me say, Stitch'n'Pitch night was really a pretty cool event and I think the crafts stores and the Mariners pulled it off REALLY well.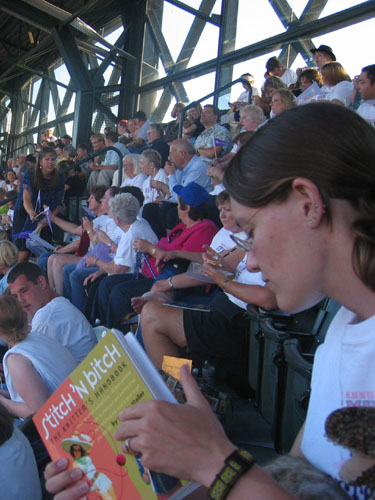 (for the astute observers like
David
, that actually says Stitch'n'Bitch, not Stitch'n'Pitch. "Stitch'n'Bitch" is a crafts movement or series of books, depending on how you look at it. Women have SNB groups where they get together, knit, and whine about their husbands and kids and crap. I wouldn't really know, because I have no husband or kids to whine about, so I don't get invited to that sort of thing. "Stitch'n'Pitch" is a clever play on that, and a gimmick to get said women to come to Safeco, spend money on crap at the stadium, and knit and whine about how much the Mariners suck.)
I showed up earlier than the rest of my friends, wearing my Stitch'n'Pitch shirt. Upon reaching the Lookout Landing deck, I was handed a little SNP pennant, and a packet of stuff from Pacific Fabrics (turns out to be a couple of free patterns, a coupon for the store, and a ruler/needle gauge), and as I wandered around to different tables I was given fliers about knitting classes, a pencil and a coupon for another store, several other coupons, etc. There was a
lady with a spinning wheel
, too, which was actually pretty neat. Some people had made up signs to hold up during the game, such as the one about the
Seventh Inning Stitch
.
Not surprisingly, a bunch of the craft tables had yarn available in teal, navy, silver, and white in abundant quantities. One store offered a kit to knit a felted Mariners purse, and another offered a kit to make Mariners scarves. The yarn was a bit expensive to me though, so I didn't buy any.
Eventually our whole group got there. We had five stitchers and two husbands. I actually knitted some AND managed to keep a full scorecard during the game. It was really pretty neat to be there with a group of friends I don't usually go to games with. I spent a bit of time explaining how to knit socks with four two-ended knitting needles, and then I spent a bit of time asking Josh to explain all the intricacies of the non-waiver trade deadline to me. Overall, it was pretty cool to talk stitching and pitching. Seriously.
They put the SNP group up on the big screen a lot, and there were a lot of yarn-related jokes during their trivia and whatnot (like playing Dream Weaver as the trivia song, and photoshopping the players' pictures to look like
they were cross-stitched
, and so on).
After three innings Meche was taken out, having given up a huge 3-run homer to the mighty Victor Martinez. Matt Thornton came in and amazingly struck out the side right after that. It was pretty impressive, even if it was just Ben Broussard, Jason Dubois, and Grady Sizemore. He looked pretty good for three innings, and then kinda fell apart in the 7th. Oops. Putz came in for a bit, then Jeff Nelson... and Colleen and I started singing along to Chattahoochee. I hope they trade him before I actually *do* learn all the words to that song.
The 7th inning stitch was pretty cool for the Mariners too, though. There was a hilarious at-bat where Olivo popped the ball up, a REALLY easy popup to second base, too, and Peralta and Belliard both ran for it... and I guess neither of them knew who was getting it, because bonk! it fell right between them both. True comedy. Shame they'd already run the blooper reel for the evening. Ibanez came in with Olivo and Ichiro on base, and just as Josh was saying something about blah blah Ibanez has platoon problems why is Willie playing instead of Reed blah blah, WHAM! Raul whacks a huge home run to left field. Heh heh. I suppose Scott Sauerbeck wasn't too happy about that (and he immediately got pulled, anyway).
I guess it was to make up for the fifth inning where I was like "Okay, who do you think Olivo will pop out to?" and he hit a home run, and Colleen was like, "I don't think that was a pop out," and I replied "Well, uh, he hit a really long pop fly... and it went out of the park. I mean, I could have included the bullpen coach in 'people he might pop out to', right?"
I was almost sort of hoping they'd play Bret Boone's old theme music when Aaron Boone came up to bat, heh. "READY OR NOT, I STRIKE OUT A LOT!"
Anyway, it was exciting to see Yuniesky Betancourt's first major league game, and seeing him get that triple in his first at-bat was awesome. He can really run, and he also looked awesome at second base, seriously. It'll be good to see what he can achieve while he's up here.
Sadly, we lost, but I had a pretty good time at the game anyway. Which says a lot for this event.
Oh, and Beckie won one of the kits from whichever craft store sponsored the raffles... it was awesome, she got all this yarn and a bunch of crochet hooks and some patterns and a nice sewing kit. A lady in front of us got a really sweet case of knitting needles and a bunch of yarn to go with it, and some circle needles and whatnot. Pretty awesome stuff and worth a decent amount, too; they must have had some serious sponsors for this event, considering we not only got cheap seats, and free t-shirts, and all of this other stuff.