In a measure of solidarity to my friends in Tokyo who can only go to afternoon games, I also went to an afternoon game today at Safeco Field.
(Just kidding. Actually, I went to it because it happened to be convenient. But, for the record, as I write this post, I'm watching the Swallows-Dragons game over the internet, which is happening in the afternoon in Tokyo, and a bunch of my friends are there, and I can't tell you how wholly homesick I am for Jingu.)
Anyway, I got there about an hour and a half early, which gave me a lot of time to just look around. I'm amazed by "The Pen", the new bullpen area, mostly in that they have such wacky food now (a creperie? REALLY?) and they've taken down the screen between players and fans at the bullpen itself, so you're just that much closer to the guys warming up or hanging out in there. I was surprised that despite the "no autographs" sign, several fans got autographs from Aardsma and Pineda out there, and probably others. I do have to wonder whether anyone considers it dangerous not to have a barrier between fans and players -- I suppose they're operating on the Reasonable Person Principle, and if anyone DOES try to throw something at an opposing pitcher or something, there'll be a huge smackdown? Who knows.
I'm also amazed by how they've still managed to raise the prices of food even more around Safeco. It's like... $15 as a "combo" for a hotdog, popcorn, and soda? Really? I think that'd still only run you like $8 in Japan without a "discount".
So in the pre-game time, I watched the Tigers take BP, I watched Pineda throw in the bullpen, I got my ticket signed by Phil Coke and Brandon Inge (he's so delightfully dorky!), and then I watched Rick Porcello and Erik Bedard do their pre-game bullpens as well.
One surprising thing that happened was another fan stopped me in the bullpen like "Hey, were you allowed to bring in your dSLR? I was under the impression we can't anymore -- they say any camera with switchable lenses..." and I'm like "I have no clue. I haven't really been around here much in the last few years; the policy used to just be 'don't piss off the fans around you with your big clicky camera, or stick your big lens in their faces'..." So we talked for a bit and it sounds like basically, it's possible I wasn't supposed to have it, but since I didn't piss anyone off and this was a low-attendance afternoon game (there were apparently 13,339 people there), I guess I got away with it. I didn't really take many photos during the game, anyway, just beforehand, for the most part. Though the idea of not being able to bring my big camera makes me pretty sad.
Also, this entire bullpen thing makes me wonder: does anyone know where Brandon Buckley is now? The old A's bullpen catcher from a few years ago? He was a riot.
We got to see Carlos Peguero's first MLB at-bat in this game. Unfortunately, as I realized later, the reason why is because he was called up to replace Justin Smoak, who is on bereavement leave since his father just died of lung cancer yesterday. There was a moment of silence before the game today for him. I know from personal experience that having your dad die of lung cancer really truly sucks, and so my heart goes out to Justin and his family. It's not an easy thing to deal with by any means, even when you're prepared for it.
This game was pretty boring overall, to be honest, though. I think that part of it is just that I don't know what to do during MLB games anymore, since there's no organized cheering, so I just keep score and watch. Erik Bedard started for the Mariners and kind of sucked (LOTS of walks, plus giving up a homerun in the 2nd AB of the game). Rick Porcello started for Detroit and did not suck. I was already intrigued by Porcello as being a young up-and-coming star type of player (the Tigers seem to always have a few of those around), and so he didn't disappoint, at least.
Ryan Raburn hit a homer off Bedard as mentioned, to make it
1-0
, and in the 3rd inning Austin Jackson walked and was batted in by Miguel Cabrera to make it
2-0
. The Mariners halved that lead in the bottom of the 3rd when Jack Wilson singled and moved up on a groundout, and then Ichiro singled to right to bring Wilson in (and made it to 3rd base himself on a throwing error from right field),
2-1
. Raburn walked in the 5th and came in on a Brennan Boesch single,
3-1
.
Actually, the odd thing about the 5th inning was that it was the Chone Figgins Blooper Reel. I'm still not sure how he didn't get charged with any errors given that he did things like drop grounders, not throw the ball, etc. As if the shoddy fielding wasn't enough, the booing around me definitely hammered in that I wasn't in Japan anymore.
David Pauley pitched a fine final 4 innings after Bedard, though, aside from a few wild pitches.
Jose Valverde came in to close out the game in the bottom of the 9th and the most improbable thing ever happened: Adam Kennedy (!) hit a home run off of him, a neat little 354-foot shot into right field.
3-2
. But that's pretty much all the Mariners got -- well, Michael Saunders hit a double, but everyone else that faced Valverde, including a pinch-hitting Milton Bradley (!?) struck out.
I still don't quite get how people think this is more exciting than Japanese baseball, but that's neither here nor there. You know what else was ridiculous? I saw a little boy get a baseball from a ball girl, which he came back up and showed off to his family like he was the hottest thing on earth for getting it. And then the ball girls changed in the 5th inning, and would you believe it, that same little boy went up there and got a SECOND ball from the other ball girl, edging out a bunch of other little kids who wanted them. How selfish is that? I realize that all's fair in love and ballhawking, but seriously, WTF? Half of me wonders if the kid decided to do it or if his parents told him to.
I stopped in at the team store after the game and bought an Ichiro birthday card that I'm going to send to my Hosei birthday doppleganger Kazuki Mishima, and tell him he better come play at the Japan-USA collegiate tourney this summer because I miss him and everyone else so much.
Anyway, photos...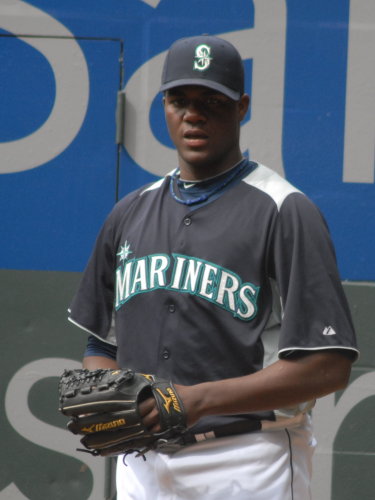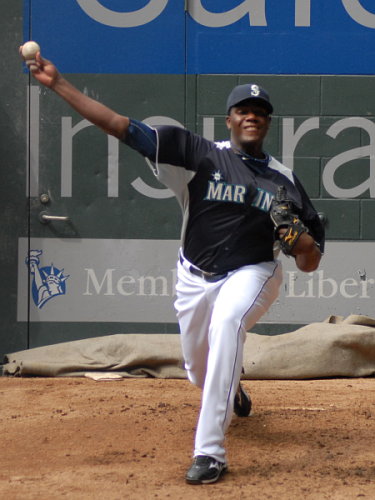 Michael Pineda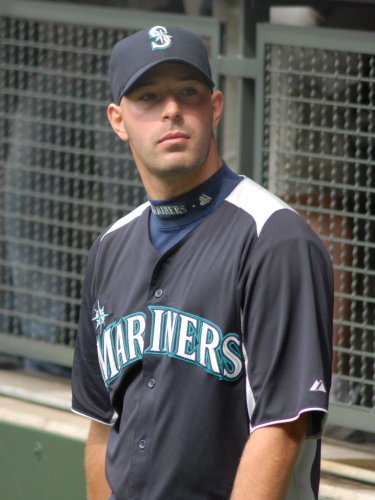 David Aardsma, who I thought was supposed to be in Tacoma. Apparently not...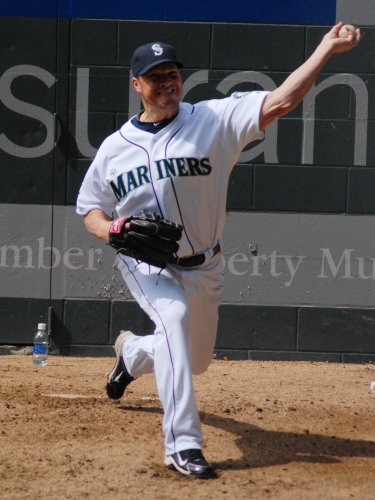 Erik Bedard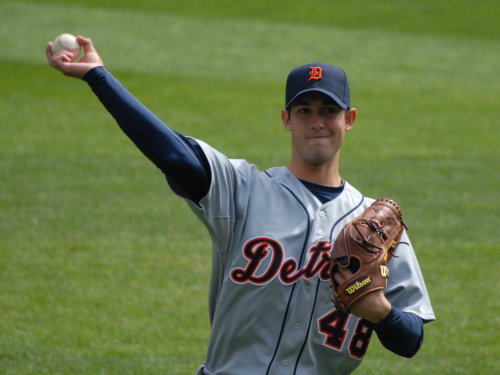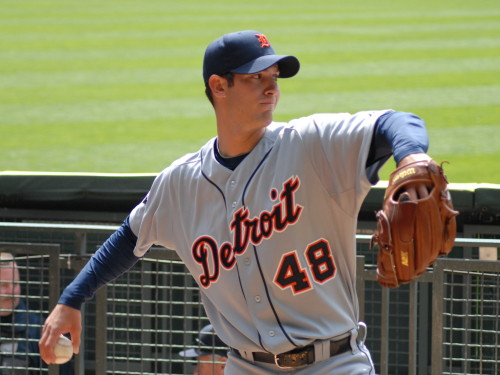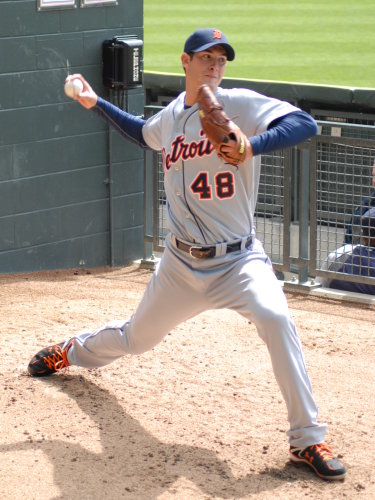 Rick Porcello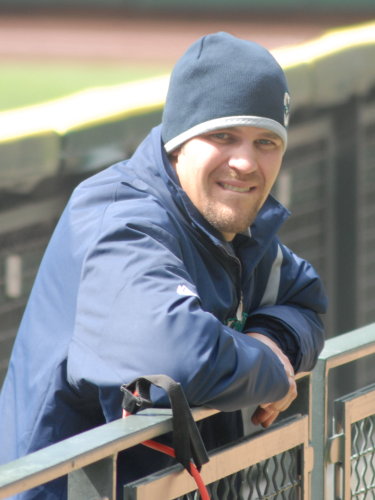 Thanks to commenters for pointing out that this is Tom Wilhelmsen. I'd actually
read about him a little
but just didn't know the face yet... I don't know the Mariners bullpen very well anymore now that they don't have cool former Fighters players.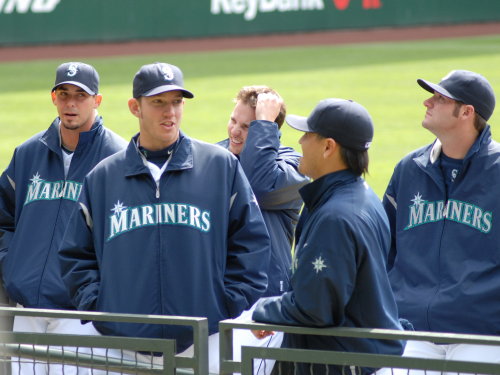 More bullpen guys.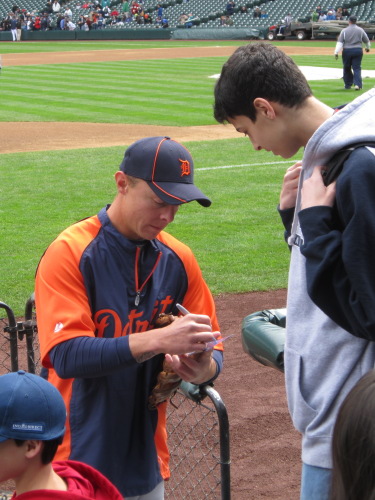 Brandon Inge signing for people.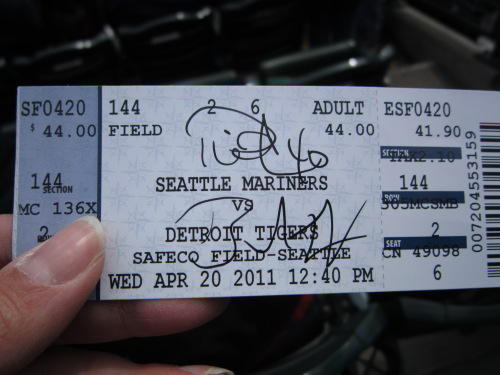 My ticket. Whee.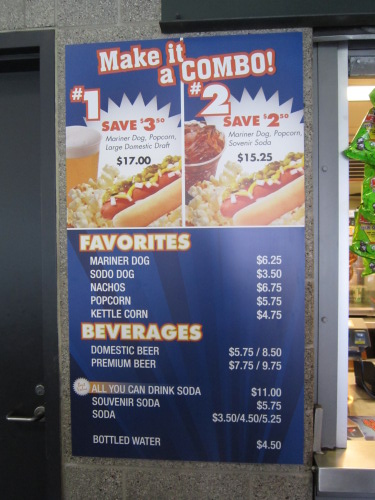 Seriously, these prices! I was amazed when I asked a vendor walking by how much it was for a soft pretzel and he told me $4.75. Really? Shishkaberries are apparently up to $7 or $8 now, too? I'd give anything for a 1000-yen bento at this point.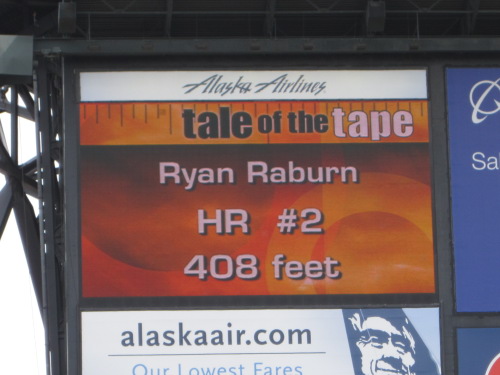 Raburn's Tale of the Tape.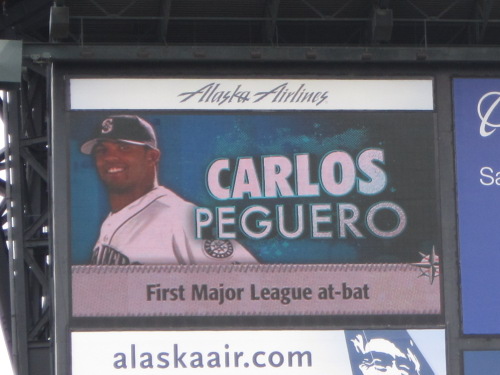 Peguero's "First MLB at-bat!"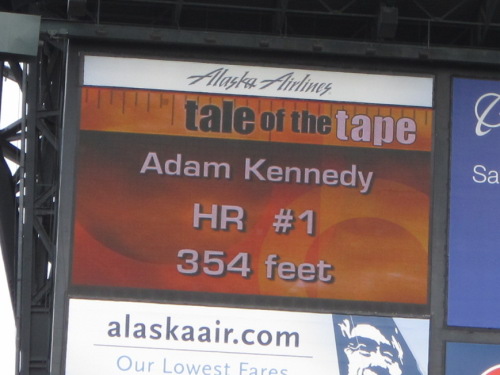 Kennedy's Tale of the Tape.
Ichiro at 3rd base.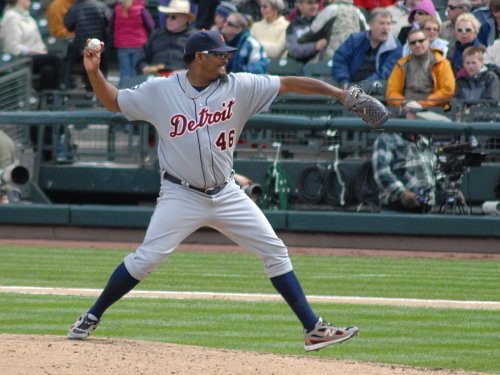 Jose Valverde.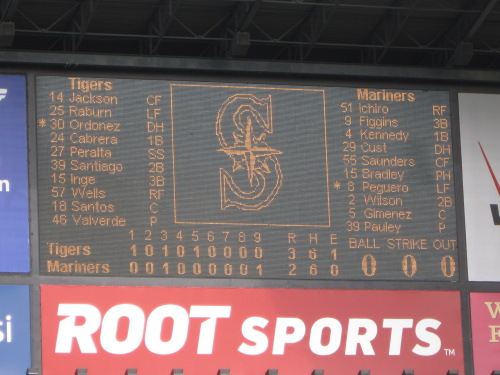 Final score.
Well, the Swallows beat the Dragons 2-0 as Shohei Tateyama pitched a complete-game win because HE IS THE MAN! Apparently the Tsubamegun guys were up at the top of section D, but I didn't see them on TV. It's nice that I can watch some NPB games during the evening here, since they're going on during the daytime there. I'm annoyed, however, that the Pacific League TV thingy still won't let me pay them money so that I can watch games over their service.
I've also been following my normal college ball and high school ball circuits and keep meaning to write some posts about those; maybe I'll get to those soon. I had a whopping Nichidai San post in the works and the Spring Taikai finals are this coming weekend too.