When a team gets off to a quick 7-0 lead in the first two innings, most of the time, you'd expect that team to win, right? But when that team is the Marines with their iffy bullpen, and they're facing the Hanshin Tigers with that roaring offense, well, anything could happen.
I showed up insanely early for this game -- left my apartment around 8:10am, and arrived at the stadium around 10:05 so that the Marines Mind Control Task Force could sneak me into the stadium. I got to hang out on the field for the pre-game practices, which was a great learning experience as usual. I got to see the Marines pitchers take special bunting practice with Morozumi-coach, and I got to see players take normal batting practice. Said hi to Bobby and the foreign players; was too terrified to say anything to the Japanese players as usual.

Bee and Julio Down By The Schoolyard?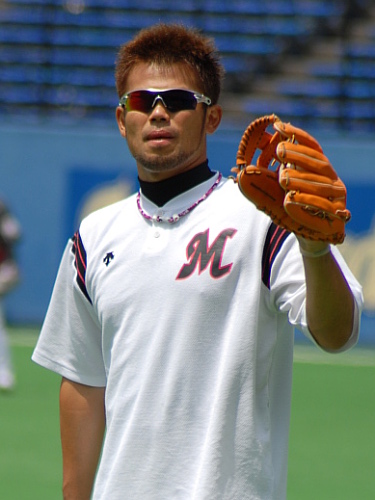 Gorilla Imae in all his fuzziness.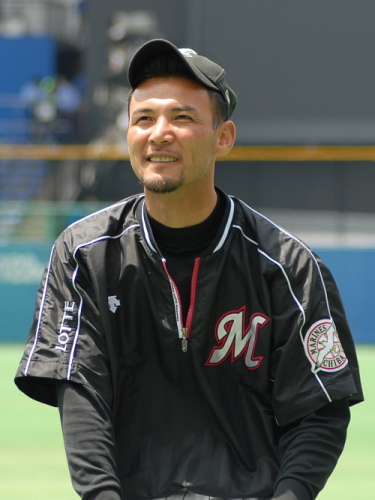 Morozumi-coach kind of embodies the bright sunny weather.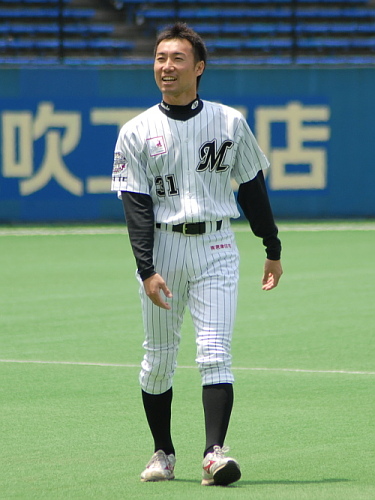 I continue to admire Shunsuke from afar.
When the Hanshin Tigers came out to do pre-game stretching, I decided to take a walk over to their side to see what was going on. I watched/listened as Shimoyanagi and Williams were joking with each other ("hustle, hustle!") and saw the players get in two lines and do sprints and so on. I was trying to figure out whether the line ranking was by age or experience or both; the line near me had a lot of guys I didn't know in front, and the back was brought up by Kanemoto (age 40), Shimoyanagi (age 40), and Yano (turns 40 at the end of the year). I was also trying to figure out which foreign players were currently on the top roster; I saw Atchison, Baldiris, and Williams running. I knew Vogelsong wasn't around, but I was wondering about Lew Ford (and I still get confused as to whether Wei-Tzu Lin counts as a foreign player).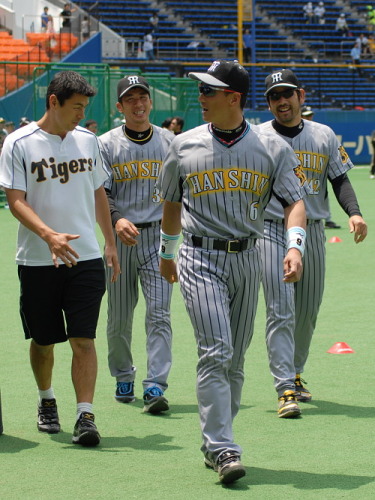 Old Tigers never die, they just lose their claws.
As my brain was processing all this, and wondering whether I could get the courage up to talk to any of the foreign players on Hanshin in what was likely to be my only chance all year, the craziest thing of my ENTIRE baseball life in Japan so far happened: Jeff Williams came up to ME and said hi.
"Hey," he said, "Are you Deanna?"
I nearly fainted. "Uh... yeah... I am..."
"I've read your blog, it's great to meet you!" he said.
We shook hands. My brain was still somewhat in shock.
Jeff Williams has read my blog?!
"You've read my blog?!"
After chatting for a minute or two, he had to go work out with the team on the field, but promised he'd come back to chat later. Wow. Just, wow. What a nice guy.
I wandered back over to the Marines side, where I found Jim Allen. Jim is one of my heroes. He writes about baseball for the Daily Yomiuri, is fluent in Japanese and English, is fearless (he'll just go up and grab anyone from Takahiro Arai to Tatsunori Hara for a chat), knows SO much about Japanese baseball that he absolutely puts me to shame -- and always has a good story to tell (my favorite is the one about Hiroyasu Tanaka's wonderful Waseda English skills). Also, he puts up with me asking lots of stupid questions. I consider that to be an amazing personality trait in general.
Wandered back over to the Hanshin side with Jim, and we sat in the dugout because he likes bright sunlight even less than I do. A few minutes later, Scott Atchison wandered in. So Jim talked to him for a while and I mostly smiled and nodded and maybe asked one or two questions. It was really weird for me because I saw Atch a LOT in Tacoma and Seattle a few years ago. And then Atchison wandered back out, and Jeff Williams wandered in, and so I ended up just kind of hanging out in the dugout chatting with Jim and Jeff for like half an hour (and being largely in disbelief about the entire thing). I think a separate "Jeff Williams Is Awesome" post is forthcoming in a bit. Seriously.

Jeff Williams is awesome.
Tigers BP ended, so I went back to the Marines side, said hi to a few people, and then followed Jim inside the underground maze of Marine Stadium to find somewhere to sit for the game. On the way in, I passed by Saburo, and said "Ganbatte, Saburo!" He nodded and replied something -- I didn't catch it -- but hey, I usually am completely unable to talk to Japanese players, so maybe I'll break that phobia soon. Who knows.
It turned out the fake press box (an area that used to be part of the real press box, but now they sell seats there to fans --
seriously, check it out
) was open to real press for the game, since Lotte expected to need extra press capacity due to the Tigers factor. The fake press room seemed like a great option to me since it was less crowded and NOT smoky. I went and found a front-row seat there, and Rob Smaal (from the Asahi Shinbun) ended up coming in there too, so I even had someone to chat with for the game. The only downsides were, it turned out we weren't actually allowed to open the windows in there, AND you're not allowed to take pictures. Which was killing me because we were RIGHT behind the plate! So close you could even clearly see Benny's tattoos or Satozaki's mole!
(So I snuck into the 3rd base camera well for about a third of the game, but that's another story.)
I went to Lotteria to get a Bobby Burger combo for lunch, and then settled down to watch the game. Seriously, Lotteria needs to bring back the
Bobby Burger
in places besides Marine Stadium, because it rules.
Oh hey! Did I mention that there was a game? And that it was CRAZY?
Hiroyuki Kobayashi started for the Marines, and he dispatched of the Tigers in the first inning quickly.
The Tigers starter was a 21-year-old righty from Osaka named Naoto Tsuru, who was making his ichi-gun debut appearance. Sometimes, these kids can really come out of nowhere and surprise you with what they can do.
And sometimes, they don't.
Nishioka singled. Nemoto singled. Fukuura singled. (Nishioka scored;
1-0
.)
Ohmatsu walked. Satozaki singled. (Nemoto and Fukuura scored;
3-0
.)
Ortiz hit a blast of a line drive to left field which Kanemoto took a diving somersault for and failed to get, turning into a double. (Ohmatsu scored;
4-0
.)
I kind of facepalmed my head on the table as I watched that play. "Wait, are you a Tigers fan?" asked Rob.
"No," I replied, "But that looked really painful for Kanemoto. In more ways than one."
That was it for Tsuru. His debut ended with 6 batters faced, 5 hits, 1 walk, and 6 earned runs charged to him, without retiring a single batter. Don't ask me what his ERA is, or you'll get a divide by zero error and crash my blog.
Hirotaka Egusa came in to stem the bleeding, but Benny hit a single off of him, scoring Satozaki and Ortiz.
6-0
. Imae lined out to second, and Benny was doubled off of first. And at that moment I realized I wanted to run out to the camera well in order to catch Kanemoto at bat, among other things, so I did that, arriving just after Daisuke Hayakawa singled to right. Nishioka walked, but then Nemoto grounded to Toritani by second base, and Nishioka was out on the force.
I had figured the second inning would be a good time to take pictures of Tigers batting, because Kanemoto, Hiyama, and Toritani would all be up, and they're all lefty batters. But aside from Toritani walking, nothing happened that inning. Lew Ford struck out in his first at-bat.
The Marines added another run in the bottom of the 2nd. Fukuura led off with a single, and was slowly moved along by a walk, a pop fly, and then a sac fly scored him.
7-0
.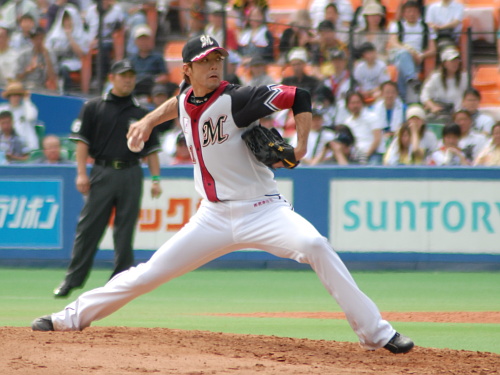 Lotte starter Hiroyuki Kobayashi.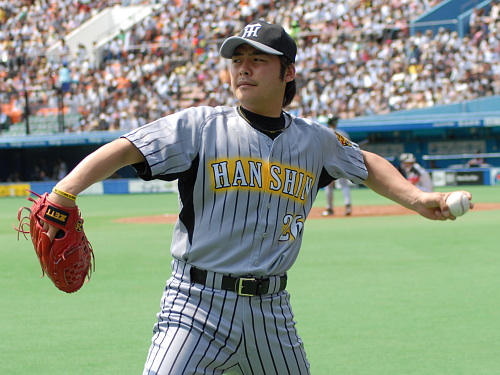 Hanshin's non-starter Hirotaka Egusa.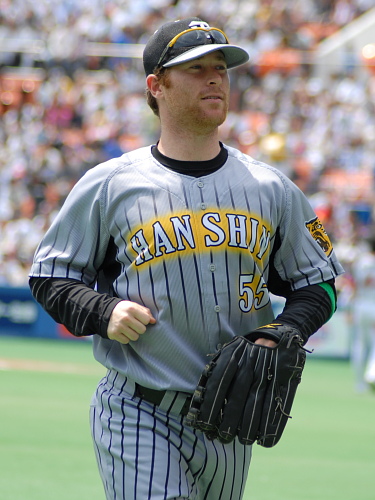 It really is Lew Ford! Wow!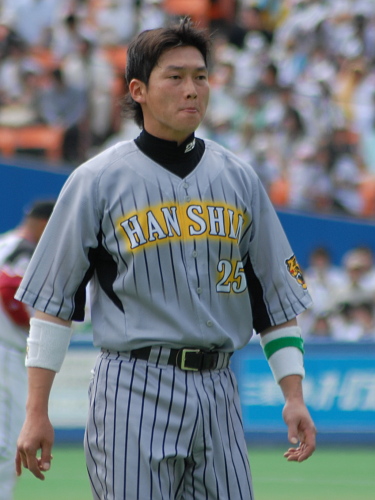 I spy Arai.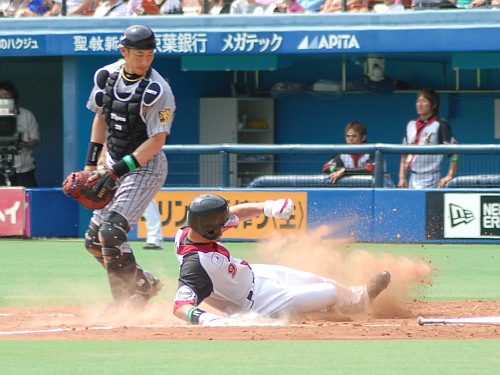 Kazuya Fukuura slides into home plate for the 7th Lotte run.



Kentaro Sekimoto, however, doesn't think Fukuura actually tagged up. Eh.

And so things went. That 7-0 lead seemed nigh insurmountable for a while. I got really thirsty after about 3 innings in the camera well and went back to the fake press box. Naturally, that's exactly when stuff started to HAPPEN.
Sekimoto led off the top of the 6th with a double to left, and then Arai SMASHED a ball to right which bounced off the wall for another double. Kanemoto hit a sac fly to center, scoring Sekimoto from third.
7-1
. Hiyama also took the liberty of getting a big single to right, which scored Arai.
7-2
. Toritani grounded out, advancing Hiyama to second. Ford hit a big bouncer to short, which Nishioka caught up with and threw to first, but not in time to get Ford, and awkwardly enough that Fukuura couldn't make a clean catch, so Hiyama scored on the play.
7-3
. Yano struck out to end the inning after that, but that was what it took to knock Kobayashi out of the game.
By that point Kentaro Hashimoto had taken over on the mound for Egusa. He walked one and struck out two in the 5th, but in the 6th he kind of lost it and walked both Nishioka and Fukuura. So when Ohmatsu hit this huge blast to right field, bouncing off the wall and confusing Lew Ford, both of the walked men scored and Ohmatsu got a triple by the time the dust cleared.
9-3
.
Shingo Ono pitched a 1-2-3 7th and so did Taiyo Fujita.
Going into the Lucky 8th, though, Ono gave up a single to Arai, and then a BIG HOME RUN to Kanemoto, which landed waaaay back in the Marines cheering section.
9-5
. After another double by Hiyama, Ono came out of the game, and was replaced by 40-year-old Yuuji Takagi. Takagi got a groundout from Toritani, and then left the mound for Yasutomo Kubo. Ikuro Katsuragi pinch-hit for Lew Ford and
BLAM
hit the ball so loud and so hard that you could tell from the minute it left the bat that it was going to land somewhere in the vicinity of Makuhari Messe.
9-7
. Wei-tzu Lin (!) came in as a pinch-hitter then, but hit a pop out to center. Two outs. Kubo walked Akahoshi, Sekimoto singled, and that was it for him. Brian Sikorski came in and struck out Arai on three straight fastballs to end the inning and the threat.
Jeff Williams replaced Taiyo on the mound and I was like, "Holy crap, Jeff is pitching! I'll be right back," and ran out to the camera well. He did pretty well -- one single, and two strikeouts.
(You see, after that initial 7-0 lead, I actually figured we weren't going to get to see any of JFK or most of the really good players, but it just goes to show that Okada never had it in his mind that this game was lost -- he was always playing to win.)

He puts the J in JFK!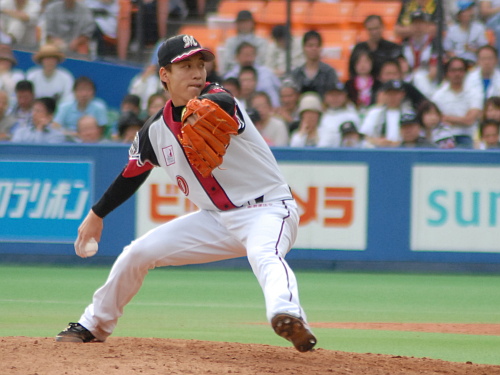 Lotte's closer, Tadahiro Ogino.
Tadahiro Ogino came out to close out the game. Well, that was the plan, anyway. I came back to the press box in the hopes of a quick 9th and getting to stalk Bobby's post-game victory speech.
Only the Tigers had other ideas. Kanemoto led off with a double, and then Hiyama hit a ball to second, which Nemoto fielded pretty far out and the throw bounced in. Toritani singled to center after that, scoring Kanemoto. Crap.
9-8
.
"Let's see," said Rob. "He needs to get Katsuragi out and then get a double play, that's the only way out of this one." Rob was supposed to play in a hockey game in Tokyo later that evening and didn't seem too happy with the idea of staying in Chiba for extra innings.
"Yeah, and he needs to STRIKE OUT Katsuragi, specifically," I agreed.
Amazingly, after 10 pitches or so, Ogino proceeded to do precisely that -- strike out Katsuragi. Whoa.
However, Yano was apparently protected from our karma, and he hit a long fly ball out to center. Hayakawa made a damn nice catch, but there was no preventing a pinch-running Shuta from scoring.
9-9
.
"Well, look on the bright side," I said. "If they score another run, Kyuji will come in and then we can still go home fairly soon!" As I said that, though, Aarom Baldiris struck out to end the inning.
Either way, with a tie game like this, the prospects were kind of grim for the home team. I mean, let's face it, the Marines have become somewhat known this year for NOT having a bullpen, while the Tigers have the most famous bullpen in Japan. Going into extra innings with a crappy bullpen is kind of like going into a pachinko parlor covered in gasoline.
Instead of Kyuji, though, we got Ryo Watanabe pitching. To be fair, Watanabe is kind of like Kyuji Lite, or Kyuji Junior, or something like that. And at first, that was a fairly accurate way to describe it. Saburo grounded out and then Satozaki hit a bunch of foul popups before one finally stayed fair and catchable. As Ortiz came up to bat for ostensibly the last out of the inning, I saw a sign.
"Oh, look at that," I said. "We're not messing around anymore."
Julio Zuleta was taking practice swings in the on-deck circle. From where we were sitting, he looked twice as tall as usual. Which is to say, about 4 Kosakas high.
Jose Ortiz walked, and Zuleta came up to the plate, and he BLASTED a ball out to right center. Going... going... not gone, but it landed at the bottom edge of the centerfield wall, way in the gap. Ortiz was running from the moment the bat hit the ball, and was rounding third before the guys even got their hands on the ball, and as the throw came in, Ortiz ran, and dove into home plate headfirst, just as Yano caught the ball.
10-9 and the Marines win it!
Ortiz got up out of a big cloud of dirt and EVERYONE ran out to second base to jump on Zuleta.
Zuleta was, predictably, the game hero. I mean, it doesn't get much more dramatic than that.
Afterwards, the Marines farm team was playing a game vs. the Rakuten farm team at the stadium, so the personnel changed fairly quickly and all of the fans who stuck around moved into better seats. I stuck around for a little while to see the start of the game -- it was Szu-yu Wu for Lotte starting against Kitani from Rakuten. I knew I was probably going to see Lotte-Rakuten ni-gun the next day, plus I had to get back up to Tokyo to play volleyball, so I didn't stick around THAT long.
Still, what a crazy game and overwhelming day. Lots of fun, though.
Afterwards, I wandered into the Marines store and finally decided to suck it up and get a Watanabe #31 t-shirt. I really don't like the current design with just the M on the front -- I love my old Satozaki shirt with the entire "Marines #22" on the front that I got a few years ago. But since I don't know if they'll ever make those again, and that shirt is starting to fall apart, I might as well stop waiting.
Outside the Marines shop are a bunch of gatchapon capsule machines, and I decided to just get ONE player keychain. I figured I'd get some random nobody player, but I put in my coins, turned the dial, got out the little plastic capsule, and... I got a SHUNSUKE WATANABE #31 keychain! Hahahaha! It really IS destiny!
Anyway, I'll actually make a photo set out of all of these game shots sometime, but for now, I just have two last pictures that I'm putting up here. These are for Pau, my friend who is a big Hanshin fan, and who had too many academic obligations this month to be able to come down to Chiba with me for the game:

Big Brother is Watching You.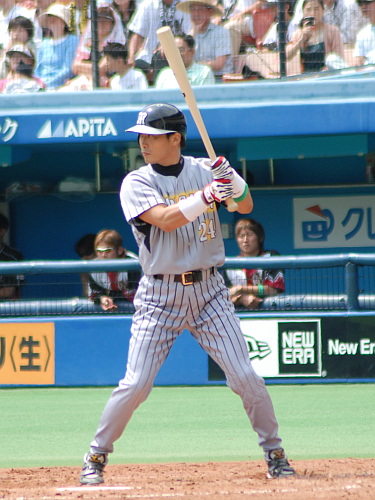 桧山なめんなよ!
The Marinerds Blog would like to point out that Lotte has been 25-21 (.543) in months where Deanna's been at the park at least once, but were 7-17 (.291) in months where she hasn't been around. Just sayin'.
Next up: Lotte ni-gun game from Monday. And maybe that "Jeff Williams is Awesome" post, when I get a chance.