I took a day off from work on June 4th and went to Chiba for the Marines-Dragons game, and got to sit in a very good place for taking pictures. I spent batting practice doing things like
interviewing players
and taking pictures, and then spent the game experimenting with my camera's ISO at higher levels to see how nighttime stuff would come out. I don't have a COOL camera like the pros, and since I was on the 3rd base side most of my game shots are of Dragons, but here's the set of stuff I took. Click on any of these photos to see the set (or
click here -- Marines vs. Dragons, June 4 2008
).

This is my favorite shot I took all night, of Masa Yamamoto. I had a goal this year of getting to see him start a game.



This is Kazuyoshi Tatsunami, aka Mr. Dragons. I could go on and on about why he is awesome, but people would tell me to shut up.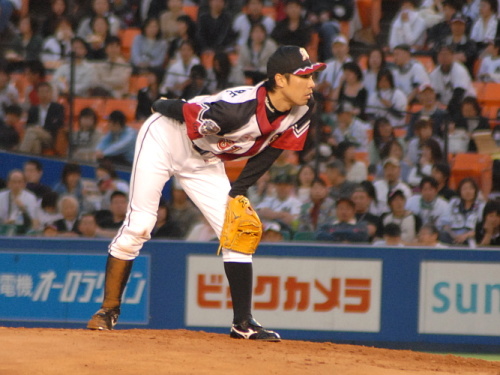 Shunsuke Watanabe wears high socks now, which is awesome.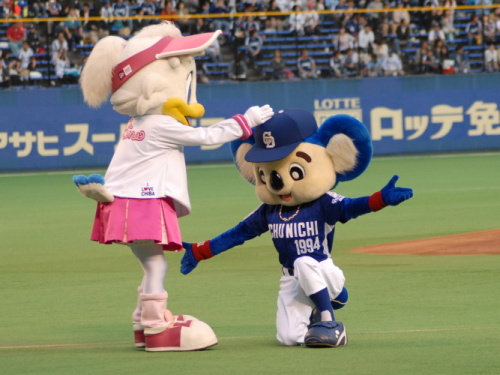 Doala gets down on one knee and proposes to Rine-chan, but she turns him down because she's actually in love with Morino.
Anyway, this game was actually pretty suspenseful. There was a lot on the line -- if Masa won, he'd be one game closer to his 200 career wins, and if the Marines won, it'd be Bobby Valentine's 1500th career win between Japan and the US (but we didn't find that out until AFTER the game). And there was some weird
melon mascot
going around before the game. I still don't quite get that one.
Unfortunately for Masa, Julio Zuleta hit a two-run homer in the bottom of the first to put the Marines ahead 2-0, and the Dragons never quite caught up. In the bottom of the second, Takehara hit an "inside-the-park home run", where he really hit a high fly ball to left that
Kazuhiro Wada totally lost in the lights
and so Takehara
bolted
around the bases and instead of having an out, or a double, had a home run. Crazy. That made it 3-1.
The teams chipped away at each other for a while. Masa came out in the bottom of the 5th with the score at 5-2, sadly. Poor guy. The game continued at that score until the top of the 7th, where -- as is normal in a Shunsuke start these days -- Tyrone Woods launched a gigantic 2-run homer way out to centerfield to bring the score to 5-4, and make things a little more interesting.
(I say normal, because I have seen several Shunsuke starts and that's pretty much what seems to always happen -- a few decent innings, a huge home run, and he comes out.)
Anyway, the Marines amazingly managed to hold onto the lead in the 8th and 9th, with Kawasaki and Ogino both pitching strong innings. Kawasaki even managed 3 strikeouts (and Kazuki reached first on an error). Ogino ran into a little bit of trouble in the 9th, but then got Kazuhiro Wada to ground into a double play to
end the game at 5-4
. And then there was a big ceremony to give Bobby flowers, which he seemed as confused about as the rest of us. But it's a pretty great accomplishment! Congratulations, Bobby!
On a Marines note, I'm glad to see Satozaki back in action, and I'm glad to see Shunichi Nemoto kicking butt. And Zuleta is up too, which is also good for them. And naturally there's Shunsuke, but there's always Shunsuke. As for the Dragons, it was really great to talk to Tyrone for a bit before the game -- and the best part is, he had explained how he was hitting 3rd and his job was to drive in Arakibata, and then he drove in Ibata twice, including that big home run! I guess it's just an average night on the job for him.
This is going to be another Marines-full weekend for me -- Sunday I'll be going to Chiba to see Marines vs. Hanshin, and then Monday I'm planning to go to the Lotte ni-gun stadium and catch Marines vs. Rakuten, assuming it doesn't rain.