Thanks to The2Belo informing me about it, I went and watched the November 20th episode of the TV variety show SMAPxSMAP. (Everyone loves
SMAP
, right?) Recently-retired Fighters outfielder Tsuyoshi Shinjo was the guest, and it was probably the funniest episode of any Japanese TV show I've ever seen. I literally was laughing so hard I almost fell out of my chair.
Shinjo started off the show by coming out and pretending he was the owner of "Bistro SMAP", the Iron-Chef-like food competition they do on the show... as the real owner Masahiro Nakai walks out, dressed in an identical host outfit, wondering what the hell is going on. Shinjo's just like, "There's been a change in ownership here." The other four SMAP guys are like "Yeah, I heard that too." After the gag, Shinjo says that the food he wants to eat is "nippon ichi oishii ryouri", which could be interpreted as "the best cooking in Japan", or more likely, "tasty food for a Japan Champion!"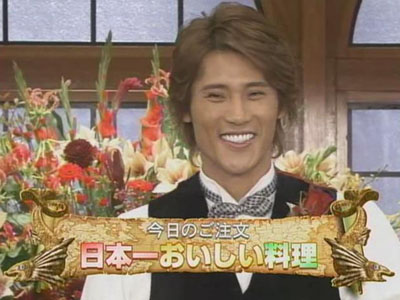 (screen capture from SMAPxSMAP 11/20/2006, Fuji TV)
They went down to the kitchen for a while after that to chat while the SMAP guys prepared a feast for champions. Takuya Kimura and Tsuyoshi Kusanagi were one team, and Shingo Katori and Goro Inagaki were the other. Shinjo talked about various stunts he'd pulled and other details about the team (at one point he was talking about Hichori, and the other guys are like "Hichori... is that a nickname?" and Masa and Shinjo are both like "No, it's his real name! Did you see when he dressed up as Piccolo at the All-Star Game?"). Katori even said how he didn't really follow baseball, but watching Shinjo made him think it looked really fun and exciting, and Shinjo said, "Hearing that from people makes me really happy."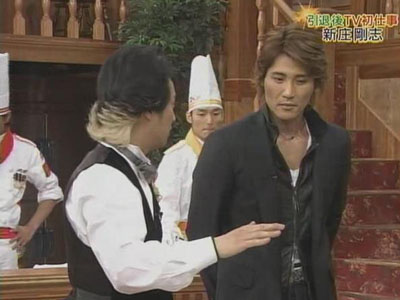 The food they made was really really yummy. Despite that Kimura and Kusanagi won, I liked Shingo and Goro's arrangement better, partially because I've had a weird craving for good omurice lately, but mostly because they made this awesome dessert that was basically a baseball in a glove bowl, the ball being made out of strawberry mousse and cake, and they even decorated it with a "Shinjo HT 63". So cool! (So yummy-looking...)
Shingo Katori came out dressed up in a Fighters uniform when Shinjo was trying the desserts, and he was like "Look, I'm manager Hillman! 1, 2, 3, SHINJIRARENAAAAAIIII". It was pretty funny.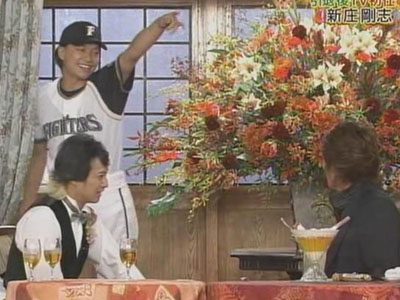 Now, here's the scary part. After the Bistro SMAP half of the show, they did this second half where it was almost like they were parodying themselves or something. They were initiating Shinjo into an idol group called the "Skate Boys", where they were all dressed up as an 80's boy band, in pink tank tops with a glittery "S" on them, and white shorts, and high white knee socks, and headbands with cutesy nicknames on them. First they sang and danced to a song. Shinjo really did try pretty hard to follow the routine.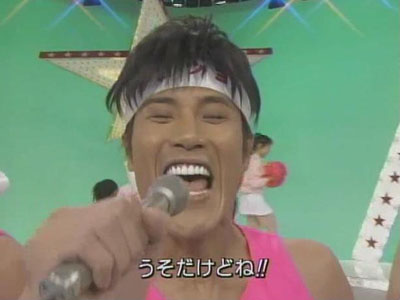 Then, uhhh... they practiced doing their smiles as "cute boy band idols". It was pretty frightening. Shinjo's in the middle of the bottom row here as they all pose together.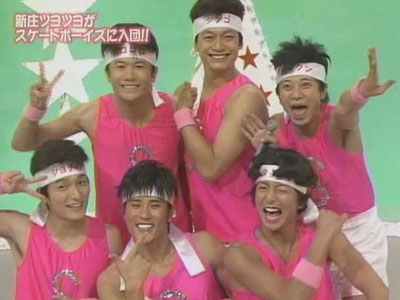 Then they went and did this gag where all six "boy band members" had caricatures drawn on this carnival-board thingy, and they all had to throw baseballs to try to knock out the faces. Shinjo's is in the bottom right. Since there was another Tsuyoshi in the band, Shinjo became "Tsuyo-tsuyo", as Kusanagi was "Tsuyo-chan".
At one point Kimura threw a few baseballs and utterly missed the board, which was funny enough, but then he got down on one knee and put his glove on his head in the same pose Shinjo and Hichori and Inaba used to do all year in the Fighters outfield, and Shinjo cracked up and joined him here too:
Yeah.
Well, anyway. This was a tremendously funny episode of SMAPxSMAP. To be fair, the last time I watched it was when Orix's Kiyohara and Nakamura were on it, and they aren't anywhere near as charismatic. The disturbing part was how well Shinjo fit in with SMAP -- he's about the same age as the older members, has similar looks (they all have disturbingly white bright teeth and smiles), and similar mannerisms and charisma. I think he's going to be pretty awesome if and when he ends up as a TV personality somewhere. I'd almost like to see him teamed up with Kazushige Nagashima for something. Maybe they could be a pair of cops and have to hunt down Kazuhiro Kiyohara as a yakuza lord. That'd rule.