I had some spare time this long weekend and cropped/resized/thumbed/labelled/sorted the first installment of Japanese baseball pictures from my trip in September. (If you are new to this blog or weren't paying attention in September or are putting off doing work on a Monday morning, feel free to read my
Japan Trip entries
, care of Blogger's handy new labelling tool!)
I realized that part of why I have felt such a huge mental block towards actually going through the trip collection is that I took around 400 pictures in Sendai. It was a BEAUTIFUL sunny Saturday afternoon and I was in a stadium and city I'd never been to before. I'm pretty sure I took more pictures at that game than any other game I attended, seriously. So in theory I should be able to go through my other sets a lot more quickly in the future, and will be hacking away at them in the next few weeks.
So, these pictures are from September 2nd, at a game of the Fukuoka Softbank Hawks vs. the Tohoku Rakuten Golden Eagles at Miyagi Fullcast Stadium in Sendai, Japan. Blog entry from that day is
here
and the scoreboard/gamelog/etc is
here
. Short version: I hadn't even been in Japan for 24 hours when I hopped on a shinkansen to Sendai just to see the Hawks' Saitoh pitch against Rakuten's Ichiba. Saitoh was wonderful and the Hawks won the game 4-1, Nobuhiko Matsunaka scoring the first run for Softbank on a solo home run and Jose Fernandez scoring the only run for Rakuten on a solo home run off closer Mahara in the ninth.
Photo set with thumbnails and descriptions is here:
Eagles vs. Hawks at Miyagi Fullcast Stadium, Full Photo Set
Though I have no idea whether anyone will actually click on that link and look at the 128 pictures I sorted out, so I figured I'd throw a few thumbnails up here as encouragement:
The stadium itself:
Pre-game, and the complexities of trash: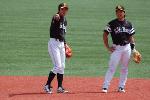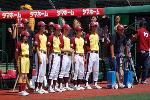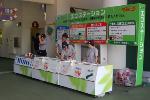 Selling goods, selling food, and a mighty swing: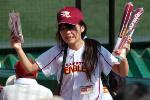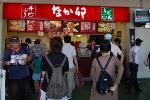 Shibahara, Matoba, Honda, Fernandez, Jolbert Cabrera: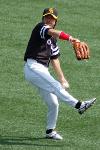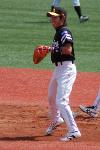 Kazumi Saitoh, Yasuhiro Ichiba: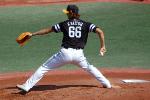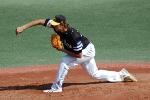 More Saitoh/Ichiba, and some cheerleaders: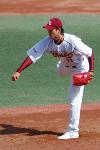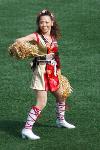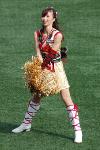 The balloons go a-flying!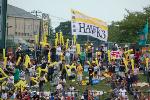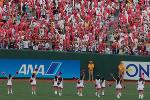 I dunno, seriously, there's a LOT of pictures there, as I was really in "wow! take pictures of EVERYTHING!" mode. I think I took too many of Julio Zuleta and Munenori Kawasaki. (No such thing as taking too many pictures of Kazumi Saitoh, of course.) I ended up with a lot of pictures where faces weren't clear though, due to the bright sun that day and the shade of baseball caps, or due to it just being too far to zoom; and of course, it was hard to get on-field shots from my seat because of all the damn fences, though I spent two innings standing up on the walkway.
Anyway, uh, hi! Hope you have fun looking through these! Next set will be Lions vs. Fighters at the Seibu Dome. It is a much much much smaller set. Stupid roofs with bad lighting and all.