Hi everyone. It's about 16 hours to the draft as I write this, having spent last night searching through photos for it. Yeah, I went dark all summer, but for those who know me on other outlets like Twitter and Facebook and Google+, you know that I was doing plenty of Japanese-baseball-related things all year, including some crazy trips like going to the east coast to see Darvish against Kuroda at Yankee Stadium (which, btw, I am completely never ever ever again allowed to diss the Yankees since they let me sit in Legends seats for that game and see the new stadium from an amazing perspective), seeing Uehara close a game at Fenway in my first game there, and trips to Sacramento to try to find Hiroyuki Nakajima (sitting in the dugout and not playing) and Fresno to find Kensuke Tanaka (who I got to meet, which was awesome!)
I then spent all of August and September in Japan, and while I had a vague focus on train-related things (I went all the way from Wakkanai to Makurazaki, if you know what that means) I also went to around 60 games, including a day at Koshien where I saw the Best 8 play (and sadly got myself out of the sun right before Kona Takahashi came into the game) and some awesome rural baseball adventures, a Big6 All-Star game at Kusanagi Stadium putting me up to 5 stadiums I've seen games at that Babe Ruth played at, a few WOMEN'S baseball games (including getting to meet Shingo Kawabata's sister Yuki AND also meeting the entire Kawabata family randomly), and of course re-connecting with some of my old college ballplayer buddies who are now in the pros or industrial league, and making some new college ballplayer buddies as well.
As usual, I'd love to sanitize and put some of the stories up here, but who knows if I'll have time -- I also started a new job right when I came back, at a very large search company that is taking up a LOT of my brain right now. I already warned them that I'll be staying up all night for the Japanese baseball draft tonight and will be in late tomorrow.
So, now that you've gotten a 2-paragraph summary of my year, why don't I go on to do a BIG WHOPPING PRE-DRAFT PHOTO POST! I didn't do one last year and I am a little bit sad about that. I also may not actually finish writing in descriptions for everyone before the draft starts (I'm going to just fill it in between stuff at work today). Apologies in advance.
---
Tokyo Big 6
Hosei University, Takuya Kinoshita, C
Kinoshita's a really great catcher (a lot of the pitchers at Hosei have said that) but he's not a really great batter. I don't expect him to get drafted, but you never know.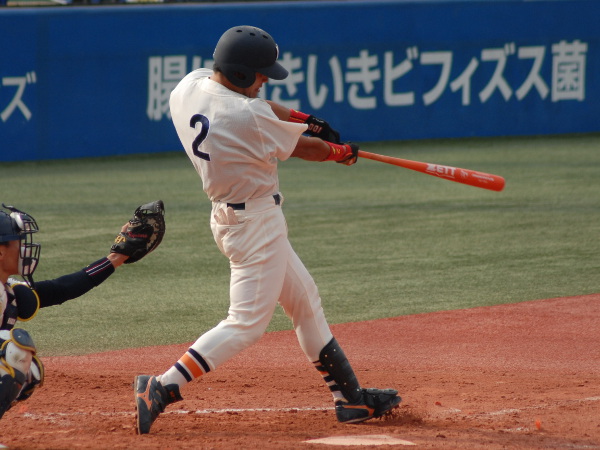 He's built like a catcher, though, which is why the scouts have liked him for a while.
Throw to 2B
I don't know what was up with this exactly but I took a photo anyway :)
Hosei University, Naomichi Nishiura, SS
My only regret about Nishiura is that I didn't get to know him at all during his college career and is making me realize I need to be better about that. He's a pretty solid shortstop and came from Tenri HS, where he played at Koshien in his 3rd year. I think he's been scouted since HS and even if he may not be a top-level prospect or super hotshot type, he's a fairly solid ballplayer, and I think he partially decided to file because he had a pretty great spring semester and hoped to repeat it in the fall. (Hosei's really had bad luck with hitters the last few years, it's really been all about the pitchers, and Funamoto decided to go to ENEOS next year instead of entering the draft.)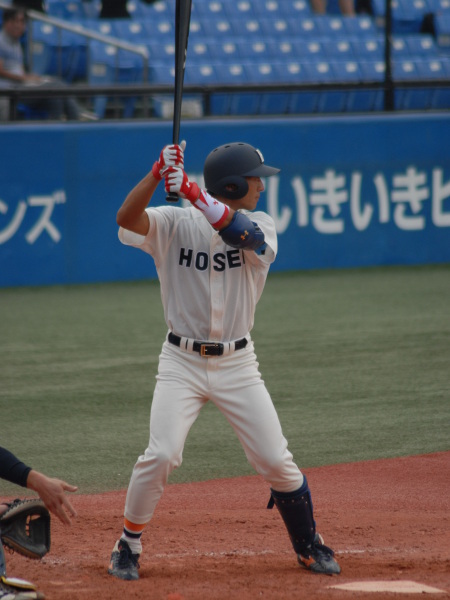 Meiji University, Hiromi Oka, RHP/1B/OF
Oh man, where to start with Oka. I remember him showing up as this big freshman kid at the Rookie Tournament who could throw like 150 km/h, and he went on to pitch for a few semesters before it became pretty clear he was a guy who was all speed and no control. However, he could HIT. I mean, really hit. He's had a .330 BA in his college career with power and has been a regular batter for most of that (I joked for a while that Meiji was lucky to not only have two of the best pitchers in the league in Oka and Yamasaki but to also have two of the best HITTERS in the league in Oka and Yamasaki). I would really expect some team to take him just because he's a big guy with a hell of an arm and he's got a lot of raw power that could be turned into something, if nothing else, sort of like Takumi Kohbe was a project for the Marines.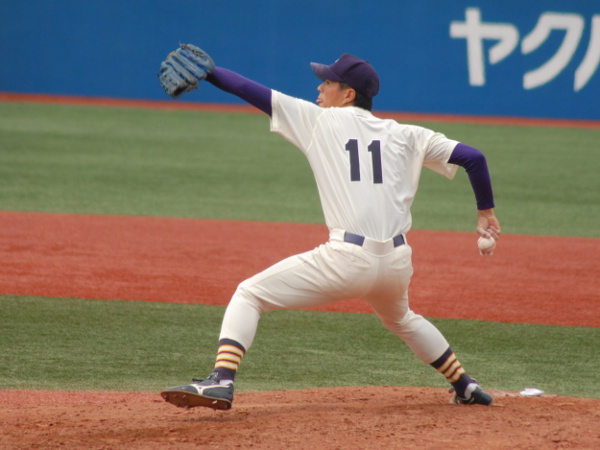 I swear I have better photos of him pitching but this was the best I could find.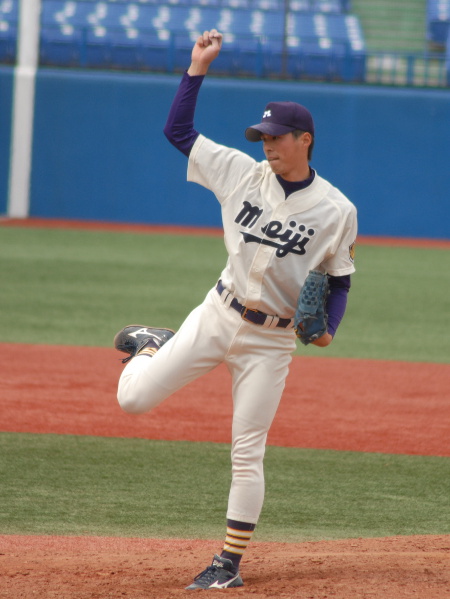 Waseda University, Takaaki Yokoyama, RHP
I actually have no idea where Yokoyama-kun fits into the grand scheme of things. I really liked him when he was in high school (he was actually considered a decent prospect for the 2009 draft out of Seiko Gakuin up in Fukushima and I remember seeing him interviewed on TV during some Koshien) and then he went to Waseda, so I stopped liking him as much. He's been injured a bunch, but when he's been healthy he's been a pretty good pitcher. I've heard rumors that Rakuten plans to take him for the local boy factor, but who knows.
Keio University, Akihiro Hakumura, RHP
Hakumura was kind of a big deal coming out of high school because he could throw 148 km/h even back then. He went on to Keio University where he started out fairly strong, but then kind of ran into a roadblock halfway and went on to be somewhat mediocre (IMO, at least compared to what people were expecting of him). His control actually seemed to get worse through his college career. I think some teams see him as a tall dude who can throw really fast and may draft him anyway, hoping a good pitching coach can work out his problems.
I have a few friends who were classmates of his at Keio in both HS and university and they uniformly have said he's a jerk, but I've never met him so I don't really know. (The fact that I never met him despite knowing a lot of his teammates may say something in itself.)
---
Tohto League
Asia University, Allen Kuri, RHP
Probably one of the more interesting people in this draft as far as I'm concerned. He's half-Japanese, his father was a minor-league shortstop in the US, and he actually started playing baseball with a Tampa Bay Rays little league when he was in 3rd grade. It sounds like he came back to Japan in 6th grade and was in Tottori, so some places report his hometown as Tottori and some report it as Florida. He is extremely lucky to look mostly Japanese -- I've seen him pitch for several years and never actually realized he was half until I saw his first name (亜蓮, which is "aren", but it's weird enough that I investigated to see for sure if it was kanji for the English name) It honestly shouldn't surprise me given how many other talented half-Japanese guys have come out of Asia University in recent years -- Robert Boothe, Krissada Shirakura, Bruno Hirata, etc.
Anyway, Asia University has won the Tohto League for 5 consecutive semesters, and Kuri has been in the rotation and has a W-L record of 18-4 in those semesters. It's possible he's getting helped by being surrounded by a decent team and all, but he's also got an ERA of like 1.60 in that time, so... yeah. I wonder if he'll be courted by an MLB team (like Boothe was by the Dodgers) if he doesn't get drafted? He's a pretty big kid at 6'3" 200ish and can throw 90mph.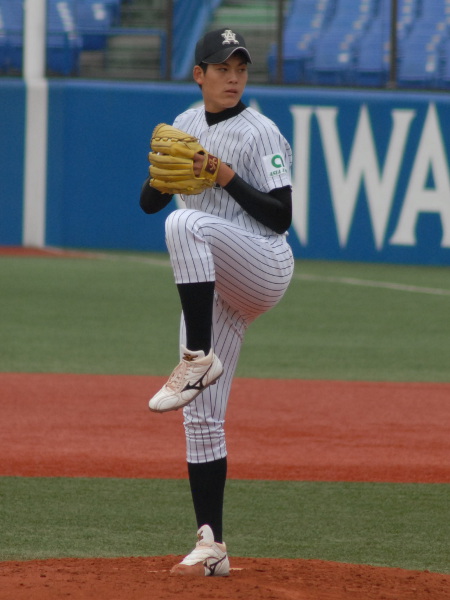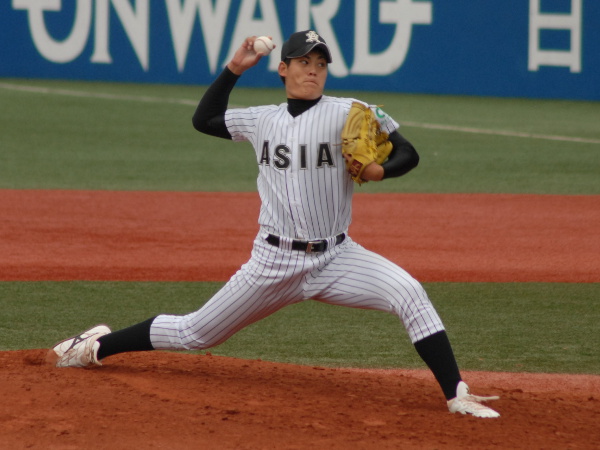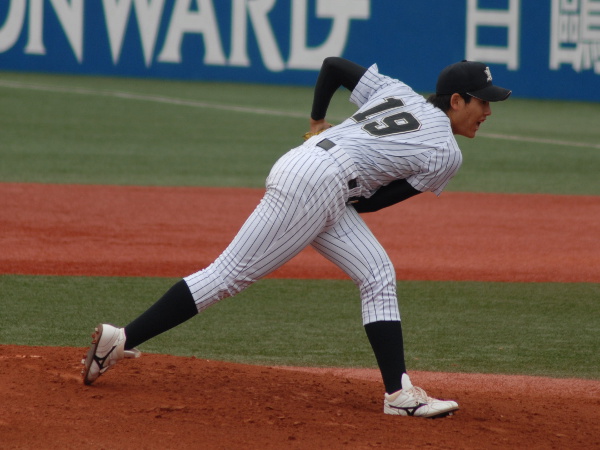 Asia University, Hiroki Minei, C
I would be really surprised if Minei doesn't get drafted. Not only was he a regular catcher at Asia pretty much from his freshman year, but he's also from Okinawa Shogaku (Koshien stronghouse and highschool of current pro players Ishimine, Hiyane, and Higashihama). He caught Higashihama when they went to Koshien and then again in college, and then Minei became team captain this year, and just like some other guys who suddenly get it into their head that being captain means being a superstar, he exploded into batting .361/.439/.528 this spring and is currently at a .357/.437/.571 clip for the fall.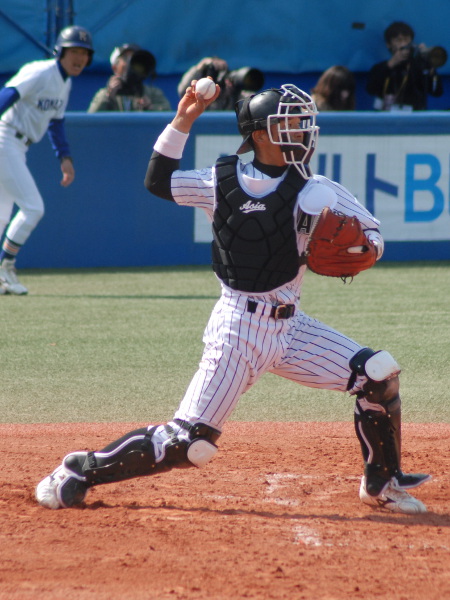 Toyo University, Takaaki Nohma, LHP
I dunno what to say about Nohma. He's kinda like Fujioka or Inui but not as good. On the other hand he came from a legendary Toin Gakuen high school team -- legendary in that almost everyone on their team went on to have fantastic college careers and SEVERAL became team captains at their respective schools, including Nohma. He's kind of Toyo's post-Fujioka lefty ace -- when he isn't being injured, anyway.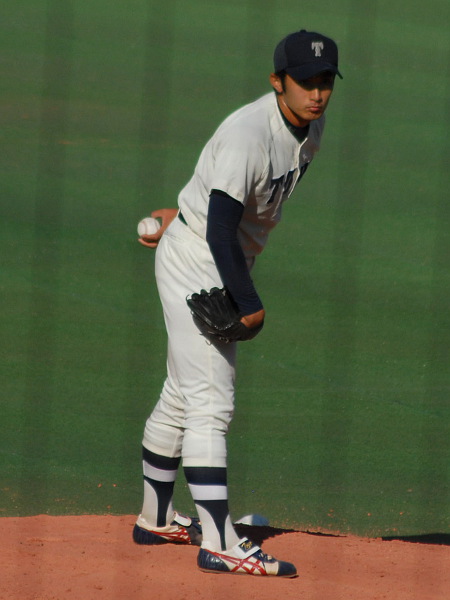 Rissho University, Yuta Yoshida, C
I've been a Yoshida fan for a really really long time even if I haven't been all that vocal about it. He was Nichidai Sanko captain back in 2009 when I first saw them at Koshien, and then he went to Rissho, where he pretty much became the team's regular catcher from his freshman year on. He came to the US as a sophomore for the US-Japan tourney, which is where I met him as the bullpen catcher and fangirled on him about Sanko. I caught up with him a semester or two later and gave him some photos from the US tourney and had him sign one, and he already looked kind of different -- like I asked a teammate where he was, and the guy basically said "oh, Yoshida's over there", I went to talk to him, and momentarily honestly wasn't sure it was the right guy because he was... bigger. He was listed as 182/84 in the summer of 2011 and as 182/94 by the fall of 2012. 10kg or 22 pounds really does make a big difference in a guy's physique.
In July 2011.
In September 2013.
Other College (US-Japan)
I'm trying to mostly put up photos that I didn't put up in 2011 when I photoposted the US-Japan games.
Kyushu Kyoritsu University, Daichi Ohsera, RHP
It was incredibly embarrassing remembering seeing Ohsera at the US-Japan game and realizing I'd not posted any photos of him -- because he didn't appear in any of the games I saw! But I did have a few of him, since he's a really tall guy and I did watch him throw in the bullpen a little so I did notice him. Alas, I've not seen him pitch for real pretty much since Koshien 2009, but he's a top top top top top pick in this year's draft, so it's only a matter of who wins the lottery, not whether he gets drafted.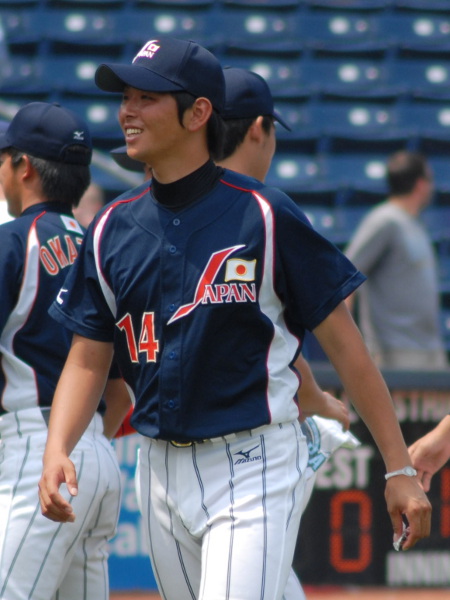 Fukuoka Universty, Ryutaro Umeno, C
I really liked Umeno and even as a sophomore he was the starting catcher for the national team in 2011. Seems he has also only gotten better since then.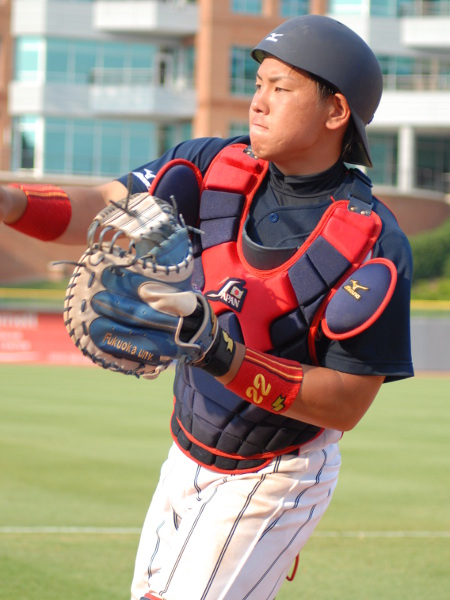 With Takahiro Fujioka. I'd love to see this battery together again someday :)
Fuji University, Hodaka Yamakawa, 3B
One of my friends who is a scout was at the 2011 US-Japan games and we saw Yamakawa hit a grand slam home run straight out of Durham Park. That was impressive. Yamakawa also turned out to be a really goofy kid when I talked to him. I'd really hoped to see him again sometime in Japan, but it just was never convenient since he doesn't play in Tokyo and I'm not around for the summer tourneys. He has been SOLID in college though, with a .304/.431/.460 line, 9 homers, in 9 semesters as he's been a regular pretty much since his first semester. My friend every now and then has asked me where Yamakawa is in the pros now -- not sure he realized that he was only a sophomore that year! I guess we'll see what happens today.
Yokohama Shokadai, Yuta Iwasada, LHP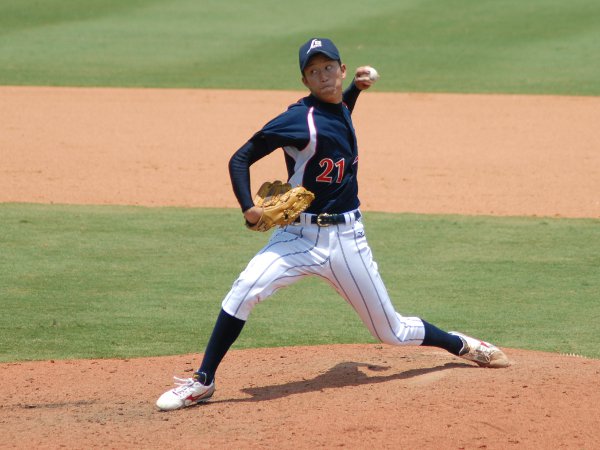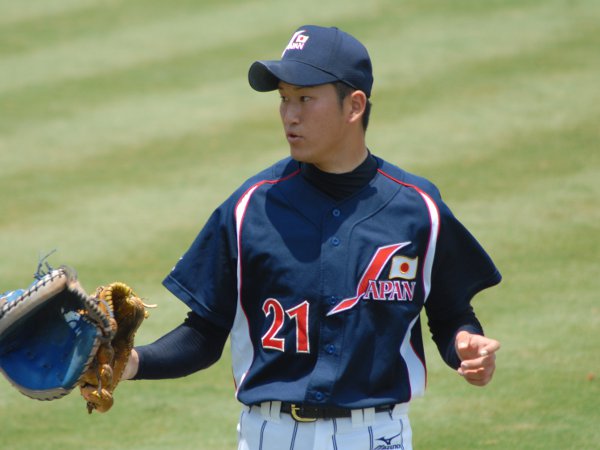 Industrial League
JR Higashinihon, Kazumasa Yoshida, RHP
Yoshida is expected to be a super-high pick in this year's draft too. I only saw him play a little bit at the Industrial-Big6 tourney in April and not very much at that, unfortunately.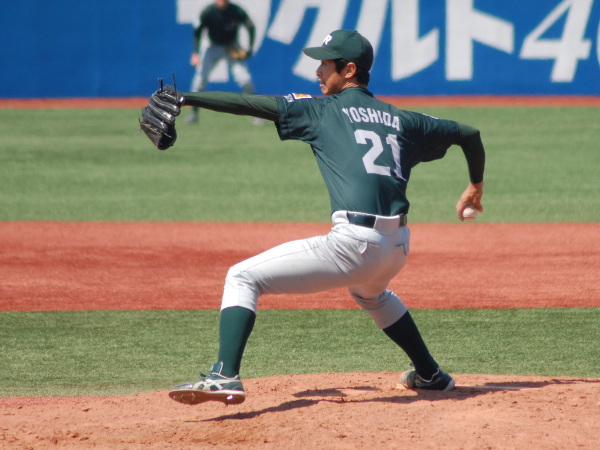 JX-ENEOS, Motoshi Ohshiro, LHP
I'd seen Ohshiro pitch a whole bunch of times for ENEOS over the last few years, and he's been on the cover of a whole bunch of Grand Slam magazines and whatnot. My best guess on why he hasn't been drafted is because he's seriously barely taller than I am, because he's GOOD. I don't think I've ever seen him have a bad outing. Anyway, this fall at Kamagaya I went to see the ENEOS team play the Fighters ni-gun, and of course I went to say hi to all the old Big 6 guys like Mikami, Yamasaki, etc, and then I also approached Ohshima to see if he'd sign one of the photos I'd printed out, and not only did he compliment my photography but he even perfectly remembered the game I'd taken it from and was super-sweet and funny! We got a photo together and sure enough, we're about the same height. I don't really expect him to get drafted this time around either, but I'd be overjoyed if he did.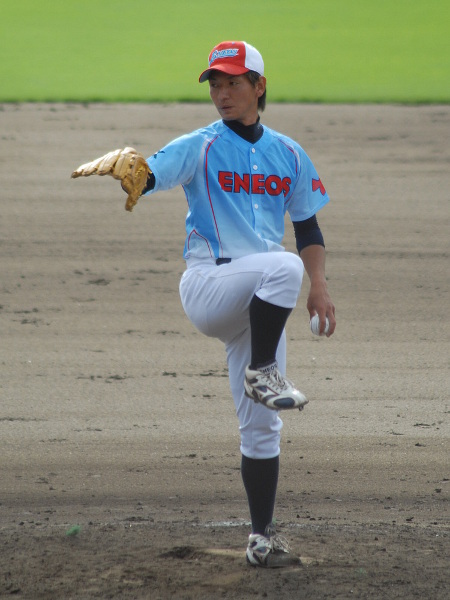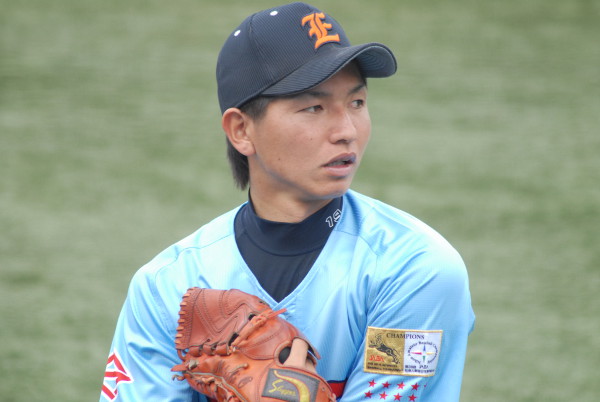 JX-ENEOS, Tomoya Mikami, RHP
I've known Mikami far too long to be objective about him, I think I first met him in the fall of 2009 when he was a sophomore at Hosei and had been converted from an infielder into a pitcher, to take advantage of his arm and his huge height (190cm, he even towers over me). He didn't enter the draft when he graduated in 2011 because he wanted to "explore his options" a bit more, but when I saw him at the same Kamagaya game I asked him what he was up to now and whether he wanted to be drafted and his reply was something to the effect of "Yeah, I wouldn't mind getting drafted this year." So I hope he does :)