This is only partially baseball-relevant, but me and the Fighters mascot B*B went up to Fukui prefecture this week to see Obama City!
We used a Seishun 18 ticket, which lets you ride unlimited trains anywhere in the country for 2300 yen per day... unlimited local trains, that is. You can't take any limited express trains, or the shinkansen or anything like that. It's a fantastic way to see the countryside, but not really a particularly efficient way to travel. (I went to Koshien using it this summer, but it took me 10 hours to get to Osaka, and another 12 from there to Fukuoka. You can get to Fukuoka in 5 hours from Tokyo via shinkansen.)
The first day, we went to Tsuruga (Fukui Prefecture), with a stop in Kofu (Yamanashi Prefecture) for lunch, and also took 2 hours to visit Matsumoto Castle in Nagano Prefecture.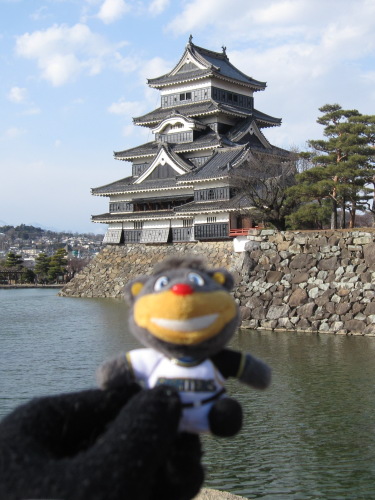 B*B really liked Matsumoto Castle, though he was a little surprised by how much it focused on their guns and artillery of the period.
I debated trying to find Tsuruga Kehi High School while I was staying in Tsuruga, but it was pretty far out of the main part of town, and it was freezing cold out, so I wasn't going to walk a mile or two out there. I
saw them play at Koshien
and despite them getting steamrollered by my hometown Teikyo team, I really liked their lefty pitcher Nobuyoshi Yamada... who later was drafted by Orix.
For the record, there is very little in Tsuruga, as far as I could tell -- if you are heading to Obama City you'll probably end up going through there as it's a terminus for the Obama Line, but like many other "countryside" cities, there isn't very much to do there, nor anything much open at either 10am or 10pm.
The next day, we woke up and went to Obama City, which is about an hour from Tsuruga, on the northern coast of Japan.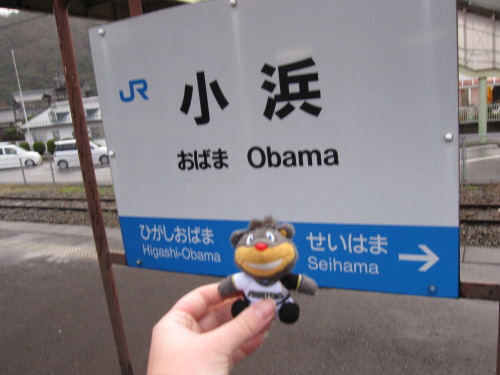 However, the day I was there, it was raining and snowing and windy and cold and wet and generally horrible. So all I saw was the ruins of the former Obama Castle, where there is now the Obama Shrine, and I walked along the waterfront a bit. What I was told is that there are a lot of temples in the area, and nice seafood restaurants, and a good beach, and local craft stores, but what you should really do is apparently go there in the summer and rent a bicycle and ride around, rather than coming there in the winter and staggering through sleetstorms. Also, a lot of things were closed still for New Year's, including many stores, restaurants, and the Chopsticks museum.
I did find one great souvenir store that was open: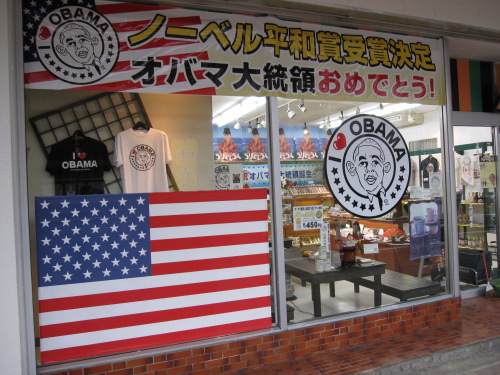 This is
Wakasaya
, where you can get a ridiculous amount of "I ♥ Obama" stuff from the "Obama City Supporting President Obama" group. They have Obama banners up all over town, too, which is a little surreal. You can buy Obama chopsticks, or cookies, or t-shirts, all kinds of stuff.
And then I wandered around town taking photos of any sign with "Obama" on it, no matter how irrelevant: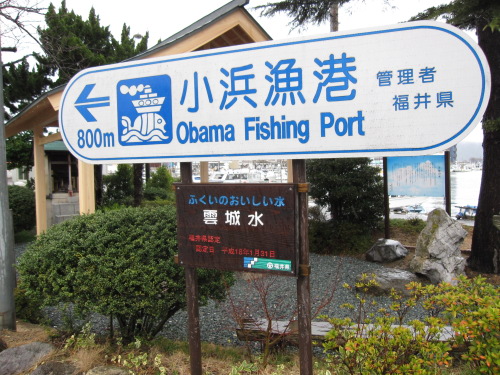 I actually had lunch at the fisherman's wharf, but instead of seafood, I had sauce-katsudon, which is also a specialty of Fukui prefecture, it seems.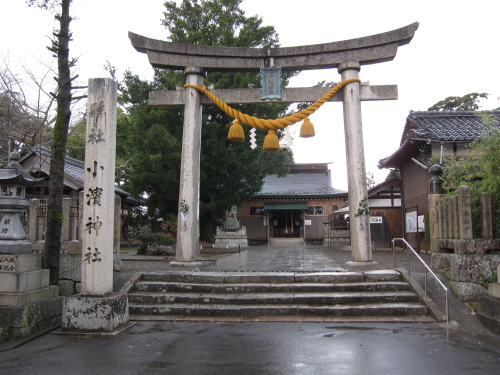 This is Obama Shrine. It stands on the ground where Obama Castle used to be until it burned down in 1871. The shrine was also closed, so I couldn't get an Obama protective charm, but I did climb to the top of the highest part of the old castle's wall, and even though it was rainy and cloudy, I could tell it had a great view of the area and the mountains and the sea and all.
We gave up on Obama City a bit after that and took the train to Hikone.
The next day we went to see Hikone Castle in the morning...
It was snowing that day too. On the way to the castle, we passed by two boys carrying Ohmi HS sports bags and wearing baseball pants -- and I realized the school must be pretty close to there!
Sure enough, once we climbed to the top of the castle, and looked out over the city, one of the landmarks they pointed out was, infact, Ohmi HS and Shiga Prefectural Stadium (which the Ohmi team uses, apparently):
Ohmi has represented Shiga Prefecture in 5 out of the last 10 summer Koshien tournaments -- they've never won the entire thing, although in 2001 they lost the finals to Nichidai Sanko.
I sadly didn't really have any time to walk over to the school to take a look, because I had to be in Nagoya by noon to meet up with a friend for lunch.
After lunch I wandered over to the Nagoya Dome on a whim to see if I could get a set of Tatsunami retirement cheersticks (the only chance I had at Tatsunami retirement goods was the final Dragons game at Jingu on October 12, and it all sold out about an hour before the game started). They did, infact, have plenty of Tatsunami stuff at the store, but even weirder, there was a line of people outside the dome, at 2:30pm...
It turns out that there was a
Tatsunami Thanks Party
of sorts (立浪選手に感謝する会) going on at the Dome at 6:30pm. What timing! I briefly thought about whether it'd be possible for me to stay in Nagoya long enough for it, but decided I really didn't feel like taking a night train back to Tokyo again, and so I sighed and was on my way.
Stopped off in Shizuoka for dinner -- which is a soccer town, not a baseball town -- and got back home around 11pm.