Hey, I'm still alive, I've even been doing some baseball stuff over the last month or two and taking photos of things, it's just that I'm also... busy with more important things while back in the US. Last time I managed to get a blog entry in, I was still in Philadelphia spending time with my father for what might be the last time ever, and after that I managed to end up in NYC, Pittsburgh, and Chicago for a few days at a time until finding my way back here to Seattle; on Feb 3rd I'll be heading back to Japan. In the meantime, I'm trying to see a bazillion people and take care of a bazillion things, so baseblogging hasn't really been a priority.
However, today I went to Mariners Fan Fest, and took some photos, so I figured I'd put a few up here for fun. They're at the end of the post. I really don't entirely know who's on the team anymore, and I've already been to enough Fan Fests that I've done most of the activities around the stadium already, so I pretty much had four goals for today:
1) See someone I knew from the blogosphere
2) Listen to new GM Jack Zduriencik talk
3) Get Aaron Heilman's autograph
4) Get my photo with the Mariner Moose
And I managed to accomplish all four.
Goals 1 and 2 were achieved at the same time -- I woke up fairly late and didn't manage to get to Safeco until 12:30pm, which was just in time for Zduriencik's dugout panel. I made my way down to the dugout, and immediately spotted
PositivePaul
and his brother-in-law (and their cameras) there, so that was goal #1. And when I arrived, Rick Rizzs was interviewing Zduriencik, so that was goal #2.
As for GM-Z, or Z-man, or whatever -- Paul even asked him, "We have trouble spelling your name in the blogosphere, do you have a nickname?" -- he was very entertaining and candid with the crowd. He told some funny stories about how guys like Scott Boras will sell you old players or young players and go on about how great their age is, and also about player evaluation. It was also great to hear him say outright, "We work for you guys -- the fans are the ones paying our salaries, if you don't like the product on the field, then we're not doing our jobs." But at the same time he said that he's still sticking it to the players to get out there and get it done; all the front office can do is provide the talent to hopefully make it work.
After the Z-man was Lee Tinsley. I kind of wandered off after about 10 minutes of him, since the questions were getting kind of boring ("What do you do as a first base coach?" "How do you tell guys to steal second?" "Was Edgar the greatest player ever?").
Got some food, wandered around a bit, and came back in time for the panel with Gutierrez and Heilman, which was bookended by Dave Sims and Mike Blowers. It was overall pretty entertaining, although I'm not sure I learned much aside from that Heilman has a subtle sense of humor. Gutierrez got asked a lot of questions about being an outfielder and how he feels about the Mariners outfield ("it's great! I'll be between Ichiro and Endy Chavez, how cool is that?") and mentioned that Andres Galarraga was his baseball hero, and so on. Heilman said that he's a huge rock fan and loves Pearl Jam and so hopes that he'll fit in well with Seattle. Someone also had to ask him, "You look like such a nice boy-next-door type of guy. How can you make yourself be menacing on the mound?"
After that, since despite being super-late I'd managed to get autograph session vouchers when I came in, I wandered up to the Suite Level and waited in line for about 15 minutes for Heilman's autograph. I hadn't brought anything to get signed, but they actually provided photo cards, so that was pretty cool! I thought I'd end up being the super-lame person bugging him to sign my ticket. So, that was good. It was about 2:56 at that point, so I ran back around the stadium to the Terrace Club and also managed to get through the line for Gutierrez's signature, and they also had photo cards there. Cool.
I did wish both guys good luck and welcome to Seattle. Back when I was still living in the US and playing fantasy baseball, I often had Heilman on my rosters. He had the right combination of talent and a killer smile that fit into several of my teams, you see.
So, while waiting in line to achieve Goal #3, I asked one of the staff members where I could find the Mariner Moose, and it just so happened this lady was like the Moose Boss or something, so she radioed a few people and told me to head down to Section 103 when I got out of the autograph session and I could surely get my photo with the Moose. I did, and it wasn't a joke, the Moose had come back to the Moose Den. I felt kind of lame waiting in line along with families with kids and all (by this point I was going around alone), but I seriously had never gotten a photo with the Moose in all the years I lived here, so it seemed like something I really needed to do.
Having achieved all of my goals, and having no desire to sit around in the Last Fan Standing trivia room getting frustrated that I never get called up to the stage and yet always know more crap than the people up there, I headed to the Mariners Team Store and then home.
I think I'm glad I went, though I really wish they'd had Jeff Clement there, dammit.
Here are a few of the photos I took: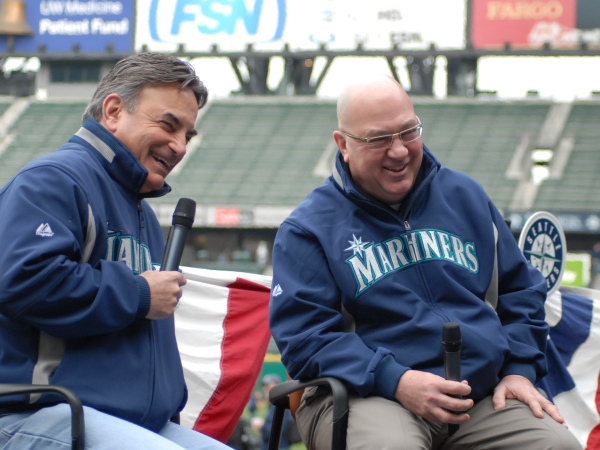 Announcer Rick Rizzs shares a laugh with general manager Jack Zduriencik. Or maybe they're sharing some Z's.



Lee Tinsley... I think he was reacting to a question like "Would you tell Ken Griffey Jr. to steal if you were coaching him?"



Dave Sims.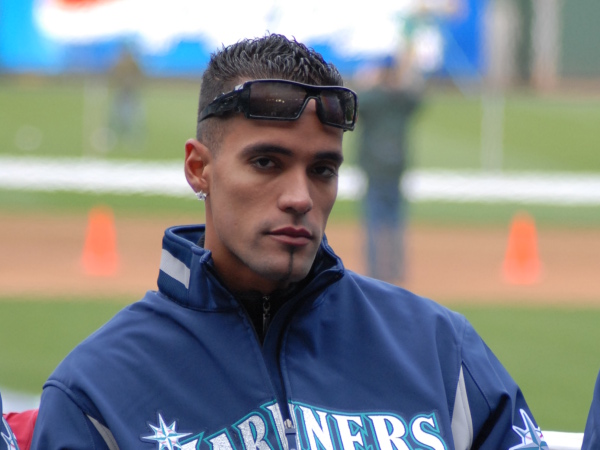 Franklin Gutierrez.



Aaron Heilman had his sunglasses on for most of the panel.



Then he woke up.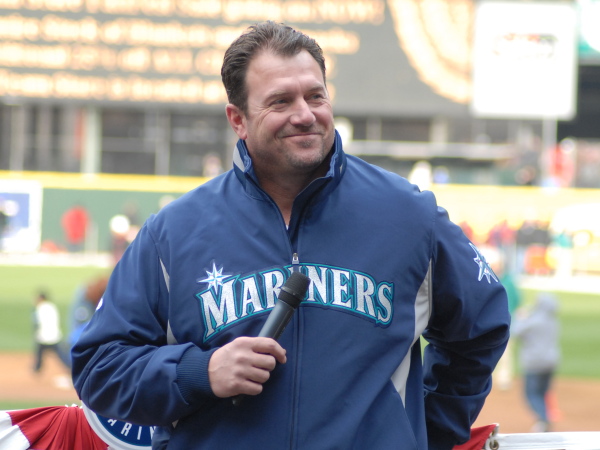 Mike Blowers was standing off to the side making weird faces for most of it, I swear.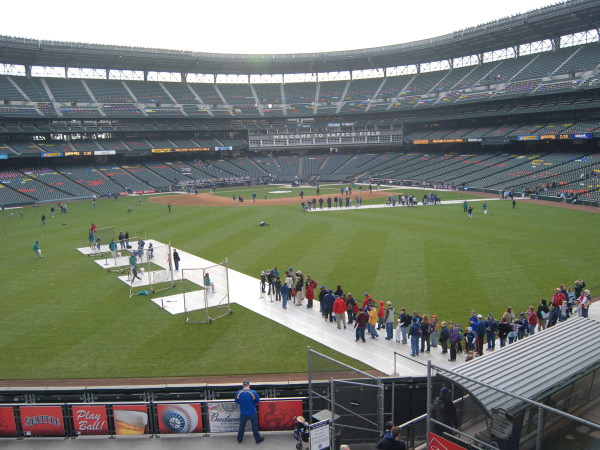 Fanfest view from centerfield. You can see the onfield activities and the colored tags in the seats for people interested in season tickets.



Me and the Moose, in the Moose Den. Yay.



These were the photo cards I got autographed. Mostly because I want to make Metsgrrl jealous.

I will tell you one thing, after thinking about it today quite a bit: I don't hate the Putz trade anywhere near as much as I despise the Bedard trade. Sorry, but it still hasn't really sunk in with me that George Sherrill is really gone. Sigh.