I have been really busy with non-baseball things this past week, so I've had no time to write anything. I really do intend to continue the Leagues series I started. Honest.
What sucks more is, I actually DID do something really cool and baseball-related -- I went on a
tour of the Nationals new stadium
in DC last Thursday! But I haven't had time or brainpower to crop photos and write it up. I was the only person on my tour and I told the tour guide about this blog (I had to explain how I knew so much random Washington Senators history), so I really should do that soon. I promise.
For now, here's something funny that I found while visiting my mom's house. See, when I was a left-handed kid growing up watching the Phillies, my first favorite player ever was Steve Carlton. I loved Lefty. Then he went away, so my next favorite player was
Von Hayes
. He hit two home runs on my birthday one year, and he had a funny name. People in Philly always called him "Five for One", and never really appreciated how awesome he was, but I sure did. If there had been a Von Hayes Fan Club when I was a kid, I would have totally been a member.
I was looking through some old photos from the days when my brother and I used to go to all the baseball player appearances in Northeast Philly, and sure enough, found the one from when Von Hayes came to our neighborhood West Coast Video to sign stuff. I remember that I was about 11 years old and way too shy to say anything to him because he was my favorite player -- I think you can tell that he has this look on his face like "Why do you look so terrified of me, kid?"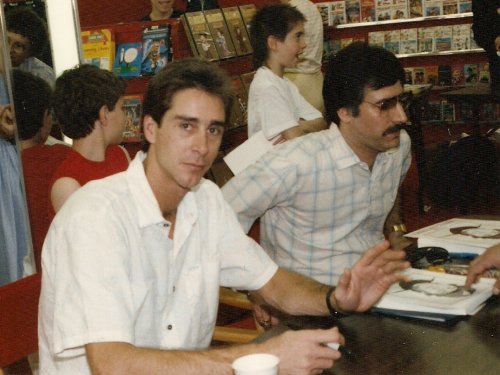 Oh yeah, and I did get one of the signed photos...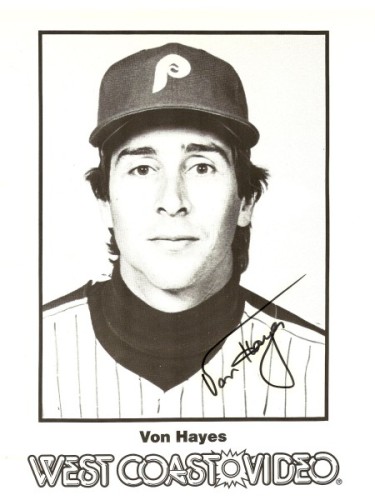 Now here's where it gets kind of weird -- one of the other guys at this particular signing was
Brian Propp
: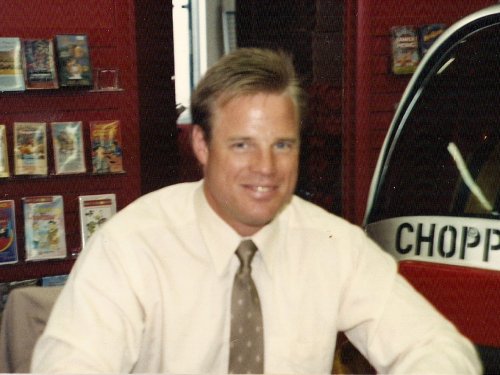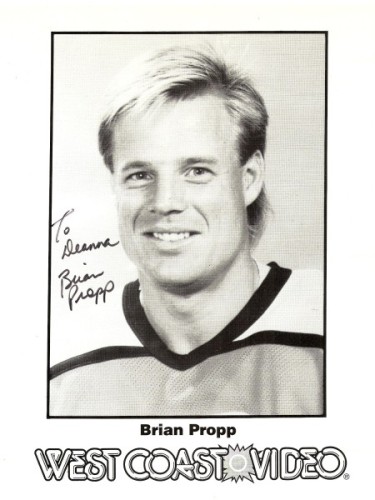 Why exactly they had a Phillies guy and a Flyers guy together is beyond me, but what I do recall is that I wasn't afraid to talk to Propp, mostly because I had no clue who he was. This should be obvious in the fact that it actually says "to Deanna" on the signed headshot.
The next set of photos and stuff in the album had a photo of my brother with Ron Hextall and a signed headshot as well. The 80's really were a good time to be a kid and a sports fan, weren't they?
Oddly, since
going to a Flyers game two weeks ago
, I have actually found myself wanting to get into hockey, but it seems unlikely that I'll get back to a game this year. And from what
Simon said about the Seibu hockey team folding
, it doesn't seem likely I'd be getting into hockey in Japan any time soon either.
Another fun set of things I found at my mom's was all of her old baseball yearbooks, which go all the way back to the 1959 Phillies, although she doesn't have every year or anything, and there are certainly random ones in there that both of us were like "Why is this here?" such as a 1963 Yankees yearbook, or a 1966 Orioles yearbook.
I scanned in a few pages from various old Phillies yearbooks. Here are Von Hayes's pages from 1986 and 1987, respectively: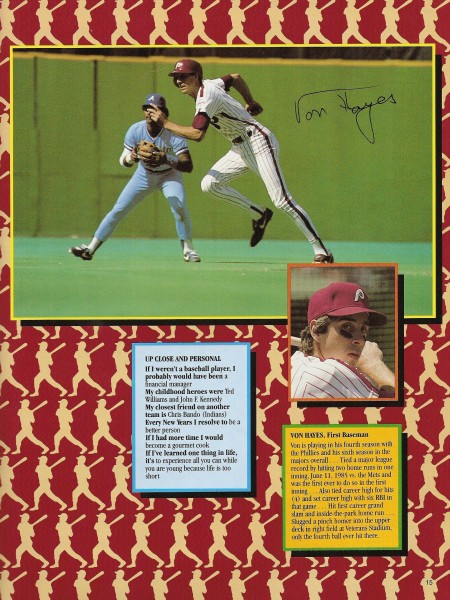 1986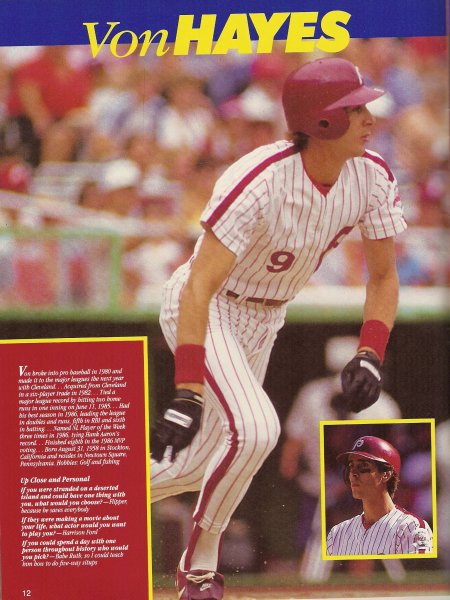 1987
Let me digress for one second to say this: if you're not in the habit of buying baseball team yearbooks, I recommend buying some. Now. They should be discounted from last year's teams soon enough. Buy it, read it, put it in your attic, forget about it for 20 years. Just trust me on this one. These 1980's ones aren't so far removed from today's, but you should see the 1960's era ones. I can only imagine how things will progress 20 years from now...
Anyway, here's what Von had to say back then:
If I weren't a baseball player, I probably would have been a
financial manager
My childhood heroes were
Ted Williams and John F. Kennedy
My closest friend on another team is
Chris Bando
Every New Years I resolve to
be a better person
If I had more time I would
become a gourmet cook
If I've learned one thing in life, it's
to experience all you can while you are young because life is too short
If you were stranded on a deserted island and could have one thing with you, what would you choose?
Flipper, because he saves everybody
If they were making a movie about your life, what actor would you want to play you?
Harrison Ford
If you could spend a day with one person throughout history who would you pick?
Babe Ruth, so I could teach him how to do five-way situps
You see, the weird thing is, to that last question, almost everyone on the team answered "Jesus Christ".
Amusingly, Mike Schmidt had said that every year he resolves to stop eating vanilla ice cream with chocolate syrup before he goes to bed.
I'm glad my mom was nuts enough to go to the neighborhood Phillies events when I was a kid. I just wish I hadn't been too shy to talk to anyone except the Philly Phanatic. (Seriously. You know how some kids get yearly photos taken with Santa? Looking through our photo albums, I can pretty much track my childhood through photos with the Philly Phanatic every summer. I suppose that shouldn't be too surprising to most of you.)