When last we left our heroes, we were getting lunch between the two games on Day 2.
I returned to the Dome before the rest of the gang, because I was meeting up with one of my friends from the Fighters ouendan. He wanted to come see Taiwan's team play; if the Giants had been in this game he was seriously going to go sit in left field and cheer for them, but since it was Seibu, he decided to sit in right field with me. I think in reality he thought the Taiwan fans were just really entertaining to watch, which is quite true.
He also brought Krispy Kreme donuts. Apparently they just opened a new location down in Kawasaki.
Eventually we reassembled most of our gang in right field; Matt and Simon were there at the game's beginning, and Pau joined us a bit later and Simon's dad a bit after that.
As for my Fighters friend, Simon had brought extra Seibu flags and offered them to us. I gladly accepted because I like waving things around and yelling, but my friend steadfastly refused, claiming that as a Fighters fan he could cheer for Japan but not for Seibu.
(Instead, we spent a while getting trash-talked at by Pau about the recent Fighters trade, which became official that morning. Our basic attitude has been "NIOKA. DO NOT WANT.")
Anyway, this game was also really close. The first three innings were scoreless both ways, with Seibu getting a few more baserunners than Uni-President. Infact they even had two runners out there with no outs in the third inning, but Kuriyama utterly failed to sac bunt and Hirao mostly failed to get a hit, so the runners were stranded.
Finally, in the top of the 4th, Uni second baseman Sen Yang led off with a double to right, and advanced on a groundout to the pitcher. Jiminez Brito hit a monster shot to center field, which Shogo Akada caught near the warning track, but it was more than enough to score Yang, who tagged up and ran in to make it
1-0
. Kuo-Ching Kao followed that up with a double to left, but Tai-Chi Kuo struck out to end the threat.
So in the bottom of the 4th the Seibu Lions responded in kind. Yoshihito Ishii hit a double out to center, and Tomoaki Satoh grounded out attempting to bunt, moving Ishii to third. Hiroyuki Ohshima singled to center and that scored Ishii to tie the game at
1-1
. Then Ginjiro Sumitani -- who hadn't gotten a hit all through the Japan Series, but seemed to be hitting his stride in the Asia Series -- doubled to center. Ohshima attempted to score from first, and got NAILED at the plate by the throw in from center. Oops. Two out. Shogo Akada then chose that moment to actually HIT THE BALL though, and he ALSO doubled to center, which scored Ginjiro, making it
2-1
.
Which is where the score would end up remaining for the rest of the game.
The game was actually INSANELY short -- it did go the full 9 innings, but it was over around 8:35pm. Kishi struck out 10 batters in 8 innings, and Hoshino and Onodera finished ou the 9th inning for him.
As for Taiwan, their starter Wei-Lun Pan lasted the first 6 innings before being replaced by Yi-Chen Tseng, who had a really interesting delivery, kind of a 3/4ths motion that reminded me of the Fighters pitcher Tateyama. When Tseng came in the next two batters immediately grounded back to the mound, even.
We spent a while being amused by the Taiwanese cheering section; I missed Thursday afternoon's game so this was my first time seeing them. They did a whole variety of typical high school marching band songs, like Popeye and Old McDonald and Johnny Comes Marching Home and whatnot.
Also, we were sitting in the same exact place from Thursday, which meant all of the same nutso Lions fans were right behind us doing the Macarena dance and cheering for Mizuta when he came in to pinch-run and whatnot.
A few photos from this game:
Lions mascots in the field. Leo did 16 back flips. (My friend counted, then said something to the effect of, "Take THAT, Doala!")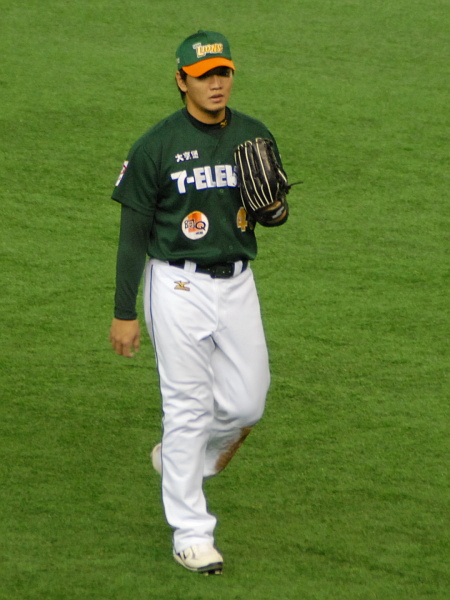 I really wanted a better picture of the Uni-President 7-Eleven Lions away uniforms -- the home ones have the Tongyi logo but the away look kind of like Oakland uniforms except that they say 7-Eleven on the front. Alas.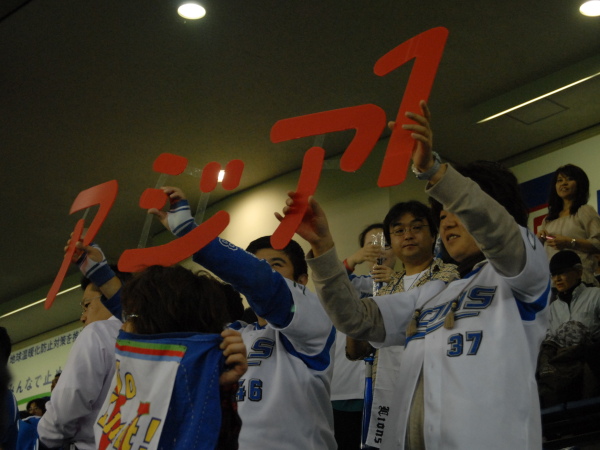 The fans sitting behind us had a variety of signs. I liked this one.
In the midst of the Blue Blue and Blue flags.
Final score. Shogo Akada was game hero for that go-ahead run, though honestly, I would have gone with Kishi as game hero... I'm biased, though.